Working on the new design last week reminded me of all the changes Kevin and Amanda has been through over the years. Kevin bought me this domain name for the one year anniversary of our first date — which is coming up in just a few days! At the time, we weren't even married yet. We were two short months away from the wedding…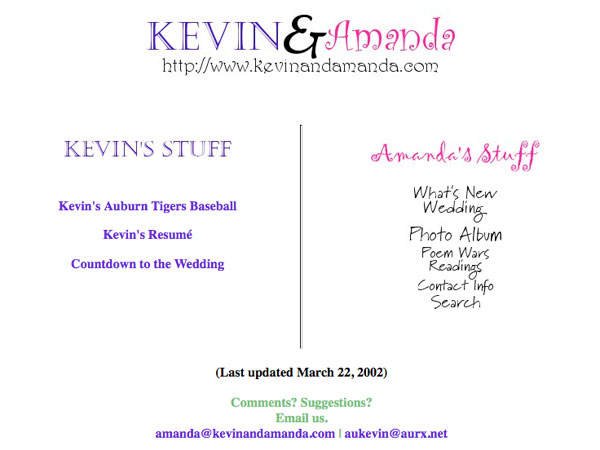 Here's what Kevin & Amanda looked like when it first launched, back in March of 2002. I had my own webpage back then, and it was basically just a venue to share photos, essays, and all things wedding related with friends and family. We didn't have blogs, Flickr or Facebook. Or even MySpace. I had a free Geocities site, but I was quickly outgrowing the size limitations on free accounts. On our anniversary, Kevin asked me what domain name I'd want if I were to ever get my own.
Kevinandamanda.com, of course! I answered without hesitation. With a grin, he playfully replied, "Let's check and see if it's taken". He pulled up kevinandamanda.com, with me looking anxiously over his shoulder. It was a countdown. To our wedding.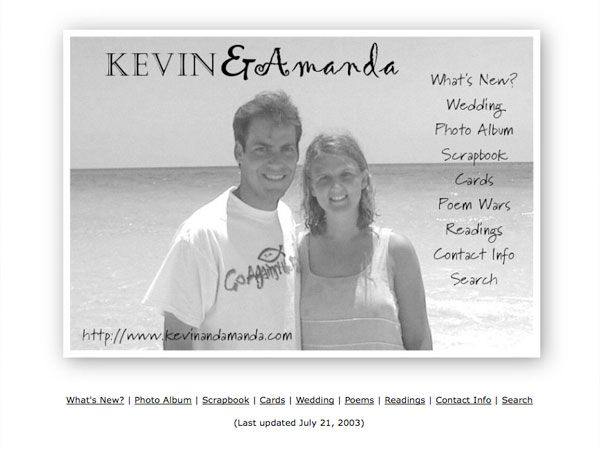 The next summer, Kevin & Amanda got a makeover. Back then I was completely in love with Gigi and Marydale.
And it stayed like that for a really, really long time. About four years.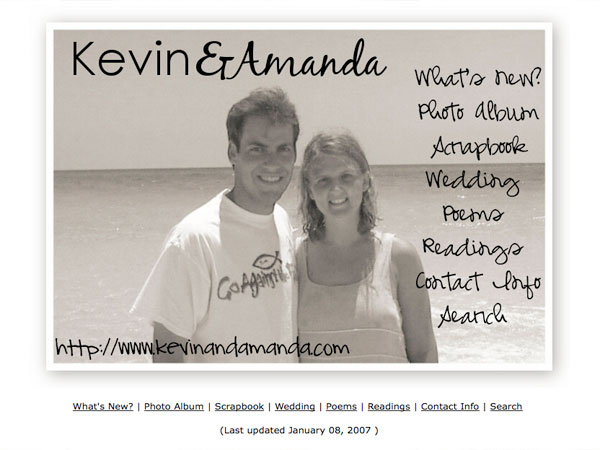 Eventually, after I started making fonts, I started using one of my favorite new fonts at the time, Pea Glo-Girl, and the photo was changed to a sepia tone, when that was all the rage.
Here's where I fell in love with Century Gothic, which from then on was main font of this site until the most recent design.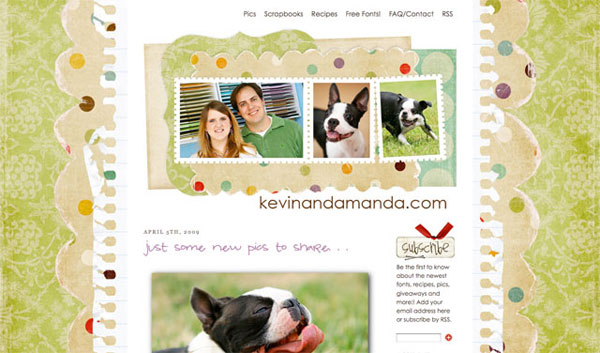 In 2006, I jumped on the bandwagon and turned Kevin & Amanda into a blog. Here's one of the first blog designs, from April of 2008.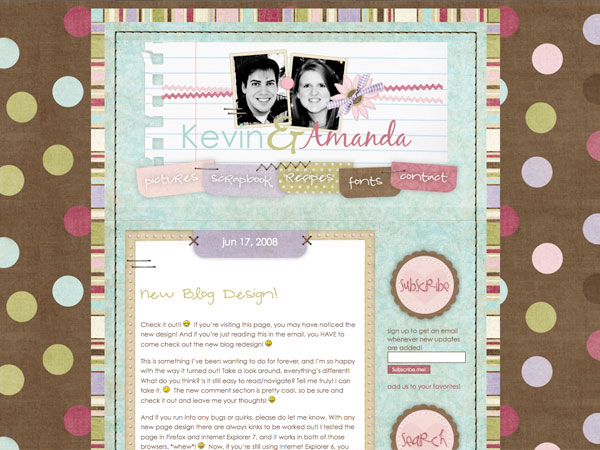 In June, I launched a major blog redesign. Before, I had basically only been changing the background, header image, and sidebar buttons. Those were easy. But after a couple years of getting to know CSS and tinkering with PHP (the two languages my WordPress blog runs on) I was able to make a few structural changes. I wanted each post to look like a letter written to you, from me, complete with the date up top and my signature at the bottom.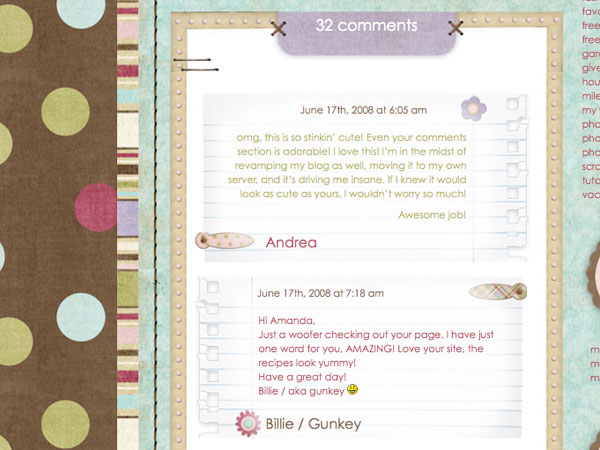 The comments were one of my favorite features. Sweet little post-it notes from you guys, written in alternating colors.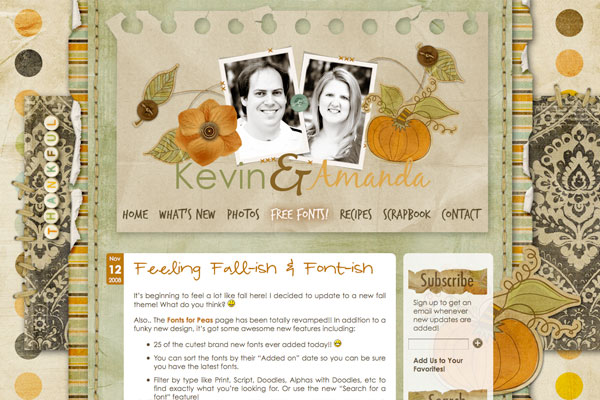 In November of 2008, I got on a major designing kick and changed the design of Kevin & Amanda every month for the next 5 months.
I wrote one post in November.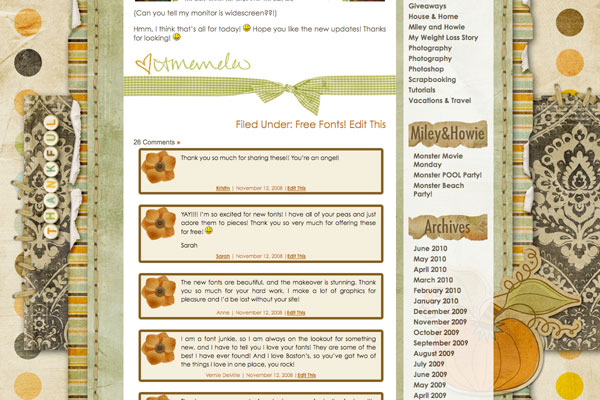 I loved this background though. Here you can see my signature that I used to sign each post.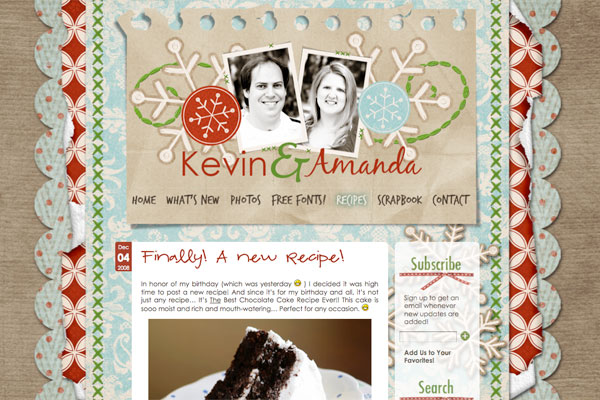 Here's December of 2008. I wrote 2 posts this month.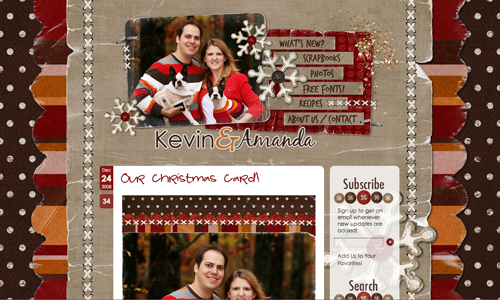 January of 2009. I wrote 3 posts this month. I'm really digging these backgrounds.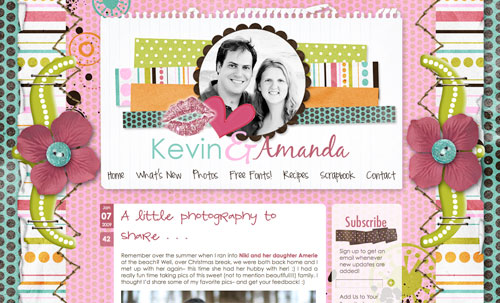 February of 2009. I loved this completely pink Valentine's Day design.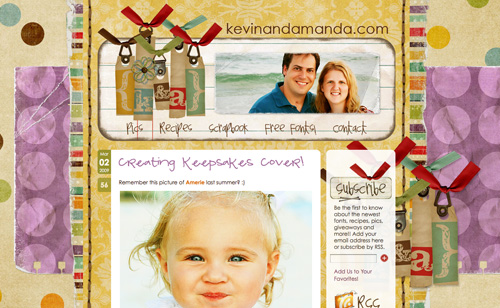 March of 2009. This design stuck for the new few months.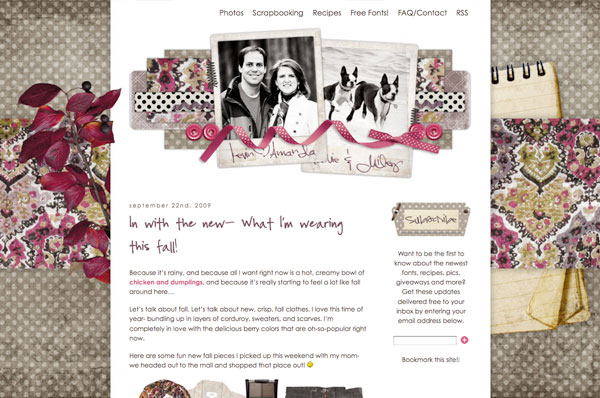 Fall of 2009. This design was inspired by a scarf. This scarf. I scanned my scarf to make that colorful paisley background.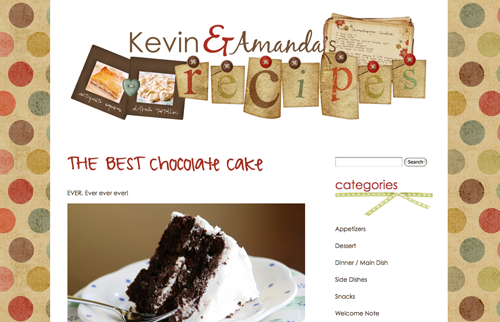 The recipe blog has been through a few changes itself!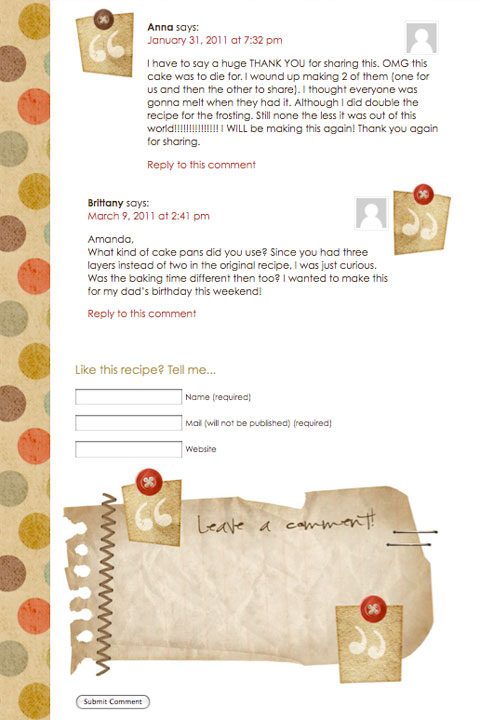 This comments section is still one of my all time favorites. I loved how you could click on that crumpled piece of notebook paper to type your comment.
Your comments are always my fav.