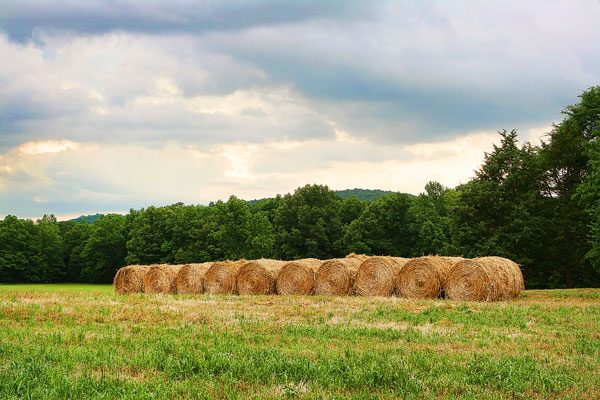 Last week we celebrated our 8th wedding anniversary and spent a long weekend completely isolated from the outside world- hidden away in a cozy cottage in the small town of Sewanee, Tennessee. Sewanee's quaint shops and small town charm reminded me of another small town, Stars Hollow! :) (From Gilmore Girls) And even though we had *zero* cell reception the entire time we were there, it was so nice to be unplugged for a few days… I didn't want to leave and I'm ready to go back! :)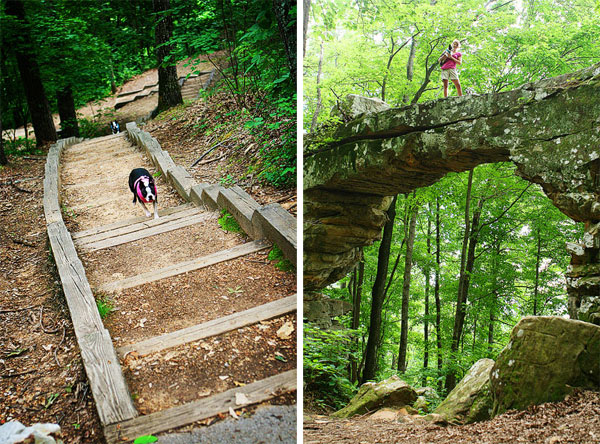 Day 1… We arrived early Saturday morning and our gracious hosts at the Red Oak Hollow Cottage allowed us to check in early so we could enjoy a full day in the beautiful mountain town. When we arrived there was a sweet note on the whiteboard that read "Welcome Kevin, Amanda, Miley & Howie to Red Oak Hollow!" We found freshly baked brownies, two chilled bottled waters & two Snickers bars waiting in the cottage for us- and Miley and Howie found a big, fresh doggie bowl of water & Pupperoni treats waiting for them. :) Talk about being pampered! :) The cottage was spacious and gorgeous, with a full kitchen, fenced-in backyard, and lush gardens all around. We had fresh sweet basil, peppery arugula, spearmint, cilantro, and so much more growing right outside the back door.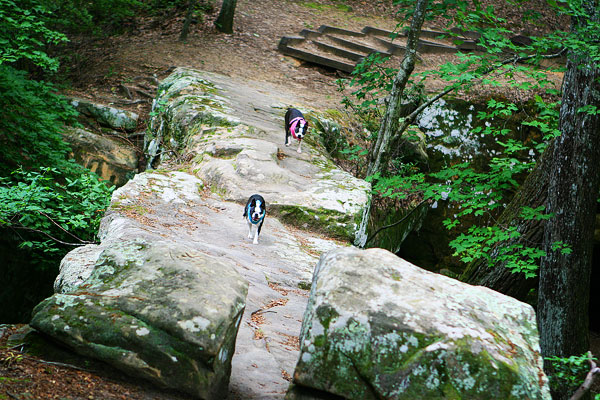 Our first stop after we settled in was the Natural Bridge. This was a fun little stop; Miley and Howie got such a kick out of running back and forth across the bridge- although Miley wouldn't get too close to the edge!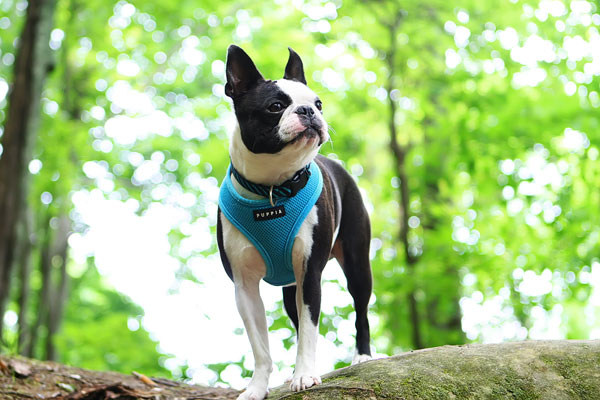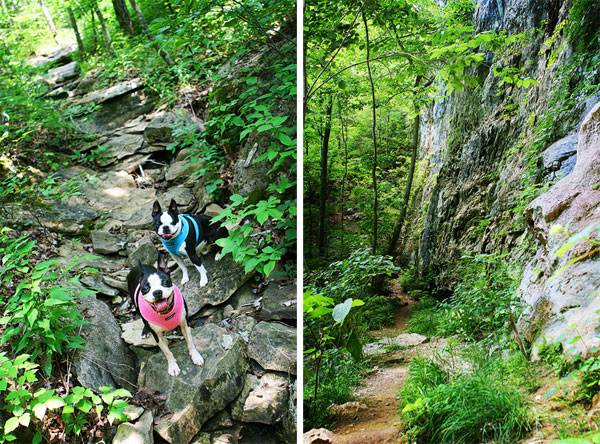 Our next stop was the Buggytop Cave Trail. This was a nice little hike with plenty of rocks. Miley and Howie wait patiently for us to catch up! ;)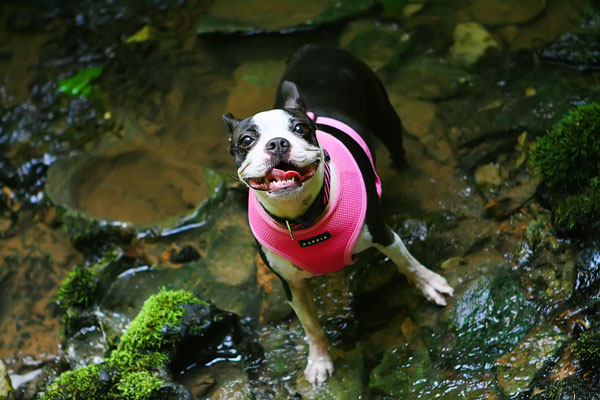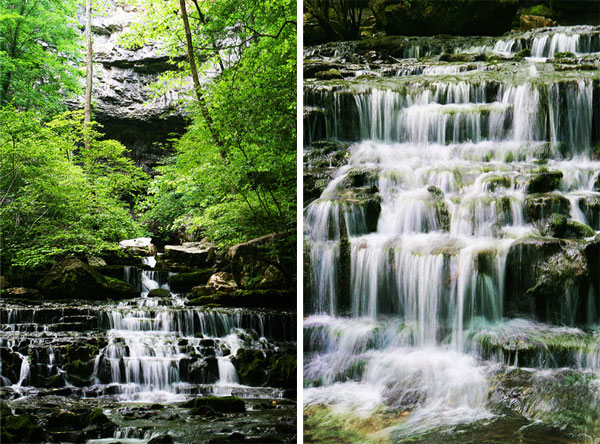 Buggytop Cave has a huge opening with a creek, waterfalls and cascades flowing out of the entrance. We didn't go too far in the cave,  but you can follow the water and hike all the way through the cave and come out the other side if you want. We walked down a bit following the creek flowing out of the cave. The cascades were gorgeous!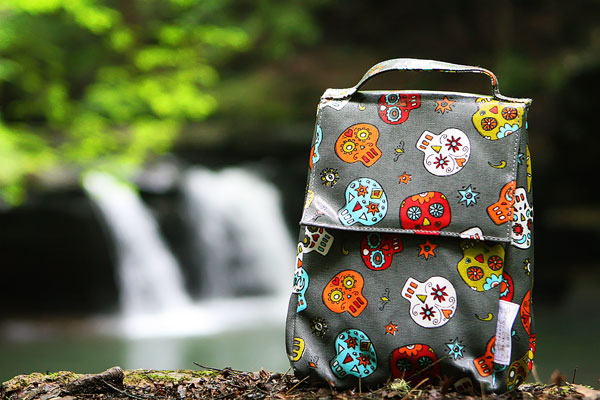 Definitely the perfect spot to sit and have a picnic… courtesy of my super cool new skull lunch sack! :D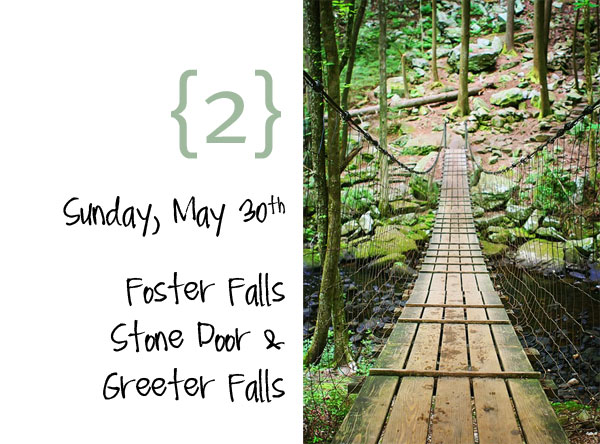 On Sunday our first stop was Foster Falls. This was a really fun trail, complete with a swinging bridge over the creek. :)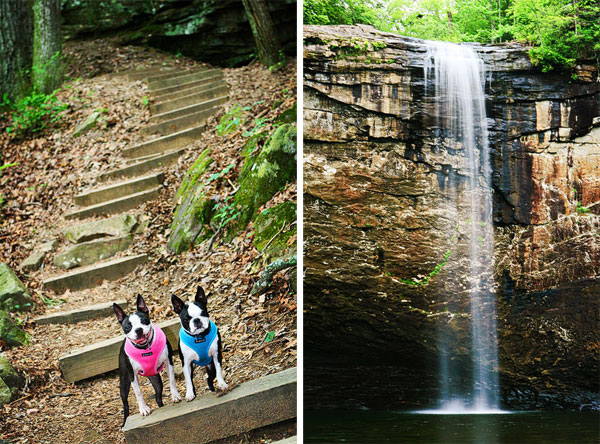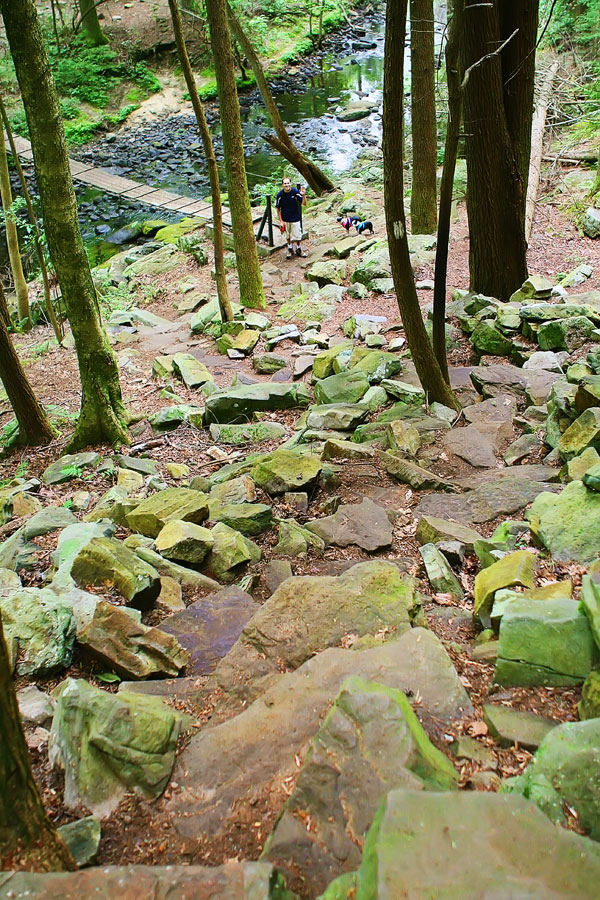 The path down was basically just a ton of rocks that formed natural stairs all the way down to the base of the falls.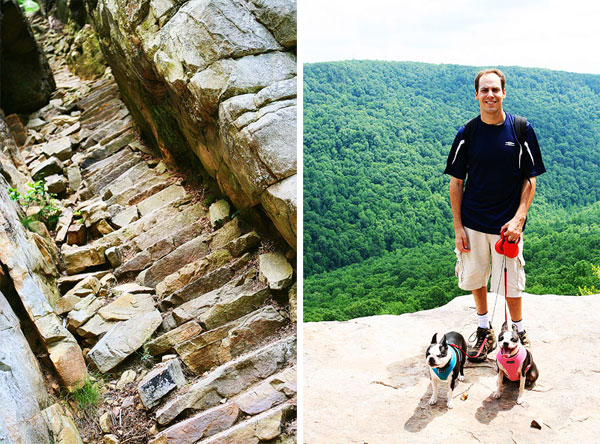 Our next stop was the Stone Door trail, a giant passageway 10 feet wide and 100 feet deep, with natural rock stairs leading from the top of the cliffs above to the gorges below. This was beautiful hike with some of the most spectacular overlooks in the entire state.
Howie was apparently not too impressed with the overlooks? ;)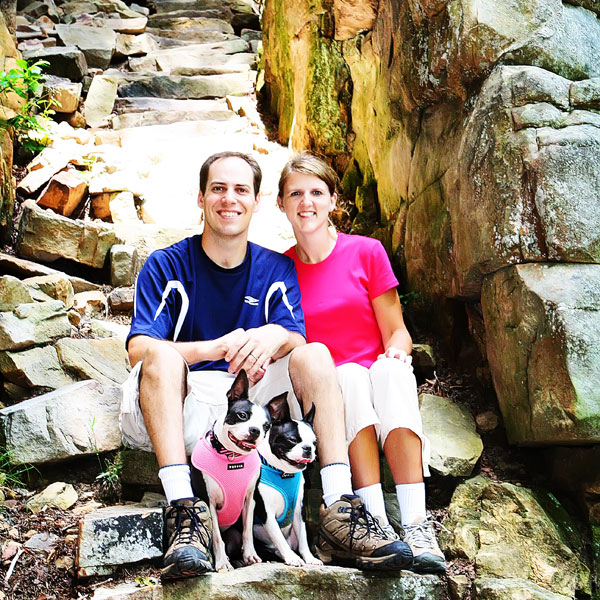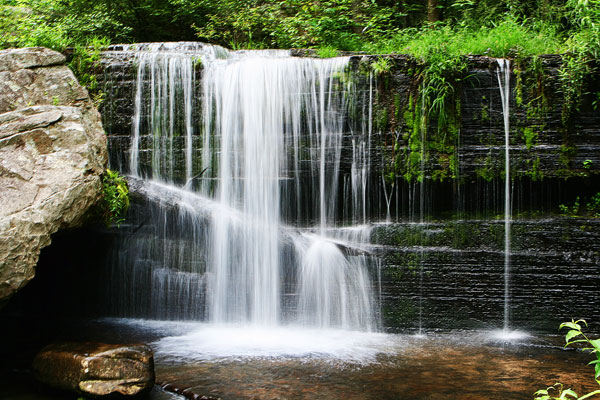 Just a few miles down the road was Greeter Falls. I loved this fall!!! It was an easy hike and had trails to the upper and lower falls.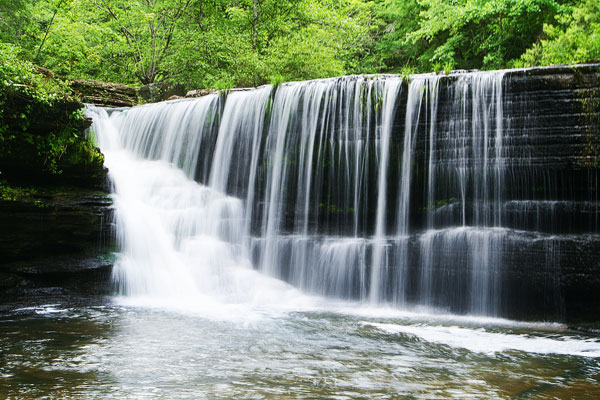 The upper falls were my favorite- the area was flat and open. You could walk right up to the falls and stand underneath them- or right up to the edge of of the lower falls and  look over the dangerously high cliff as the water splashed into the plunge pool below.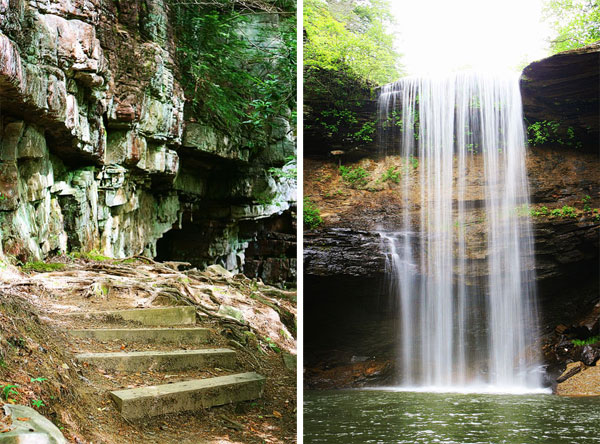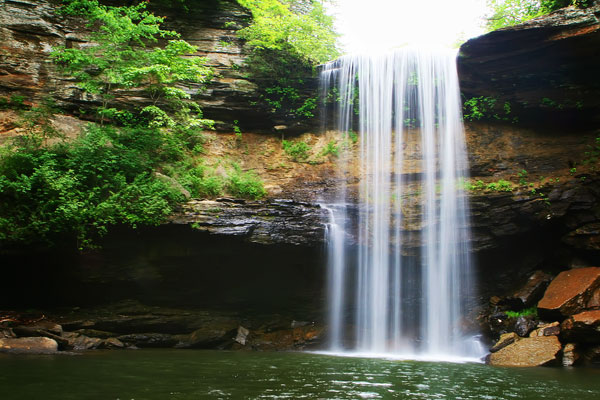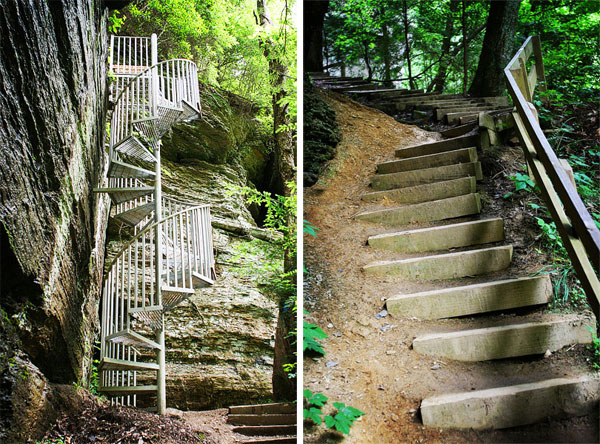 The lower falls were pretty cool too, with a neat little swimming hole right underneath the falls. :) Although it was definitely a bit of a challenge to get to! :) We had to carry Miley and Howie down that rickety spiral staircase! :O
Sunday was a long day of hiking- 6.9 miles total!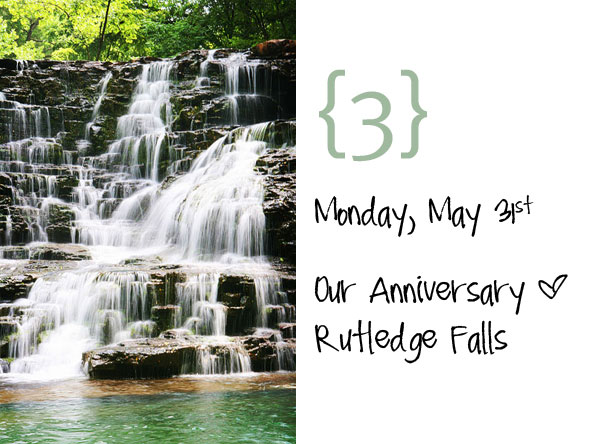 Monday was a sweet, special day… Our 8th Anniversary. It's been 8 wonderful years. Here's hoping for 68 more! :)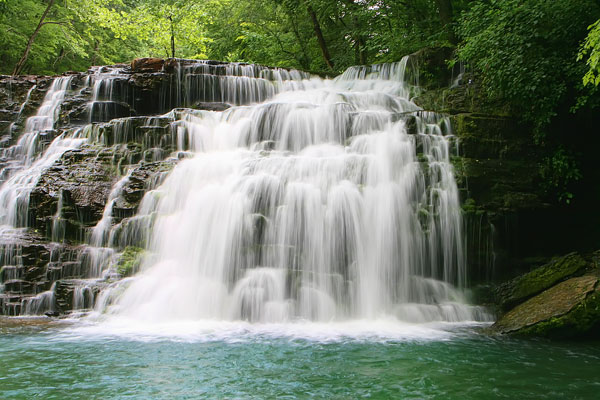 We spent the day at the quintessential southern swimming hole, Rutledge Falls.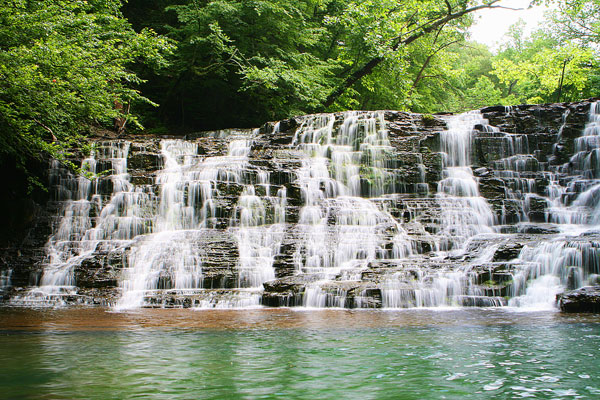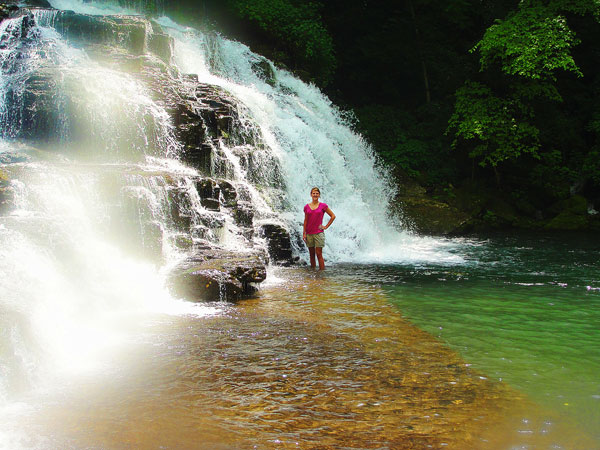 You could walk right up to the falls, dive in, swim under the falls, and climb all over them.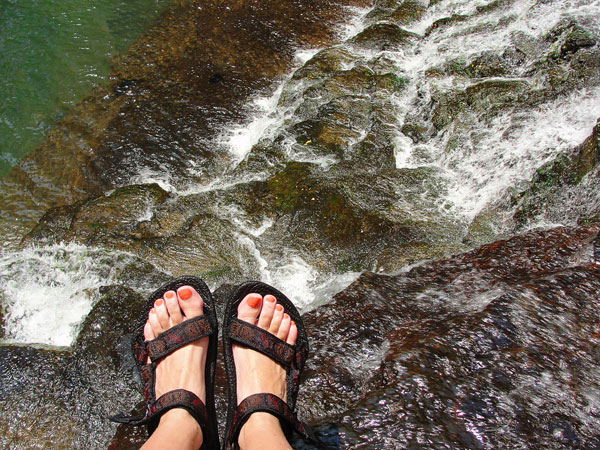 Sitting on top of the falls… :)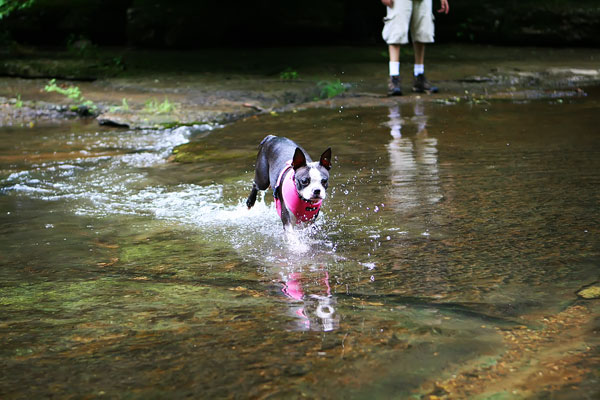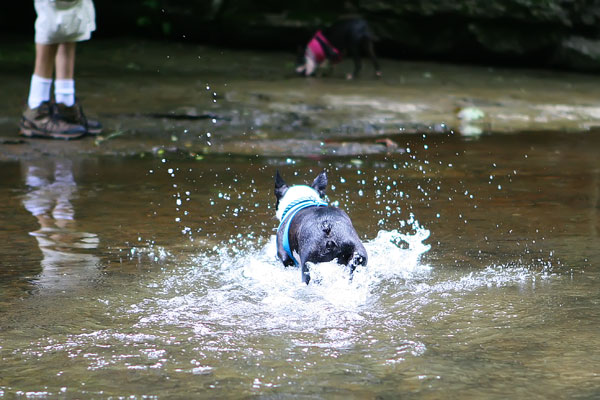 Miley and Howie got a huge kick out of running all around the waterfalls. Later we packed a picnic lunch and took them downstream where they could run, play in the creek, and chase sticks. All with this in the background… :)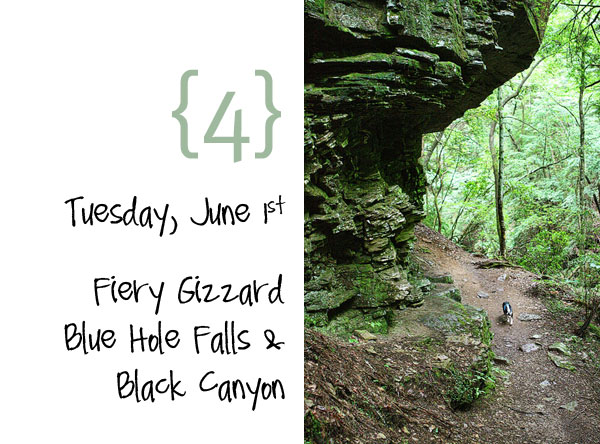 Tuesday was our last day in Tennessee. I was so not ready to leave! :) Our hosts at the cottage told us to take our time checking out- we squeezed in one final 4-mile hike. :)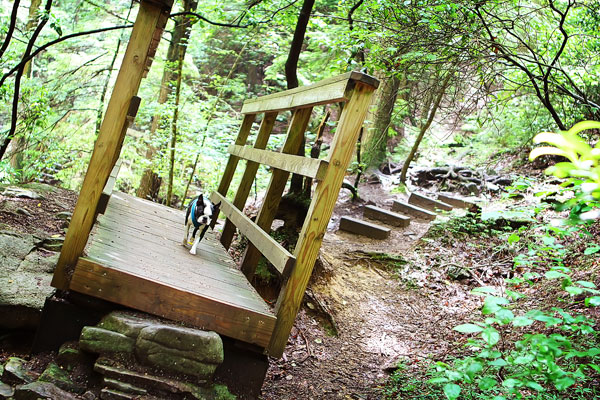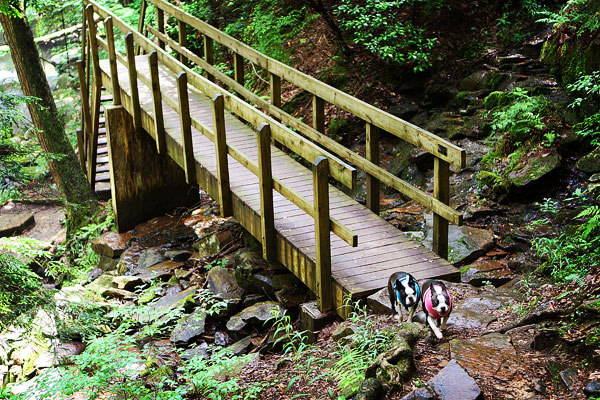 The map at the trailhead described the Fiery Gizzard trail as one of the most beautiful and diverse trails in Tennessee… and one of those difficult and rugged! :)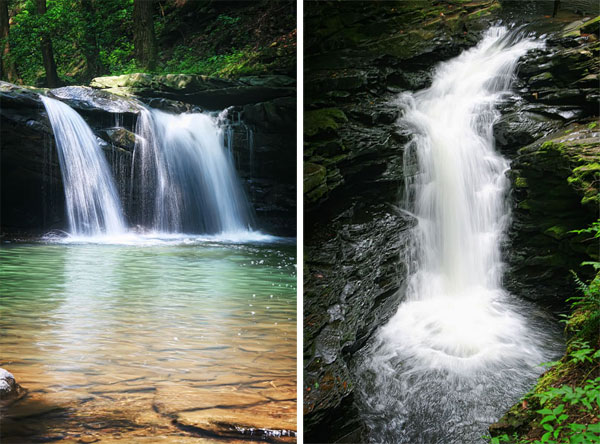 But with the gorgeous scenery following the Fiery Gizzard creek, it was probably one of our favorites. Definitely a beautiful hike! Blue Hole Falls & Black Canyon pictured above.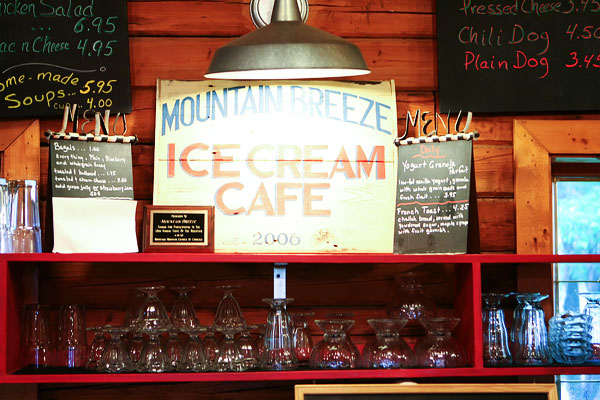 Before heading back home we had to make one more stop… :) In our short trip, this ice cream cafe (with free WiFi) quickly became our favorite hangout! :)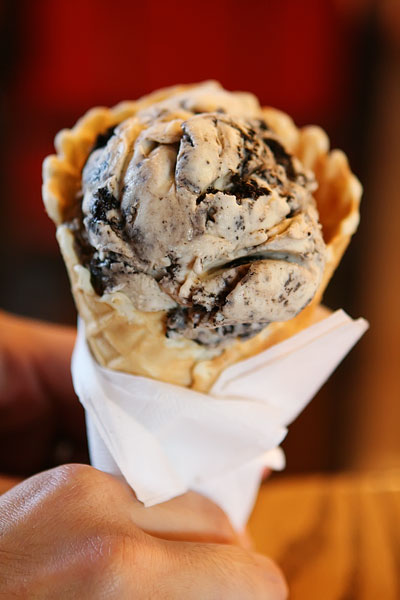 If you are ever near exit 134 on Interstate 24 in Sewanee/Monteagle, TN, you have to stop here and get a waffle cone. The Chocolate Chip Cookie Dough ice cream was my favorite of course, but the waffle cone.. Oh my.. Made fresh daily, they are so sweet, buttery, and flaky. I could live to eat these waffles cones. Wishing I had one right now! Definitely going on my "The Best Thing I Ever Ate" list! :)
Planning your own southern escape?? :)
Where to Stay:
Red Oak Hollow – A gorgeous, 30-acre private estate. Two distinct accommodations. Guest Suite Sleeps two, cottage sleeps four. Rates starting at $100 a night. Cottage is Pet-Friendly, although it was so clean I couldn't tell any pets had ever stayed there before!
Where to Go:
Natural Bridge & Buggytop Cave – Easy afternoon side quest. After checking out Natural Bridge, head 3.5 miles south down Hwy 56. You will see a small pull-off on the right where about 4-5 cars could park. Park here, cross the street and walk down the hill a few steps. You will see the trail on your left, follow it less than 1/4 mile to the trail head and map. Click here for the Google Map of where to park. About 3.5 miles of hiking, plan for about 3 hours for Natural Bridge & Buggytop.
Foster Falls, Stone Door, Greeter Falls – Day trip. First check out Foster Falls. Gorgeous 1/2 mile trail. Head back to Tracy city and grab some pastries (like the Whisky cake) from The Dutch Maid Bakery. Then head for Stone Door. Easy trail, breathtaking overlooks. On your way back from Stone Door, walk behind the Ranger's station and check out the short loop trail to Laurel Falls. Then head back south to Greeter Falls. (You probably passed the sign on your way to Stone Door.) Definitely check out both upper and lower Greeter Falls. Optional side quests are Blue Hole Trail and Boardtree Falls. If you do 'em all, like we did, it's a little under 7 miles total hiking for the day! :) More Info.
Rutledge Falls – Gorgeous, picturesque falls. Bring a picnic lunch, towels, drinks, and water shoes. And a bathing suit, if you're so inclined… ;)
Fiery Gizzard Trail – Beautiful and rugged trail. Follows the Fiery Gizzard creek. Lots of fun bridges and rocks to cross. Pick up a map at the trail head for points of interest to keep an eye out for, like the 500-year-old hemlock tree, cave springs, waterfalls, and house-sized pillars & rock formations. Length of trip is optional- we walked 2 miles down to the "Fruit Bowl" and turned around. At least go 1 mile in to the Black Canyon- definitely the coolest part. :)
Where to Eat:
Lorena's Gifts – Sleep in and grab a late brunch here. Breakfast is served all day. Their omelet and waffles are to die for. Come back and try their lunch menu another day!
Mountain Breeze Cafe – Craving an afternoon sweet snack after a long day of hiking? Stop in for a delicious waffle cone! :) Ready for dinner? Definitely try the pizza- seriously so good! :)
Papa Ron's Italian Steakhouse – Steak, Pasta & Seafood. Huge menu and everything on it sounds delicious. It's a good thing we discovered this place on our last day or I would've eaten there every day! It's only an hour and a half away from my house…. I would seriously consider driving there just for dinner one night! :)
Check out this interactive map from Google listing the addresses and directions to all the must-see places mentioned above. Put this in your GPS and you're ready for your own Tennessee mountain vacation. :)
View { Southern Escapes } Tennessee Mountain Hideaway Vacation in a larger map
P.S. Like the handwriting font I used up there? :) It's Pea Kar Kar… Look for it on the next font update! ;)