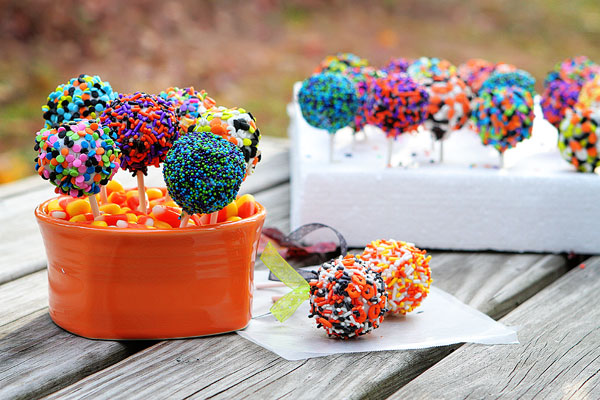 Happy Halloween! Here are some fun treats to help celebrate today. I made these sprinkled Halloween pops over the weekend, and they turned out so cute, I just couldn't not share them today!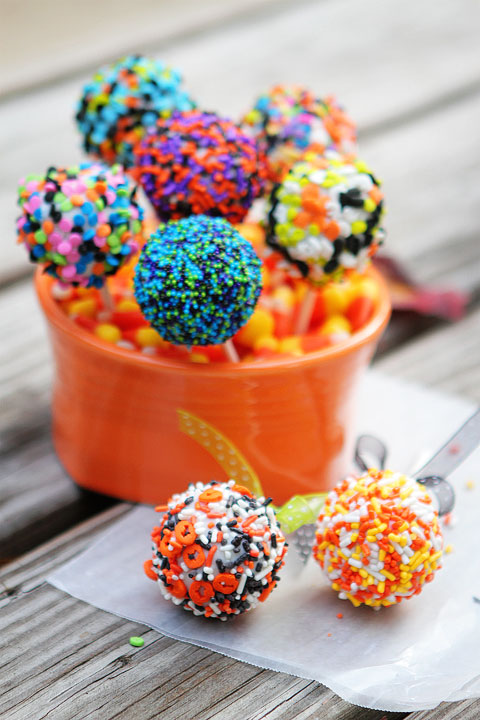 We all know that cookie dough is the best part of making cookies… And what could be more fun than cookie dough dipped in candy and covered in sprinkles?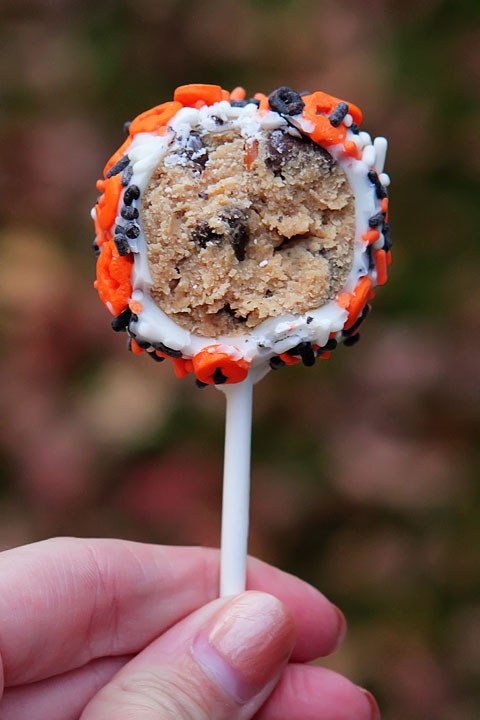 It's cookie dough!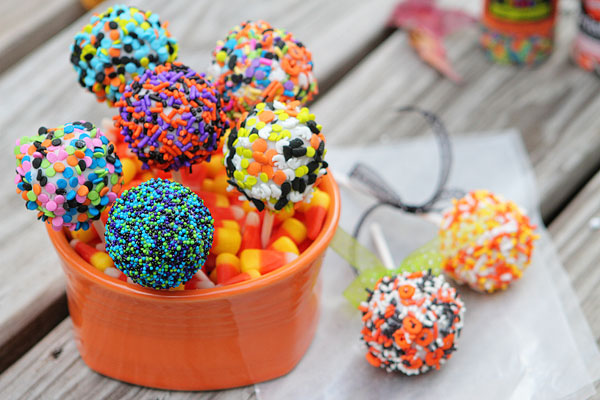 These guys are pretty straight-forward. Make cookie dough, dunk in melted almond bark, and cover in sprinkles! The hardest part will be choosing which sprinkles to use… They're all too fun! But here are a few tips I found that made things a little easier.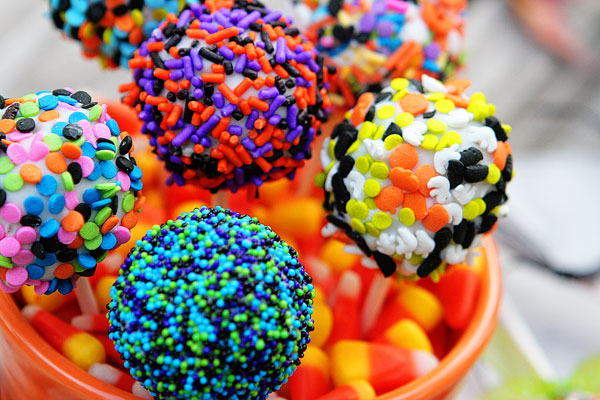 Use your favorite cookie dough recipe, substituting 2 tbsp milk for each egg. I used Picky Palate's White Chocolate Peanut Butter Pretzel Cookies recipe for my cookie dough.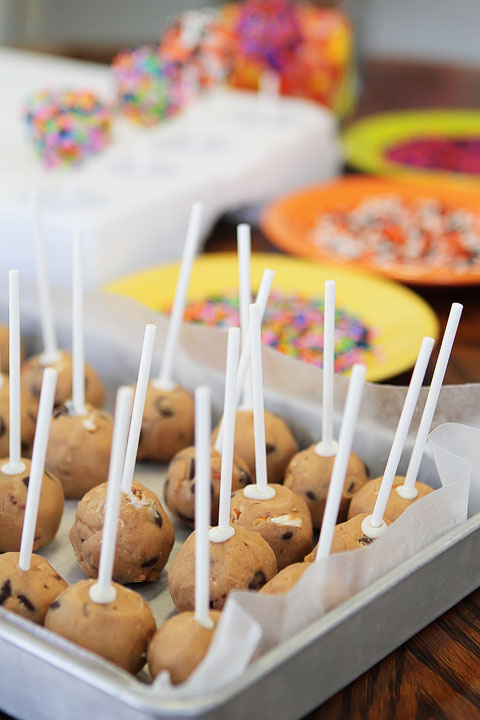 Scoop cookie dough about 1.5 tablespoons in size and roll into balls. While the cookie dough is still at room temperature, insert lollipop sticks. To help the sticks stay in place, you can dip the tip of the stick in melted almond bark before inserting. When melting almond bark in the microwave, be sure to stir every 30 seconds to prevent it from overcooking and becoming gritty or clumpy.
After you've converted all your cookie dough into upside down pops, freeze them for 15-20 minutes until firm.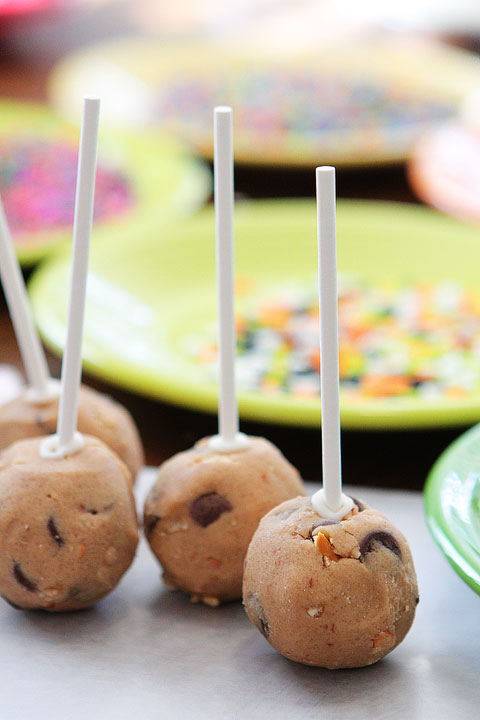 Working in batches, remove 4 pops from the freezer at a time.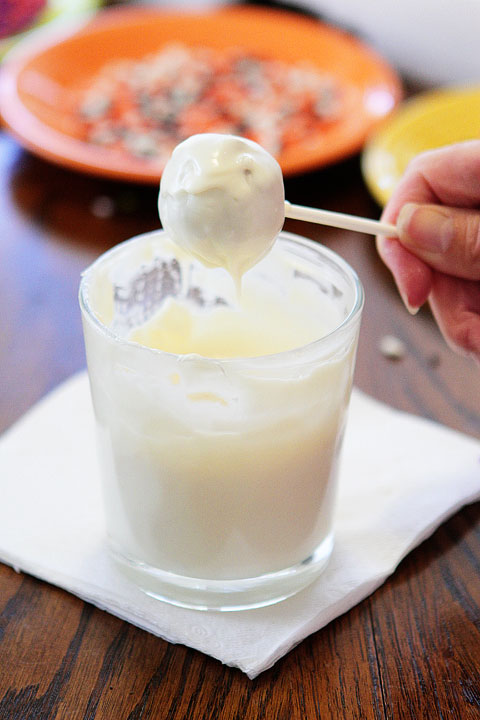 Melt your almond bark in a small glass with enough coating to completely cover the pop in one dunk. Pull straight up from the bark and tap well on the side of the glass to remove the excess coating.
You'll want to make sure your almond bark stays hot, so reheat it in the microwave for 30 seconds every 8 pops or so.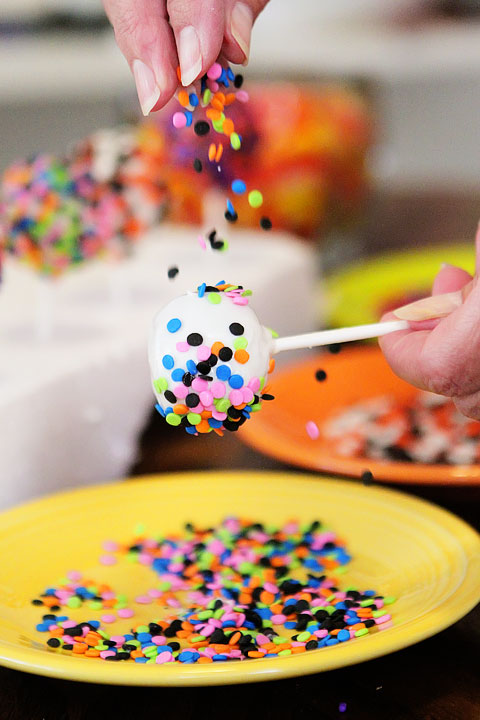 Now for the best part… Sprinkles! I found it easier to "sprinkle" the sprinkles on to the pops first, then roll on the plate if needed to cover completely. Work quickly here so the almond bark doesn't dry on you. Thanks to my mom, the lovely hand model here!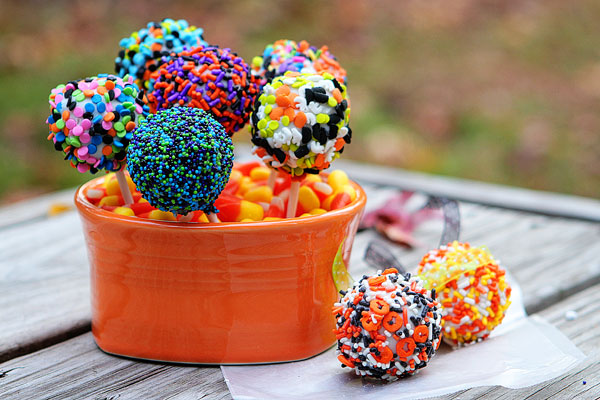 I found all these sprinkles this year at Target and Walmart.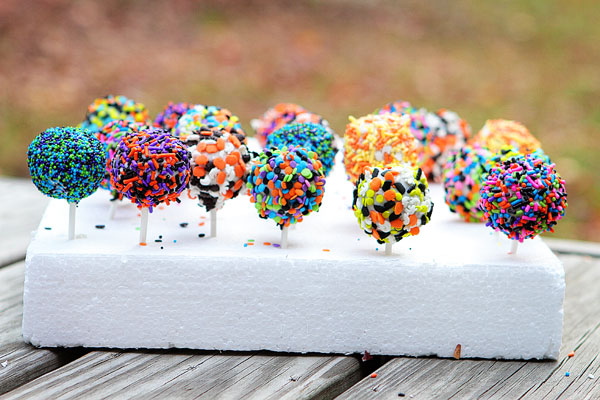 So many fun options to choose from!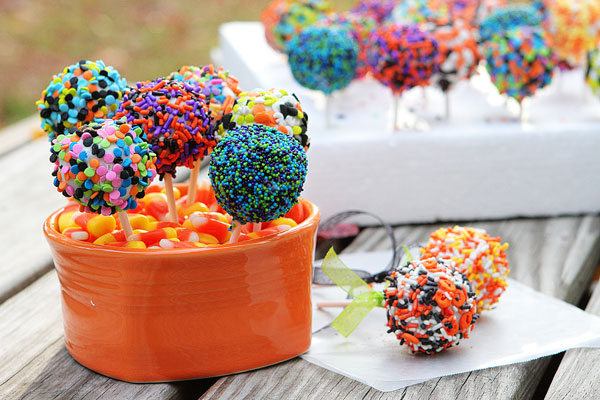 Oh, make sure you have some foam to hold your pops.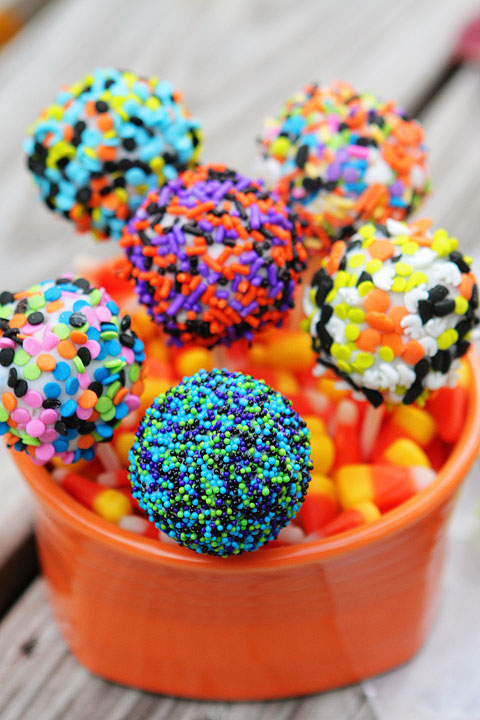 Or some candy corn will do.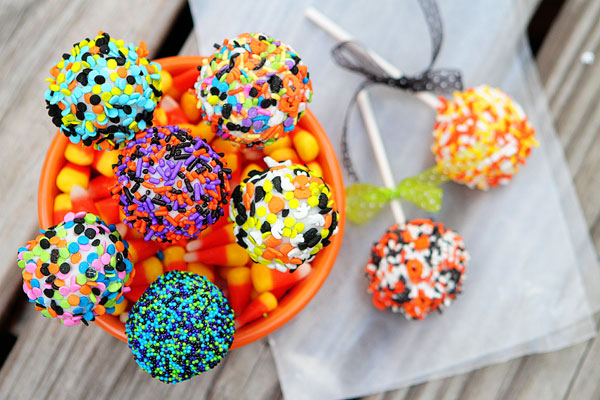 How fun would these be with sprinkles for all occasions… Christmas, Birthday, Valentine's Day, Easter, Fourth of July…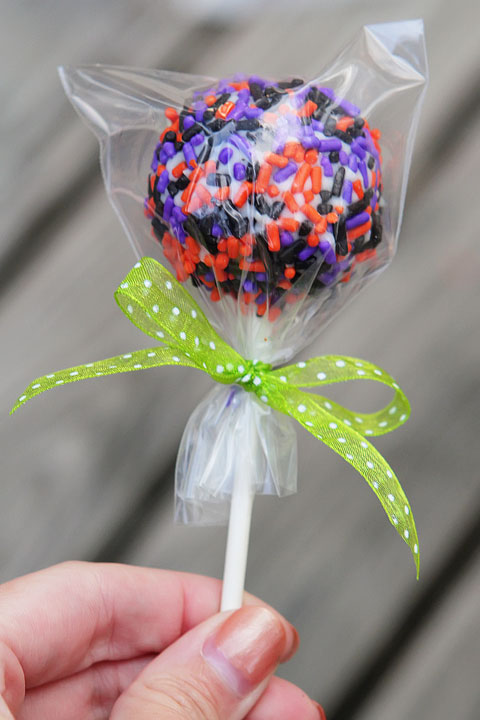 So what could be more fun than cookie dough dipped in candy and covered in sprinkles? Put it on a stick, wrap it up, and tie it with a bow!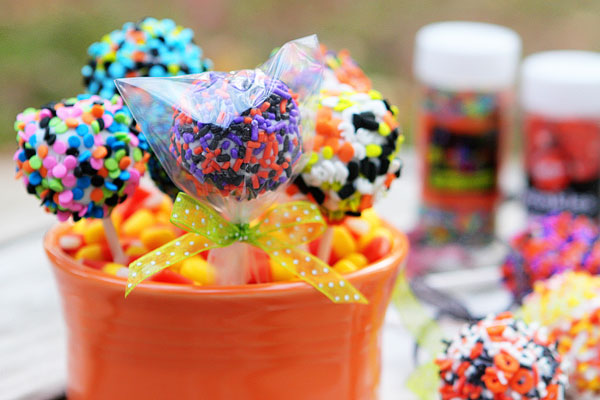 We made these over the weekend, and I sent them with Kevin to work today.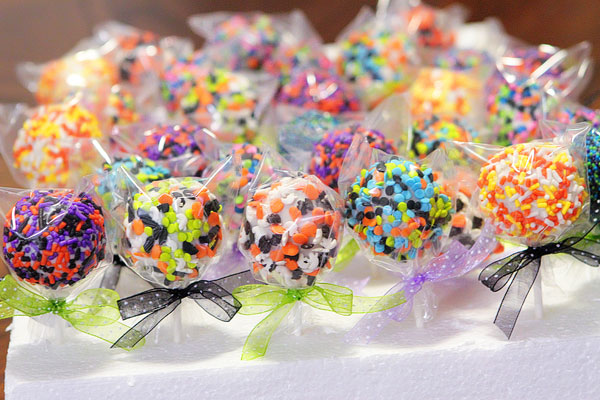 All wrapped up!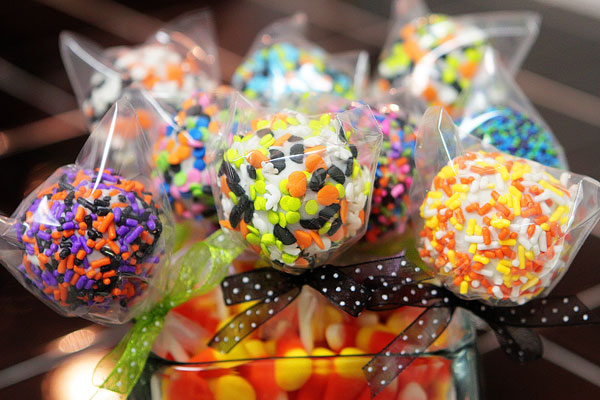 Trick or Treat! It's salty and sweet.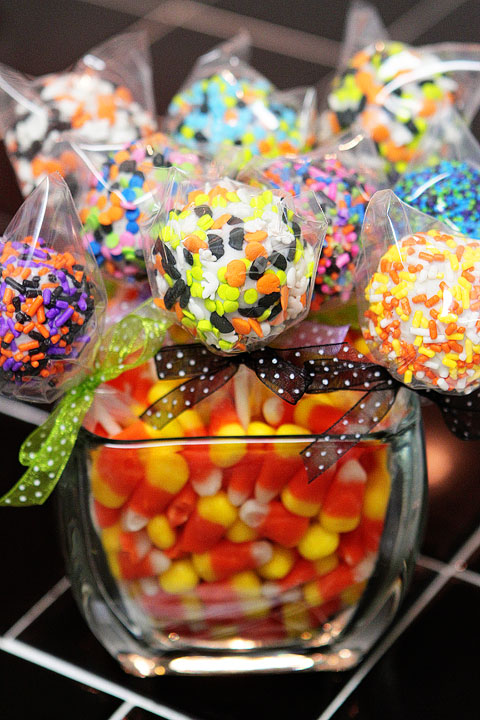 (I was losing light outside, so I had to move the photoshoot inside at this point.)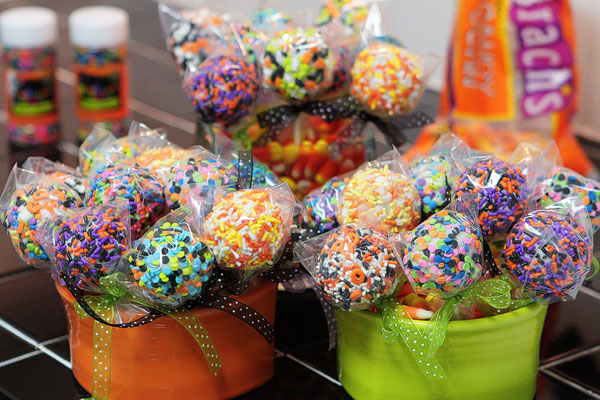 Here's what I sent with Kevin today…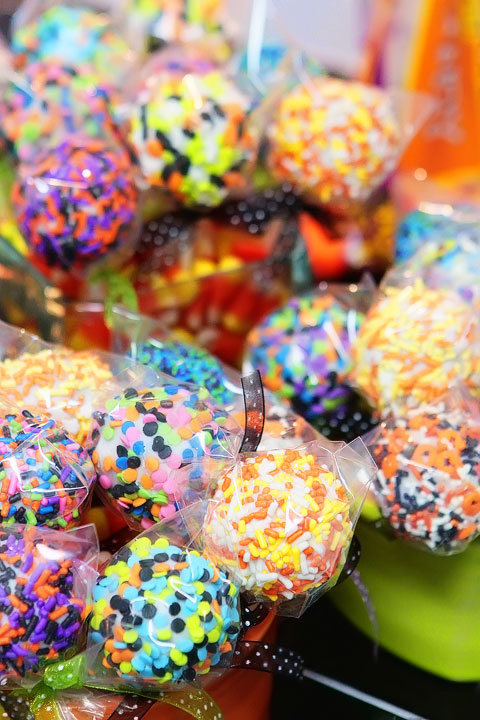 His desk is going to be quite colorful!
Have a happy Halloween!