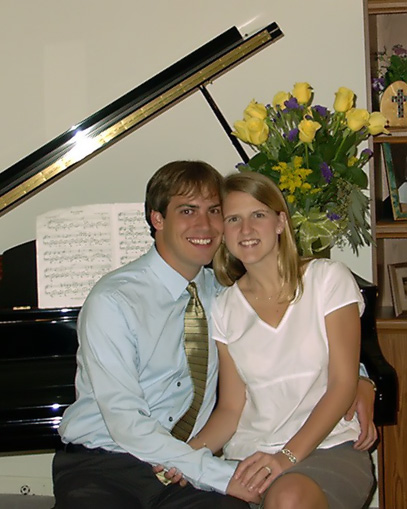 Kevin & Amanda, March 22, 2002. The 1-year anniversary of our first date.
Last Sunday kevinandamanda.com turned THIRTEEN years old! Thirteen! This site is officially a teenager! I've told parts of this story before, but in case you've ever wondered, here's the full story on how I started blogging. :)
Kevin bought me the domain name kevinandamanda.com while we were still dating for the one year anniversary of our first date. I had already had a little webpage as a hobby for several years at the time, back before "blog" was a word. But I had been sharing photos, travel, and anything that interested my teenage self on my little homemade webpage for years.
See, when I was in high school, way before I met Kevin, I was in a government club. We went to state capitals, Washington DC, and even New York City for week-long meet ups. The other kids in the club were from all over the United States, and we would only see each other at these events. But we would meet up several times a year, spend a week in close quarters, and thus form strong bonds. We wanted a way to keep in touch after the trip was over.
I took TONS of pictures on disposable cameras (I've always loved taking photos!), and when I got home I wanted a way to share them with everyone. Now, we had email back then, but that was literally just about it. The internet existed, but we didn't have sites like Facebook or Flickr yet. Heck, we didn't even have MySpace or LiveJournal back then! You couldn't just click "Upload" to post a picture on the internet. You had to write code. But basic, simple webpages DID exist, and I thought, "I'm going to figure out how to make one of those so I can keep in touch and share these photos!"
I created an account on Geocities (basically the Blogger or Blogspot of its time) and set up two pages. One would be my main page, and one was my "test" page. I would find webpages I liked, look at their code, and copy the code onto my test site. Of course I had no idea what the code meant or did. It was basically like looking at a foreign language. But I would make small changes, to see what they did, until it either did something I wanted or it completely broke the page. Through trial and error, I learned how to upload images and add text, and my little webpage began. Throughout high school I shared all our fun trips and adventures with the government club, and basically just anything else I thought was cool. I kept it up through college just sharing photos of anything my friends and I were up to. It was basically a Facebook or Instagram page. If we'd had something like that back then, I'm 99% positive kevinandamanda.com wouldn't exist. But when I met Kevin, he definitely knew I had a little webpage and I loved messing around with it.
Fast forward a year. It was the one year anniversary of our first date. I had never been in a relationship that long before. That afternoon, Kevin casually asked me if I'd ever thought about getting my own domain name for my webpage. Of course I had. It was basically at the top of my wishlist. But back then personal domain names were kind of expensive, and my site was really only a hobby. What I had was fine, but admittedly limited, and Kevin knew I was bummed sometimes about the restrictions of a free site. So he asked me what domain name I would choose, and without hesitation I said "kevinandamanda.com". With a twinkle in his eye, he casually said, "Let's check to see if it's taken yet." So we go to the computer, me standing over his shoulder, and he types it in. Back then we didn't have high speed internet, a 28k dialup modem was about as fast as you could get. So it took awhile for the page to load, but I could tell that there was already something there. Oh man! Kevinandamanda.com is already taken! :(
But when the page fully loaded, here's what I saw:

It was a countdown to our wedding day.
"Surprise," he whispered.
He's always had a talent for showing his affection through romantic, thoughtful gifts.
Click here to take a peek at what Kevin & Amanda has looked like over the years!
Thanks so much for reading. Have a great weekend!