Hey guys! Today I'm going to show you my trick for quickly and easily scheduling posts on Facebook that have both the Get the Recipe link and the Pin for Later link. This easy tip will save you so much time!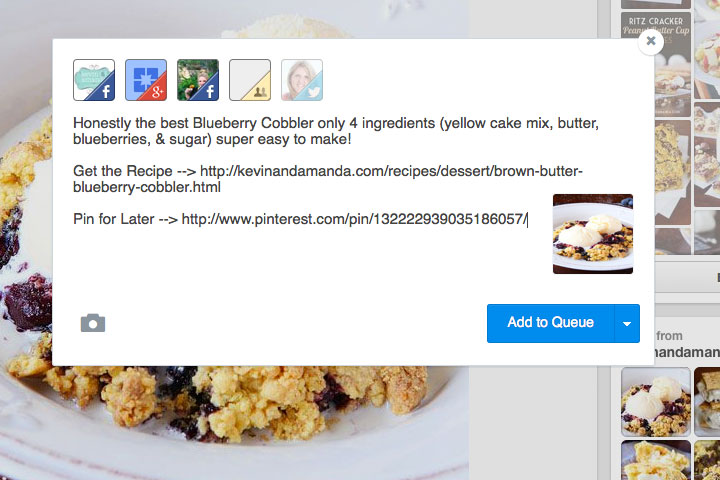 This Easy Buffer Tip Will Let You Schedule Facebook Posts More Efficiently
Just paste one link and this trick will automatically format the post with the description, Get the Recipe link and the Pin for Later link so that it looks pretty.
Basically just one click for you, and your post is ready to schedule!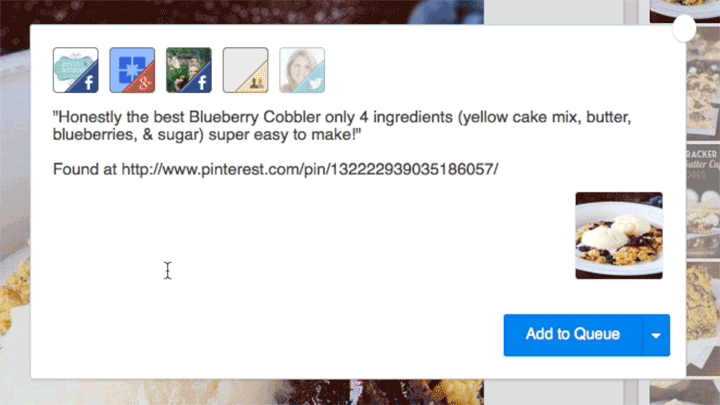 Above is a quick gif of what happens. See that swap that happens?? That happens automatically! Saves SO much time on typing!!
Two things to note up front: You'll need to be using the Firefox browser and have a Buffer account.
Don't worry, you don't have to use Firefox as your main browser, you can just open it up when you're scheduling posts.
How To Schedule Facebook Posts With A Pin It Link
Go to any pin on Pinterest.
Right click on the image and select Buffer this Image.
Paste the link to your blog post. (I'll show you a trick to quickly grab the link without leaving the pin)
That's all you have to do. From there, this trick takes over and, the post will will automatically change right before your eyes into a pretty post with the description, Get the Recipe link and the Pin for Later link. All the text is fully customizable so you can make it say whatever you want. If you have a bunch of tabs open with Pinterest pins, you'll be surprised at how many you can knock out in less than five minutes.
This Is How I Schedule Facebook Posts So Quickly
In the video below, I'll show you my assembly-line style process to quickly schedule 10 posts in less than 2 minutes. Watch the full video for everything you need to know. Below I'll list all the instructions you need to get everything set up to make the magic start happening. You just need to download a couple plugins for Firefox, but once you set them up, you'll never have to do it again and they will work forever. After that, you can just schedule like a machine.
Tools To Download For This Facebook Scheduling Process
Here are the 4 things you'll need to get started:
How To Set Up Your FoxReplace Settings
Then all you have to do is add a few simple rules to FoxReplace to make your post automatically transform into a beautiful, custom formatted Facebook post.
First go to Tools, FoxReplace, and FoxReplace options…
Click on Add, give it any Name you want, and then click on Substitutions.
Substitution 1
Put this in the Replace text box:
Found at http://www.pinterest
Put this in the with text box:
\nPin for Later --> http://www.pinterest

NOTE: The \n adds a blank line. If you don't want a blank line, just delete the \n.
Then click Add.
Substitution 2
Put this in the Replace text box:
http://www.yourbloghere.com/

Put this in the with text box:
\nGet the Recipe --> http://yourbloghere.com/

NOTE: The first link has WWW in the URL, while the second link doesn't. This is the keep the substitution from happening over and over and over. Make sure your blog links work both with and without WWW. They should! Also be sure both links have the slash at the end.
Click Add.
Substitution 3
Put this in the Replace text box:
"
Leave the with text box blank.
Click Add.
From here you can add any other custom replacements you want, if you find your pins routinely have the same text you are editing out over and over.
When you're done, click OK.
To make it start working, check the box by Auto-replace every and change the time to 3 seconds. Then close the pop-up settings screen. (You may want to un-check this when you're not using it.)
That's it for the setup! You only have to do that stuff one time, and now you're done. It will work forever now!
This Is What I Do To Schedule Multiple Pins Fast
Here's what I do to schedule a bunch of pins all in a few seconds.
Open about 10 pins from Pinterest all in tabs. This is where it's helpful if you have your own Pinterest Board that's just pins from your own blog. Then you can go there and quickly pick out a bunch pins whenever you want.
Highlight the description of the pin below the photo. You can triple-click anywhere in the description to easily highlight it.
Press CTRL-tab to go to the next tab, and highlight the description again. Repeat for all remaining tabs.
Then go back to the first tab. Hold down the CTRL key, and click and draw an L with a rounded corner on the image. This quickly grabs the link to your blog. You can also just right click and select Copy Link Location, but that's too slow for me.
Once you've got the link, right click on the image, click Buffer this image, and paste the link on the line just below the description. It will automatically convert into your custom formatted post.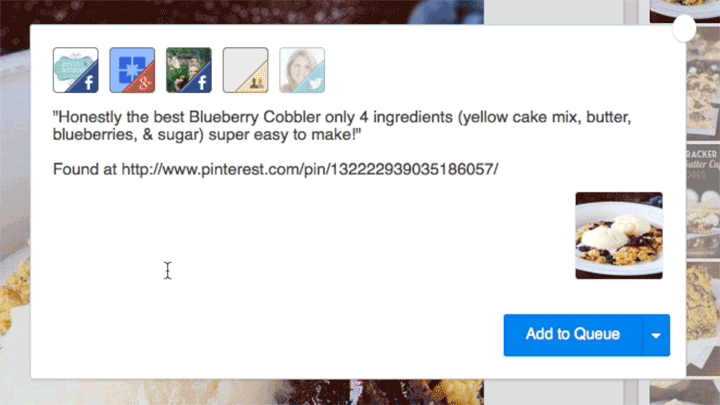 Hope this makes sense, and I hope it helps make your Facebook scheduling quicker and easier!!
Let me know if you have any questions in the comments.
Happy posting!! :)