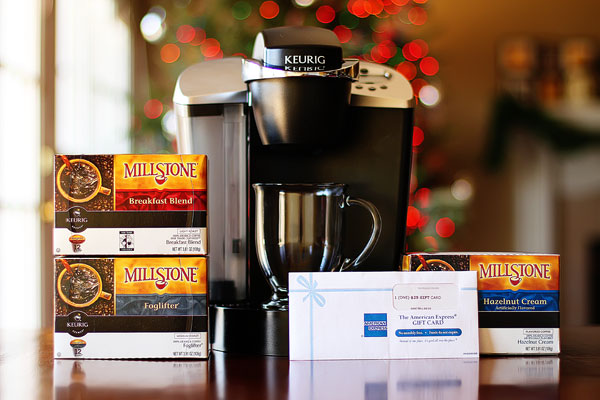 Time's up!
The winners of the Millstone and Keurig Giveaway are:
#328 Bridget: "My favorite tradition is taking my daughter to see a performance of the Nutcracker! =)"
#835 Kathy Iverson: "My favorite holiday tradition is the my husband's family sleepover on Christmas Eve! We all gather together at his sister's home, we drink hot chocolate and everyone puts on their brand new jammies. When the kids go to sleep, the parents put out gifts and prepare for the morning! The whole family wakes and spends Christmas morning together!"
#1280 Jennifer: "When I was growing up, my mom always made cinnamon rolls and hot chocolate for us on Christmas morning. My husband always had a breakfast casserole. I have continued making his favorite casserole for Christmas morning."
Congratulations girls! What beautiful traditions. I've sent ya'll an email. Merry Christmas!
To celebrate the holiday season, and the early mornings, family gatherings, and festive holiday parties that come with it, the awesome folks at Millstone would like to invite you to take a well deserved break and "Spend a Minute with Millstone" by enjoying a perfectly brewed cup of Millstone coffee in your own brand new Keurig Elite Brewing System. I'm so excited to share this with you guys today, I absolutely love my Keurig! It's perfect for newlyweds, the occasional coffee drinker, and coffee junkies alike. It's great to have on hand because you can easily offer your guests a freshly brewed cup of coffee, ready in literally seconds, without having to brew an entire pot. Of course you know the Hazelnut Cream flavor from Millstone is my favorite! I've got not one, not two, but three of these fabulous giveaway packages to give away today, courtesy of Millstone.
The Giveaway
Three (3) Kevin and Amanda readers will win the following items:
Three (12-count) boxes of Millstone K-Cups in Breakfast Blend, Foglifter© and Hazelnut Cream
Crate and Barrel coffee cup
Keurig Elite Brewing System
$25 American Express Gift Card
How to Enter
To be entered to win the Millstone giveaway, all you have to do is leave a comment on this post:  In honor of the holidays, I would love for you to tell me about your favorite holiday tradition. I can't wait to read all about them! :)
Contest ends Sunday, December 18, 2011 at 8 pm CST. One entry per person, please. Winners will be chosen by Random.org and notified by email. Giveaway provided by Millstone.
More from Millstone. Now through December 27, Millstone invites you to enter for the chance to win a Grand Prize of $10,000, a Keurig Brewer, and a 1-year supply of Millstone K-Cup Portion Packs.  By entering, you also have the chance to win weekly prizes for a $100 grocery gift card, a Keurig Brewer, and a 1-month supply of Millstone K-Cup Portion Packs. Visit www.millstone.com for full contest details.
Good luck!!!