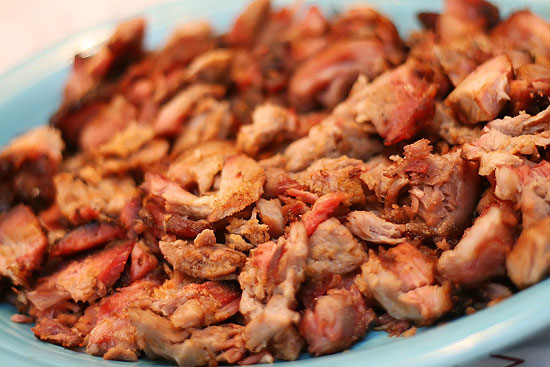 The pulled pork. Had to get a picture of the pulled pork. ;)
No fireworks. No dogs swimming in the pool. No beach pics.
But this isn't just any pulled pork… This this is seasoned, savory, and *smoked* pork shoulder. I've been dying to try my pulled pork recipe in a smoker- that's how pork shoulder is really supposed to be enjoyed right?? Especially here in the south! That's what BBQ is all about! ;) And since Kevin's mom is a pro on the smoker…….. and we were down there visiting for the 4th….. It was the perfect time to try it! :)
Isn't it pretty? :D You can see why I had to get a pic, right! ;) And let me tell you, it was right tasty too. Cooking it in the smoker- it was a completely and totally different taste than doing it in the oven or crock pot. Still really, really good! But a totally different taste. :) I'm hooked! I gotta try this again.

Want to know what else I've been up to in the kitchen? You can now follow me on Twitter!

I've been trying new recipes for Jambalaya, Shrimp and Grits, Pasta with Roasted Red Pepper Sauce, and a few more! I tweet the recipes and my after pics- so go check 'em out if you want! ;)
P.S. I promise not to always tweet about food. ;)
Do you tweet too? Are you only feeling so-so about the plain, simple backgrounds Twitter offers? Would you like to win a free custom-made Twitter background just for your Twitter page?? :) (I need to get one of these!)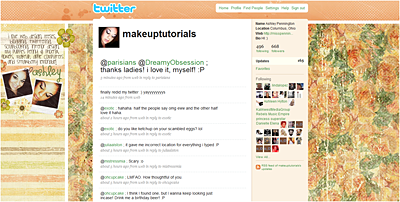 If you answered yes to any of the above questions, then this giveaway is for you! The winner of this giveaway will win a free, custom-made Twitter background from MissPennington. If you haven't been to her site yet, it's really cute!! :) She's got recipes, beauty tips, blog design stuff, and more! Definitely worth checking out! :D (She's on Twitter too!)
You have 3 chances to enter this giveaway!! :)
1. Leave a comment on this post! :)
2. Follow me on Twitter, then come back and leave a second comment on this post telling me you're now following! :)
3. Tweet about kevinandamanda.com- your favorite recipe, a blog tutorial, the fonts, anything you want! :) Then come back for a third comment and leave a link to the tweet you posted! :)
The winner will be chosen by his or her comment number, which will be picked by Random.org's number generator. The contest ends Saturday night, July 11th 2009, at 11:00 pm CST.
Thanks so much for looking and good luck!!! :)