Hey! :)

I spend a lot of time in my scrapbooking studio / office, and I recently grew tired of the plain white furniture and blue walls. I decided to spruce the place up a bit with some COLOR!!! I also have TONS of new scrapbooking supplies since I last posted pictures of my room, so I had to find bigger and better ways to organize it all! :) I finally got everything organized and put in its place, so I decided to take pictures and share them with you all. :) Please click the image below to see TONS of new pictures of my scrapbook room: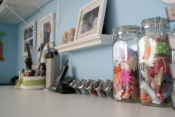 My New Scraproom!
I also have a few new pictures of the cats, including Missy and Hobbes' Easter pictures, and my NEW absolutely favorite picture of Missy. :) Be sure to check them all out! :)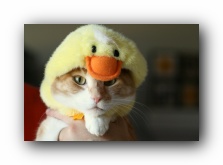 New Pics of the Cats!
Thanks for looking! :)