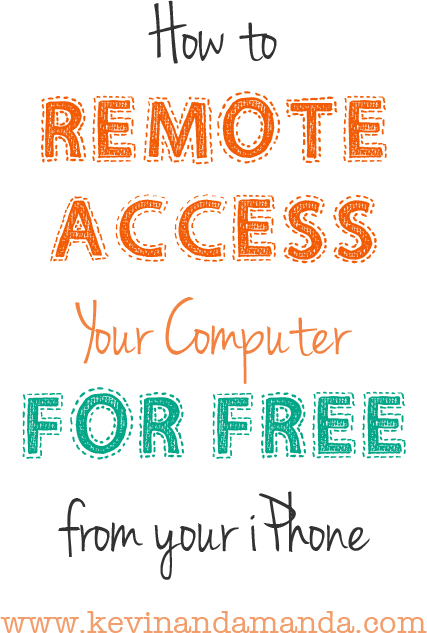 Hey guys! My awesome neighbor Stephanie just showed me the coolest app, and I HAD to tell you guys about it! Stephanie has her own amazing crafty/foodie/tutorial blog where she writes about everything that makes her smile, so I thought I'd let her tell you about this app herself. I am using this app CONSTANTLY from Oregon this week! What perfect timing for her to share this with me. Thanks for taking over while I'm on vacation, Steph!
Hey everyone! I'm Stephanie from GrinningLikeAnIdiot.com, where I share everything that makes me smile or pause a moment and reflect on life. Recently my family and I were hanging out at Amanda's house "watching" an Auburn football game when I showed Amanda a program called LogMeIn.com. She insisted I do a guest post about it because she thought you all would LOVE it! Hope you all enjoy a brief overview of LogMeIn along with a couple of brief videos to demonstrate.
The jist of LogMeIn.com is that it allows you to remotely login to a computer from anywhere. Pause for a moment to think, have you ever been on a vacation, at the grocery store, a cafe, or a friend's house and needed to get a file on a computer that you left at home, whether it is your grocery list, photo, resume, etc? Or have you ever been in a situation where you couldn't reach the computer that had what you needed? If a moment doesn't come to mind, I assure you, at some point in the future you will wish for this program! And the best part: if all you need to do is access the computer – it is FREE!!
I have a MacBook, iMac, iPad, iPhone and frequently travel with a IBM Thinkpad. With this much technology, I'm bound to leave a file on another computer or need to access a file on another computer. And before I became aware of LogMeIn.com I would carry my personal laptop (which is almost a 6 year old, 5 pound brick) and my iPad with me to the airport along with my work laptop, making my backpack weigh around 20 pounds that I'd have to unload at the security check points – oye!
This past week I wasn't traveling, but was bedridden for a couple of days following a surgery, but I was alert enough that I wanted to continue to work on pictures, work on an ebook that I'm going to give to my subscribers, and organize files, but my primary computer was upstairs and my laptop is rather clunky after all these years. Well, thanks to LogMeIn.com, I was able to work on files that were on my upstairs computer while laying in bed downstairs using my laptop!
Here is a short video on how I'm using my 5 year old MacBook to access a 6 month old, 12 Gig of RAM powerhouse iMac!
Here's another another short video using my iPad as a drawing tool or writing tablet.
It sounds like it would be complicated, but you'll be glad to know, setup was easy!
Go to www.logmein.com and create an account. There are two versions of the software, LogMeIn Free and LogMeIn Pro. When you initially sign up you'll get a free 30 day trial on the LogMeIn Pro version, but in my opinion the Pro version isn't needed and I'll tell you why shortly. After the 30 daysare up, you can use the LogMeIn Free version.
Click the "Add Computer" Button. (You'll need to know your login credentials for the computer you'll want to access). The next screen will prompt you to download the software, install, and begin using (any computer that you access will need to have the LogMeIn application installed on it).
For your iPad or iPhone you can download the LogMeIn app from the App Store (these are free as well) to remotely access your computer from your phone or iPad.
Here are some tips:
LogMeIn works really well with Safari (FireFox not as well because it doesn't display the remote computer's desktop in full screen. I haven't tried Internet Explorer, so feel free to let me know how that works).
The computer you are trying to remote access through LogMeIn must be turned on, connected to the Internet, not in sleep mode, and running LogMeIn.
With the Pro version you can print and share files. In my opinion the free version is the way to go. While I am taking advantage of the 30 day trial by quickly transferring files from my antiquated laptop to my awesome desktop, once the 30 day Pro version expires if I need to share files, I'll use Google docs (my hubby and I have been managing our budget on Google docs for a year or so, I even use Google docs to share files with my readers to download).
Even if you don't see a need for the LogMeIn.com now, I assure you, you will (Amanda found the need for the software 3 days after i showed it to her – everything happens for a reason :) ). I hope you all found this useful and feel free to drop by www.grinninglikeanidiot.com for more helpful tutorials or just to get a kick out of what I find entertaining :).
Stephanie is always showing me coolest things she finds, the latest in must-have gadgets, and useful tips, tricks, and tutorials, which she also writes about on GrinningLikeAnIdiot.com. You can also find her on Twitter and Facebook. Thanks again for telling me about this app, girl!