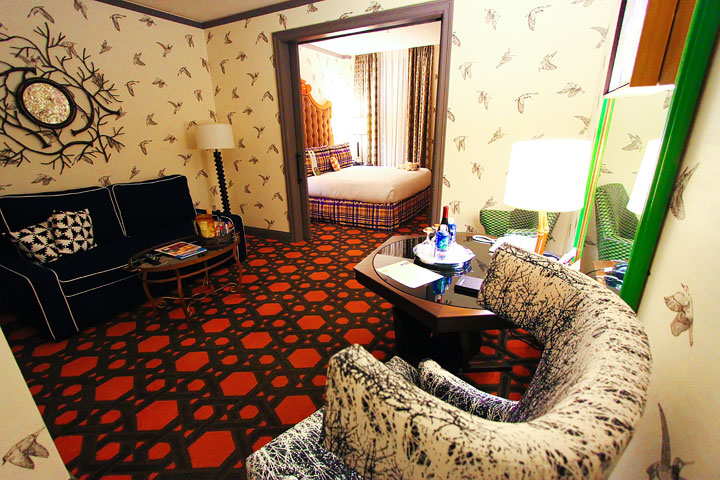 The final stop on our ten-day Oregon adventure was the awesome city of Portland. We got to spend four wonderful nights here — enough time to really relax, unpack, and thoroughly enjoy the city.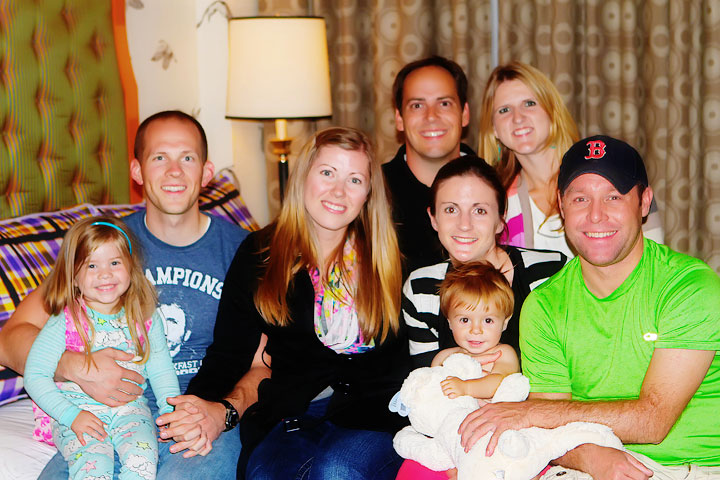 We also met up with two of our favorite food blogging families, Josh, Maria and baby Caleb of Two Peas and Their Pod, and Lauren, her husband, and sweet daughter from Lauren's Latest. It was so fun exploring Portland with these guys! How fun is it traveling with fellow foodies?? We found some seriously good stuff. I can't wait to tell you about it below! :)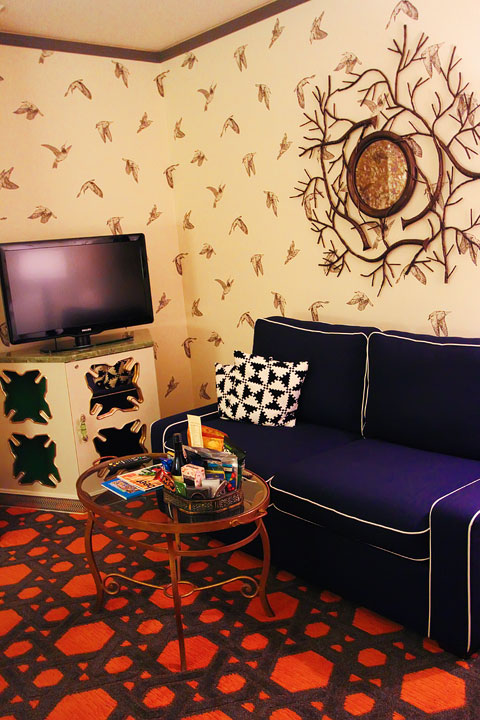 We all three stayed at the ultra swanky the Hotel Monaco in downtown Portland. We were all on the top floor, just doors down from each other. I loved being able to just run down the hall, knock on the door and see my friends and say Hey! Let's eat cupcakes! :)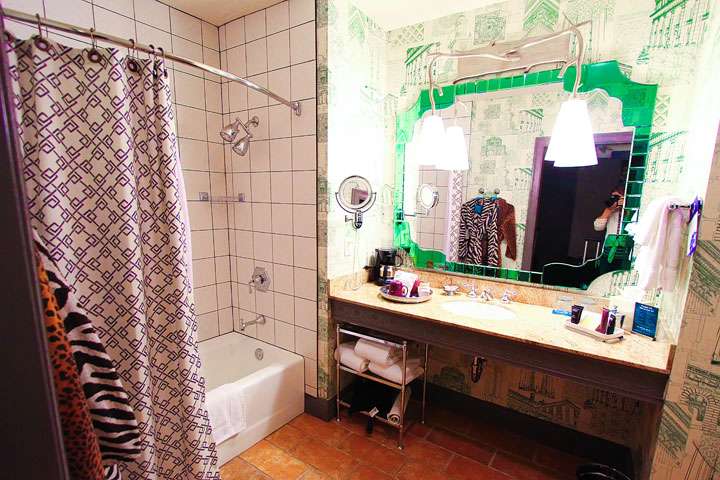 How funky is this bathroom?? Love the zebra and cheetah print robes, lol!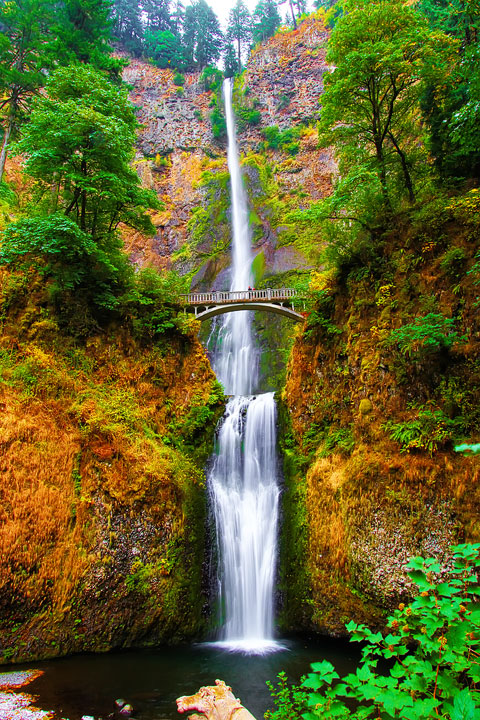 On our first day in Portland, Kevin and I went to Multnomah Falls with Maria, Josh, and Caleb.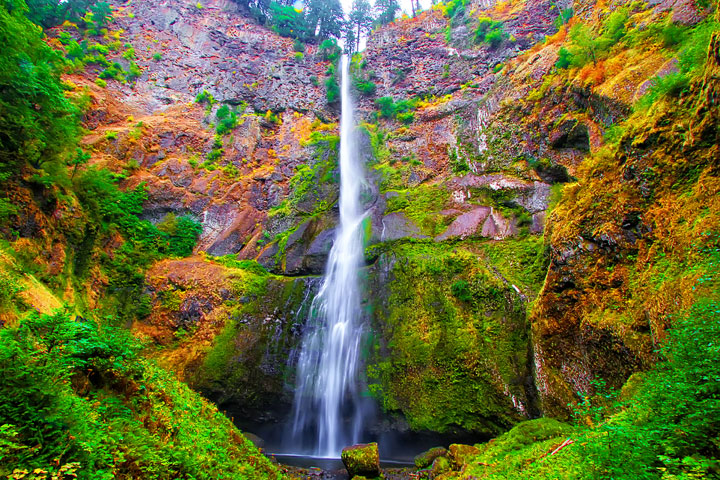 How gorgeous are these massive falls?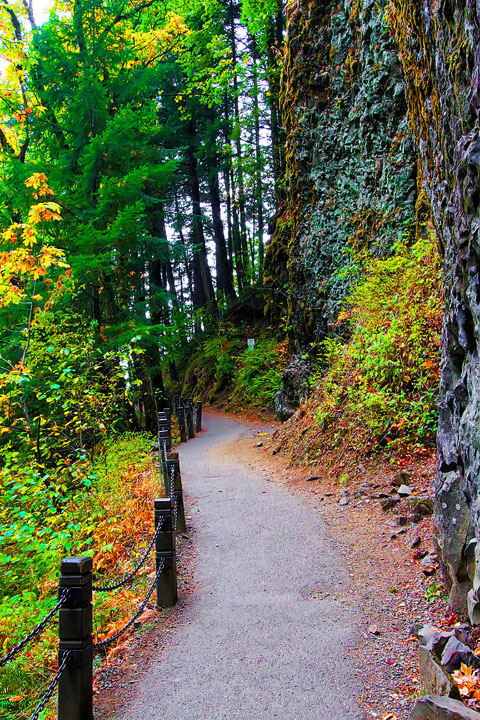 The steep trail to the top was already beginning to show a hint of fall.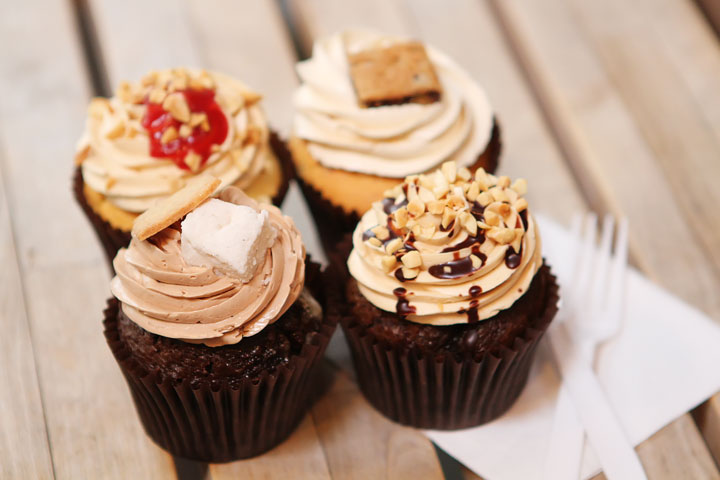 The next day the boys went to the zoo, and Maria and I began our sweet adventure! We started with these cupcakes from Cupcake Jones.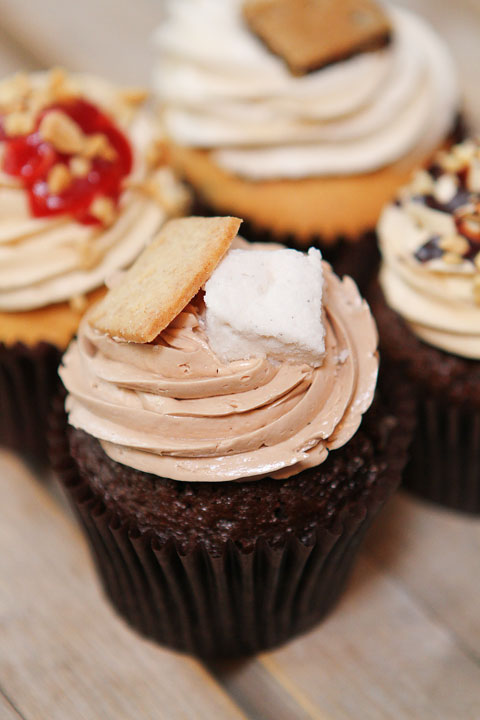 Here we have a S'mores Cupcake, topped with a homemade marshmallow and a homemade graham cracker! Wait 'til you see what's inside this one… :)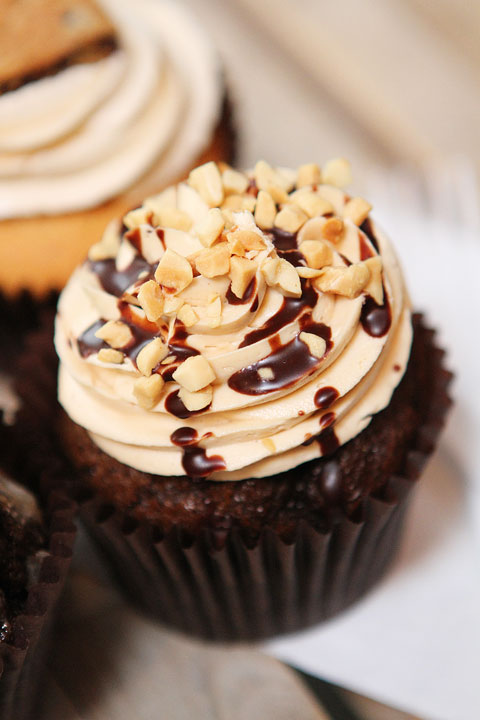 Next we got a Peanut Butter Cup cupcake…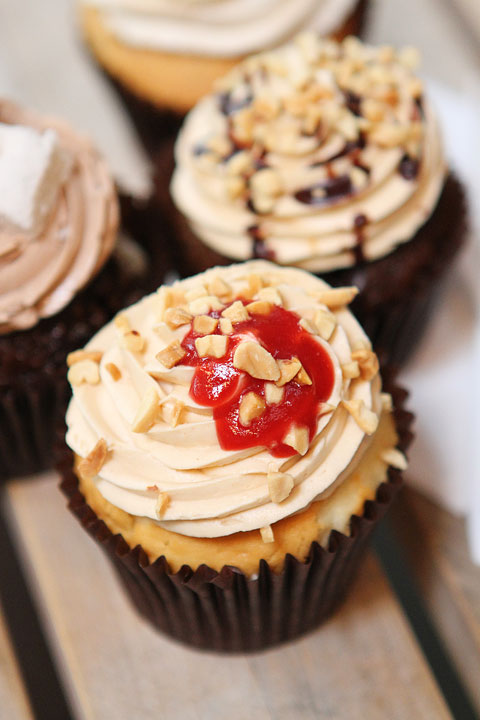 A Peanut Butter & Jelly cupcake…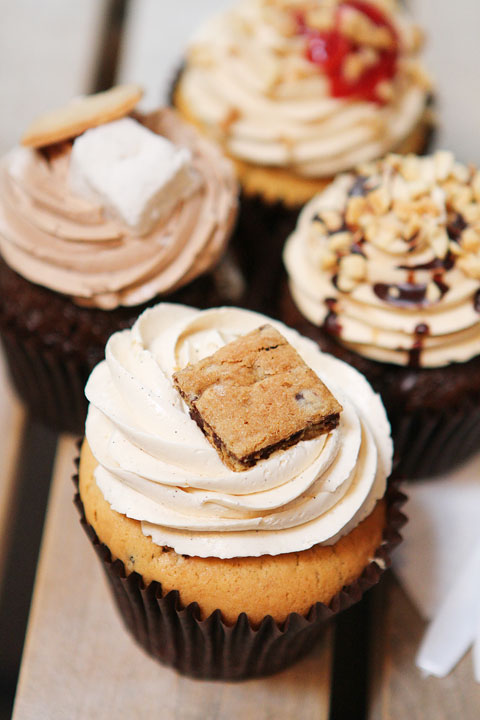 And a cookie dough cupcake!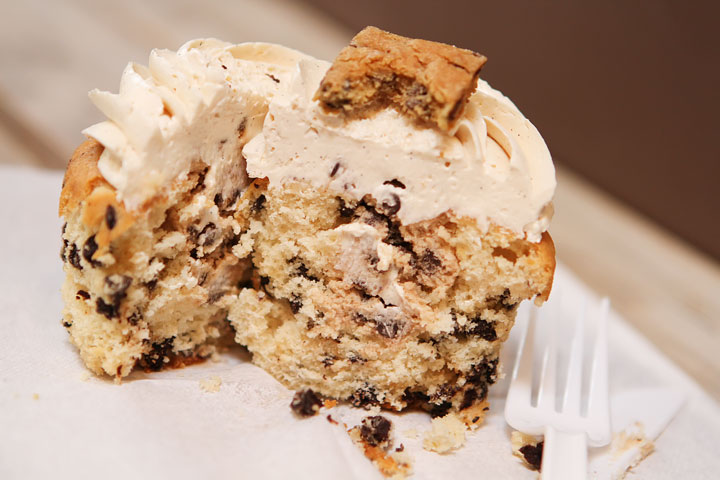 The cookie dough cupcake was topped with a chewy, homemade chocolate chip cookie. Oh my goodness, this one was fabulous! It was a fluffy, brown sugar chocolate chip cake stuffed with chocolate chip cookie dough and topped with vanilla bean buttercream. So delicious! I loved this one.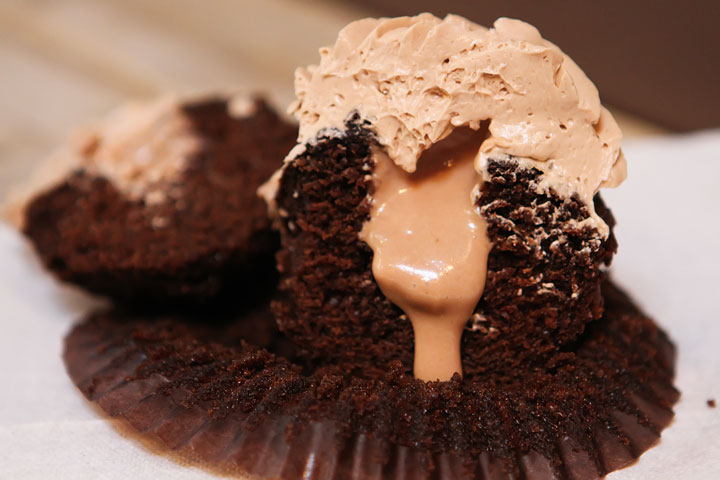 Here's that S'mores one! This was a chocolate marshmallow cake filled with chocolate graham cracker cream topped with milk chocolate buttercream frosting.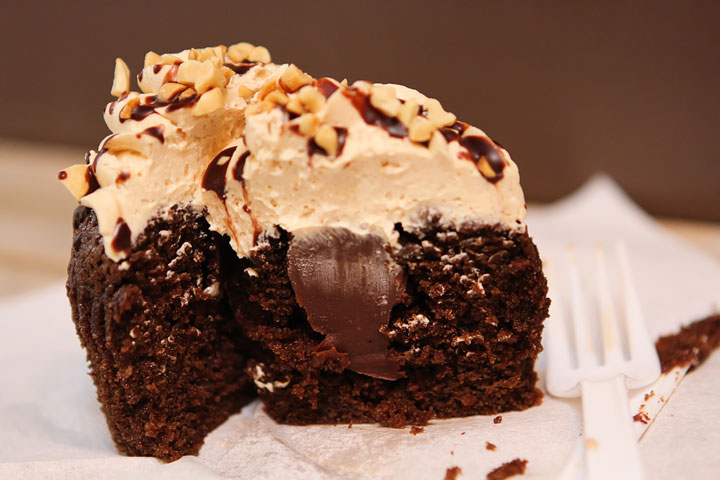 Ooh, this rich chocolate cupcake was filled with chocolate peanut butter ganache topped with peanut butter frosting. Who could ask for anything more?? :)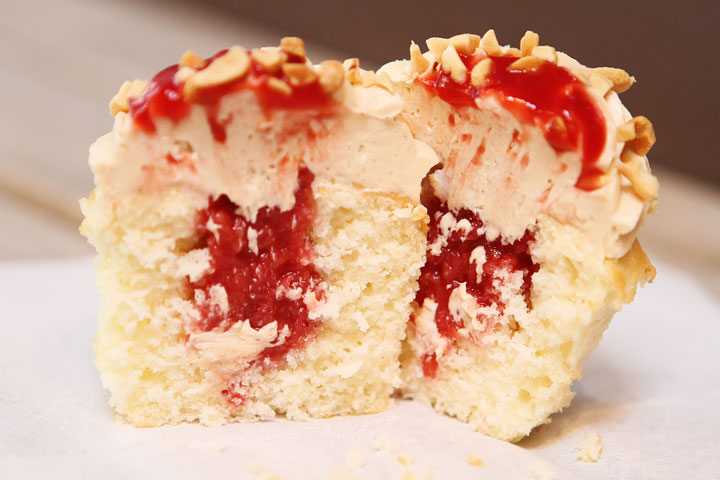 This one was the surprise show stopper!! Maria and I both agreed this PB & J cupcake was our favorite!  The cupcake is a white velvet cake — so perfectly golden and lightly sweet, it reminded me more of a perfect pound cake — filled with homemade berry jam and topped with peanut butter frosting. So yummy! You must try this one! :)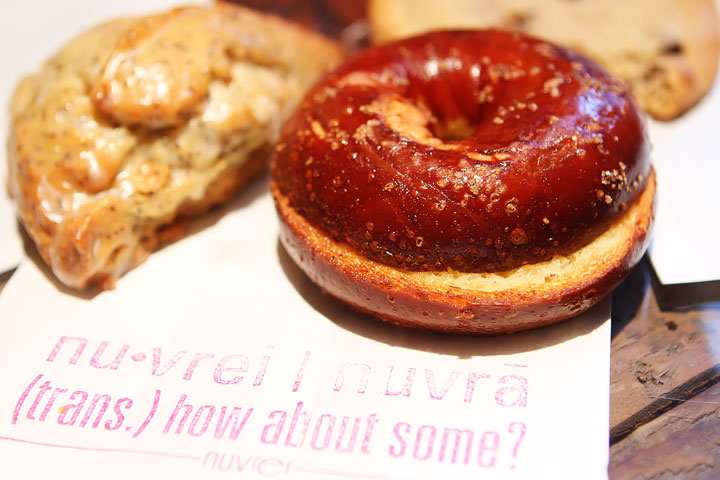 Next we headed over to Nuvrei Bakery for a respectable breakfast. ;) We started with a lovely lemon poppy seed scone and the Pretzel Bagel — a bagel with a pretzel crust! Interesting twist.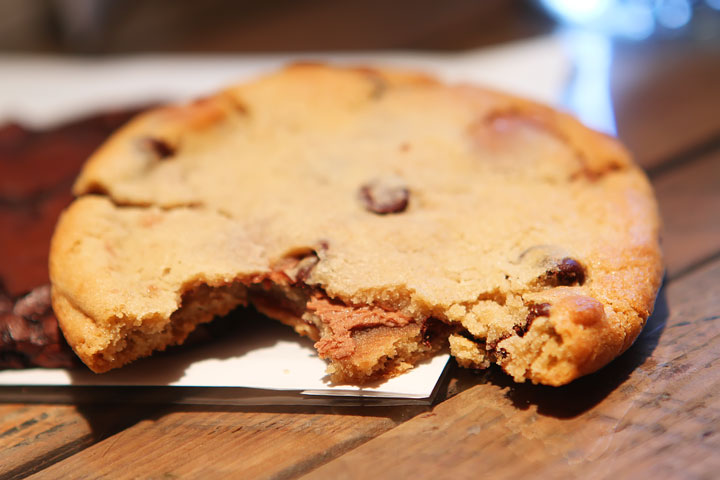 This giant fluffy chocolate chip cookie was my favorite! It seemed to have a layer of milk chocolate with chunks of dark chocolate. So good!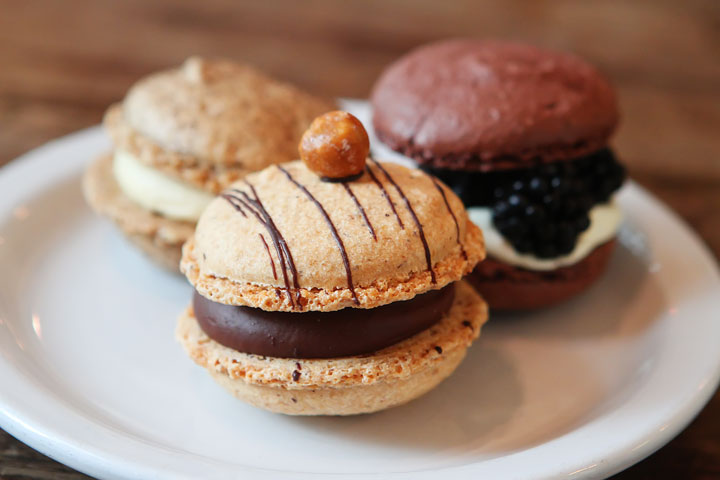 Next we walked over to Ken's Artisan Bakery to try their french macarons. We walked all over Portland finding sweet bakeries! Had to walk off all those calories. :) Here we have the chocolate hazelnut macaron…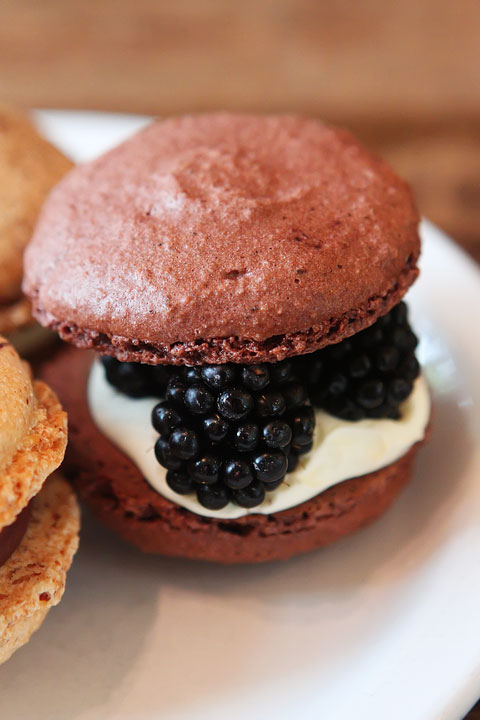 A seriously delicious fresh blackberry macaron…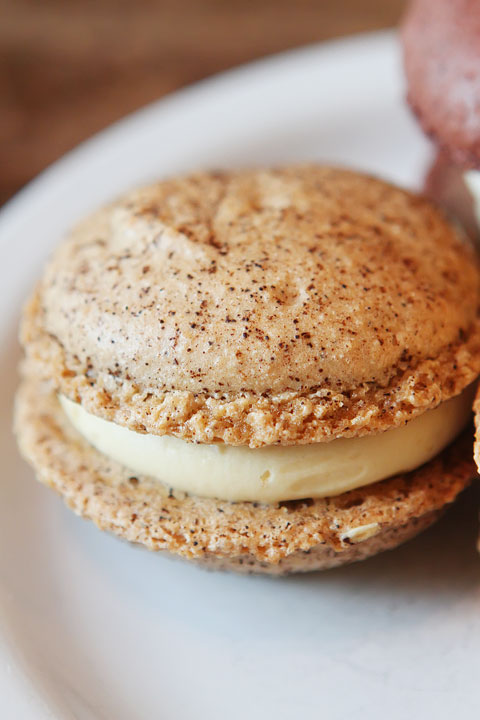 And a salted caramel coffee macaron.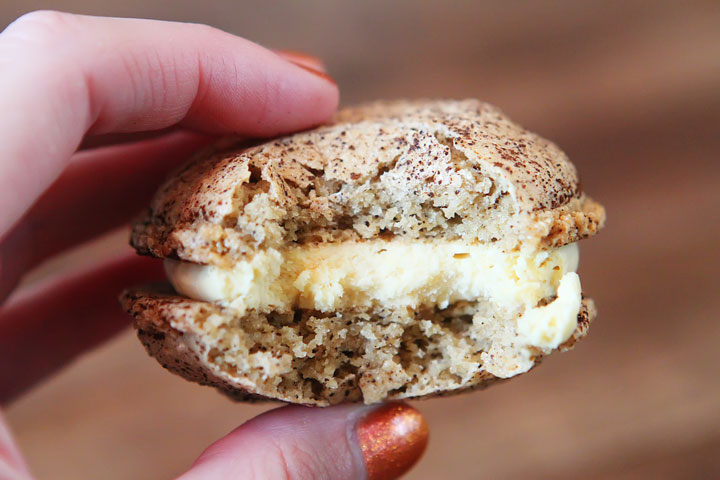 Oh my goodness you guys. I just had to take a photo of this salted caramel coffee macaron after I tried it!! It is so ridiculously good!! The salty caramel, the light hint of coffee, the sweet, fluffy buttercream, the chewy, light macaron. Perfection!! This might be the best macaron I've ever had. :) Look out Bouchon!!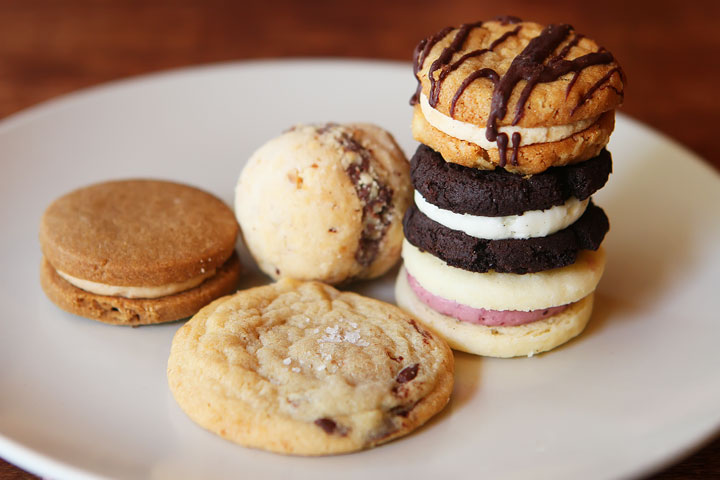 If you are looking for just a tiny bite of something sweet, Two Tarts Bakery is the place to be! They have the cutest mini cookie sandwiches, mini whoopie pies, and even mini chocolate chip cookies.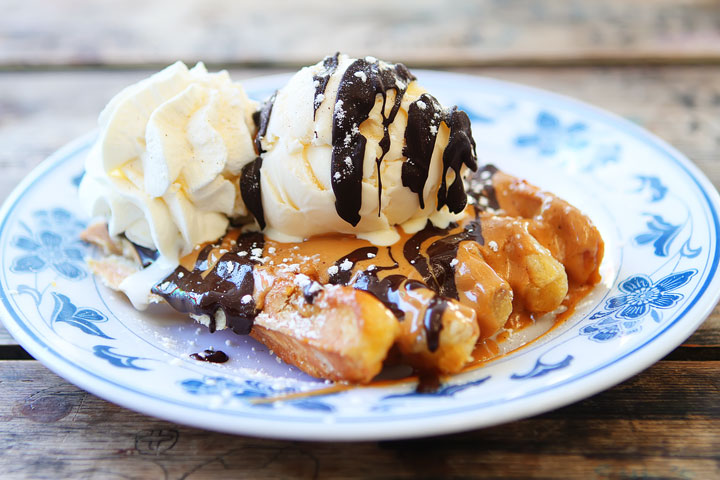 On Saturday we met up with the Peas and Lauren and her family for an afternoon walk around the city. The weather was gorgeous and sunny, perfect for checking out Portland's Food Truck scene! Our first stop was the Waffle Window. This one's technically not a food truck, but it is literally a window, lol! I don't even know if I can tell you about the crazy waffle. It was so darn good. This is a fresh, hot, dense, caramelized, perfectly sweet waffle covered in chocolate, peanut butter, ice cream, and homemade vanilla bean whipped cream. I could've eaten this whole thing by myself, no problem! :) Kevin made me share though, and I can assure you, not a single crumb was left on this plate, lol!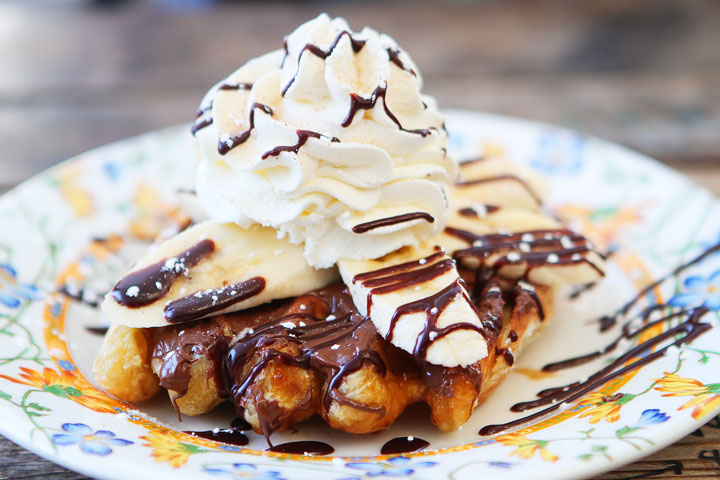 Lauren and her family ordered the Nutella Banana waffle. Loved this Nutella-y waffle! :)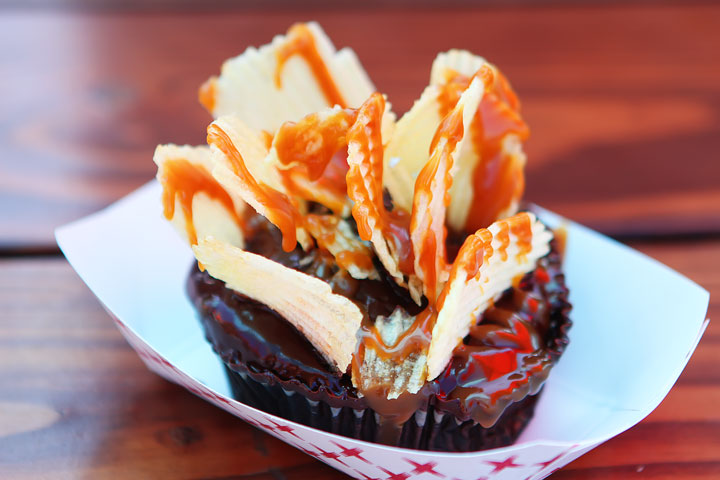 Oh my gosh you guys. How crazy is this cupcake?? Our next stop was a genuine food truck, the Sugar Cube. This is a warm, gooey, fudgy chocolate buttermilk cupcake dipped in chocolate ganache, piled high with ruffled potato chips and drizzled in dreamy salted caramel sauce. To die for.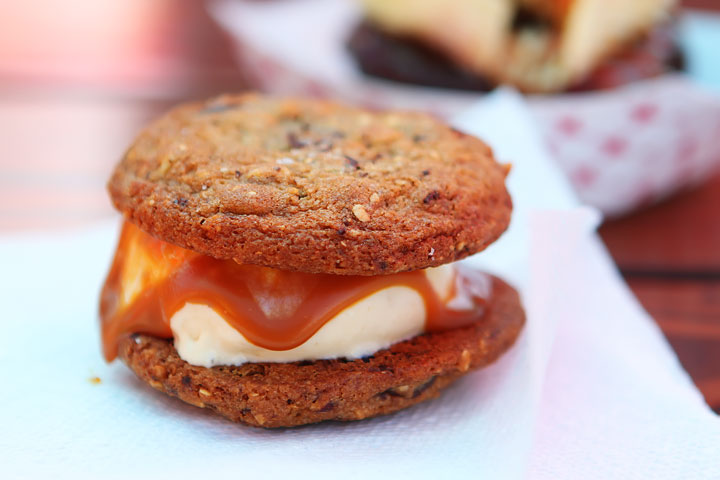 Kevin ordered a Chocolate Hazelnut Chip Cookie Sandwich with Roasted Banana Ice Cream and Salted Caramel Sauce. I am still dreaming about that caramel sauce! It was so good!
Our Portland Favorites
Here's a list of our Portland favorites. We think you should check these places out! ;)
Hotel Monaco
506 Southwest Washington Street
Portland, OR
Cupcake Jones
307 Northwest 10th Avenue, Portland, OR
(503) 222-4404 ‎ · cupcakejones.net
Loved the cookie dough and PB & J cupcakes here! They have mini versions too, but they're not filled like the big ones. Splurge on a big cupcake here!! :)
Nuvrei Pastries & Cafe
404 NW 10th Avenue,, Portland, OR
(503) 972-1700 ‎ · nuvrei.com
Loved the warm chocolate chip cookie.
Ken's Artisan Bakery
338 Northwest 21st Avenue, Portland, OR
(503) 248-2202 ‎ · kensartisan.com
Oh my gosh. It is my goal in life to have another salted caramel coffee macaron from here. Must make this happen.
Two Tarts Bakery Inc.
2309 Northwest Kearney Street, Portland, OR
(503) 312-9522 ‎ · twotartsbakery.com
Tiny treats! Perfect for a small bite.
Salt & Straw
2035 Northeast Alberta Street, Portland, OR
(503) 208-3867 ‎ · saltandstraw.com
Loved the ice cream here!! My favorite was the coffee ice cream. :) Still dreaming about it!
The Waffle Window
2624 Northeast Alberta Street, Portland, OR
(503) 265-8031 ‎ · wafflewindow.com
Oh my gosh. I can't even talk about how good my Chocolate Peanut Butter waffle was. So good.
The Sugar Cube
thesugarcubepdx.com
Funky, salty, sweet, caramely desserts!
Mother's Bistro & Bar
212 Southwest Stark Street, Portland, OR
(503) 464-1122 ‎ · mothersbistro.com
We went here for breakfast with everyone and Maria and I split the Crunchy French Toast. Check out her photo of this french toast! Oh my goodness, I was so surprised at how much I loved this! Definitely right there in one of my top two favorite french toasts ever. The Griddle Cafe still holds that number one spot in my heart! :) But this was a close second. :)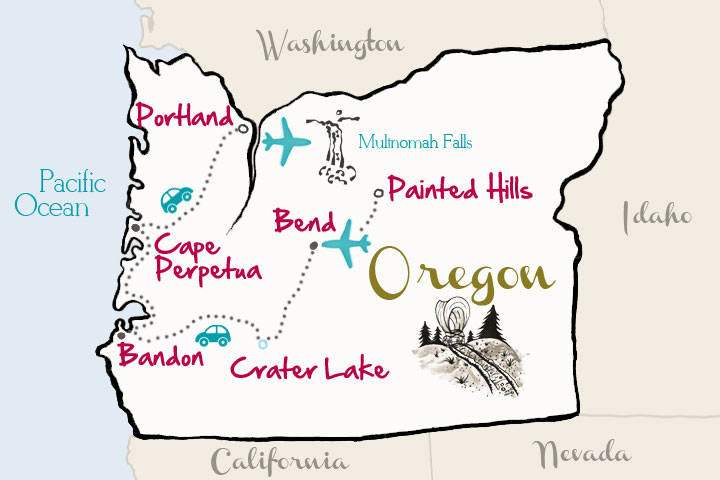 Thanks so much for following along on our Oregon Adventure! Here's where all we've been:
*Thanks so much to Travel Oregon for sending us on this adventure through Oregon!