Time's up!
The winners of the EatSmart Precision GoFit Digital Body Fat Scale are
#1014 Suzanne Bond and #336 Jen.
Congrats Suzanne and Jen! I've sent you two an email.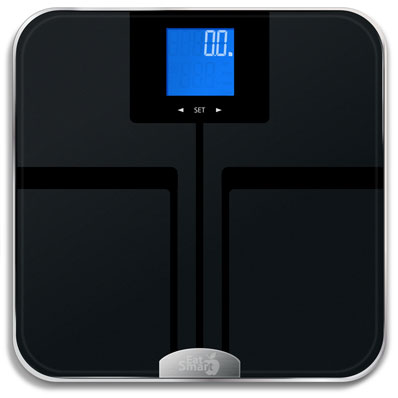 I am freakishly fascinated by this unassuming little scale.
More than once I've stepped on that devilish contraption known as the bathroom scale and wondered, Well, hmm. What the heck is going on here?
Are those extra pounds just water weight?
or
Why am I not losing weight? Am I just gaining muscle?
I've always been curious. And this scale can tell you. The Precision GoFit Digital Body Fat Scale by EatSmart sends a safe, low level electrical current through your body which allows the scale to analyze your body in a matter of seconds. Not only does it display your weight, but here's what all it tells you.
Weight
Bone Mass
Body Fat %
Muscle %
Water Weight %
If you're keeping track of your weight, body changes, fitness results, or diet goals this is a handy tool to have around. It's extremely sleek and lightweight, comes with batteries (it uses triple A, which is nice), and starts weighing immediately when you step on it.
I've got two (2) of these scales that I'm very excited to give away today, courtesy of EatSmart.
How to Enter
To enter the giveaway, simply leave a comment in the comments section of this post. What's your favorite healthy snack? Bananas? Granola? Yogurt? Maybe we'll get a few good ideas here!
Contest ends Saturday night at 8pm CST. One entry per person please. Two winners will be randomly chosen and notified by email.
Good luck!