This Rainbow Vegetable Tray is so bright and colorful! A great healthy appetizer or option for snacking between meals. This quick and easy recipe so fun, everyone will want to eat their veggies!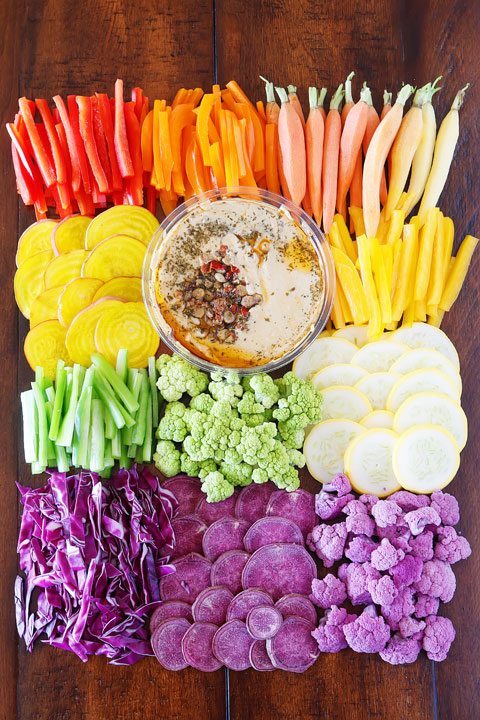 This Easy Veggie Tray Is Perfect For Healthy Snacking
When Kevin gets home from work, he is usually starving! When I'm making dinner he's usually in the kitchen with me, hovering to see what he can snack on. :) I love having him around when I'm cooking, so I try to leave snacks out for him. But I don't want him to spoil his dinner, so I try to have some light and healthy options available that are also quick and easy for me to throw together.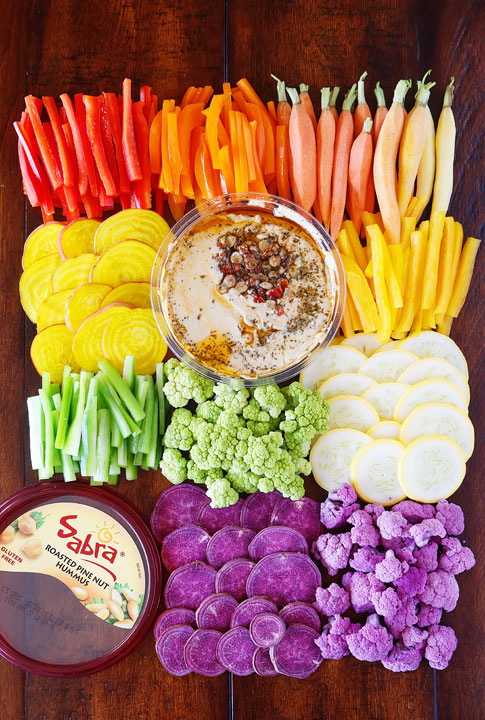 Hummus Dip Goes Great With This Vegetable Tray
He especially loves crunchy raw carrots, so whenever I am chopping vegetables, I always set out a tray with Sabra hummus so he can swipe veggies and snack with me while I'm in the kitchen. I love having my family around me while I'm making dinner, talking about each other's day and what the pups have gotten into. It's one of my favorite parts of the day. Miley, Howie, and Winnie are usually circling underfoot hoping to catch bits of cheese or something that I've dropped. They definitely know the word "Uh oh!" and come running to see what I've dropped.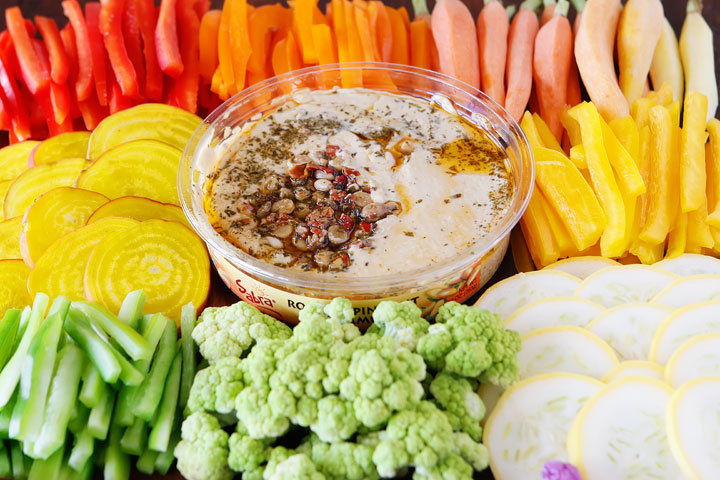 What Type Of Hummus Is Best For This Healthy Snack?
I always try to keep Sabra hummus on hand so we can snack on fruits and veggies while we're standing around in the kitchen. There are so many delicious, creative flavors to choose from. I love trying them all. We used Sabra Roasted Pine Nut Hummus in the photos above. It's definitely one of our favorites!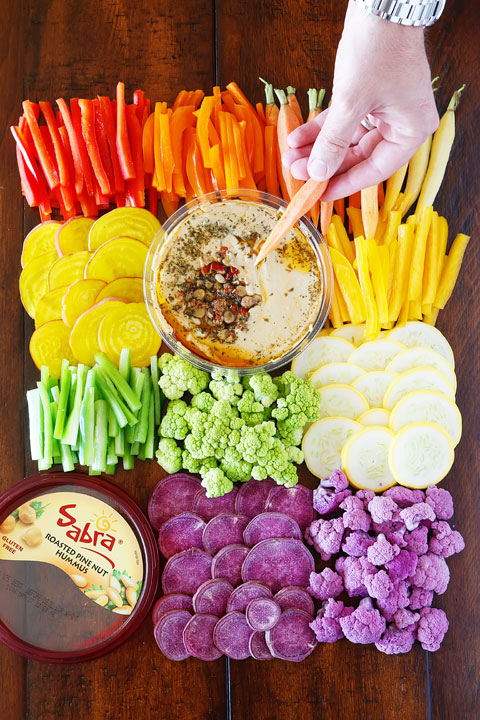 Keep Sabra hummus, Greek yogurt dips, salsas, and guacamole on hand in your home to always have a quick and easy, healthy snacking option available on hand for those unofficial meals. It's great for getting people together in the kitchen. And they go with whatever you have on hand — crackers, chips, pretzels, bread, fruit, veggies, and more. Basically you could put hummus on anything and I'd eat it! :)
Do you like having people in the kitchen with you while you're making dinner, or is it your quiet time to unwind?
Thanks so much for reading!!
This post is in partnership with Sabra Dipping Co. All content, photos, and opinions are my own. Thank you for supporting sponsors that allow me to create new content for Kevin & Amanda!