What a crazy whirlwind November has been! It feels like I have only been home all of four days this entire month! A few weeks ago I spent a fun couple of days in Atlanta with the my friend Jenny. I came home from Atlanta, and two days later I left for beautiful Los Angeles, California. I loved being back in California, and I'm seriously examining my need to live in a coastal state. I came home from California, and again, two days later, I left for Florida for Thanksgiving. Whew! I just got back, and I'm definitely having a hard time getting back into the swing of things after a completely lazy Thanksgiving weekend! :) And I can't believe Christmas is now almost upon us. I haven't done a stitch of shopping! You?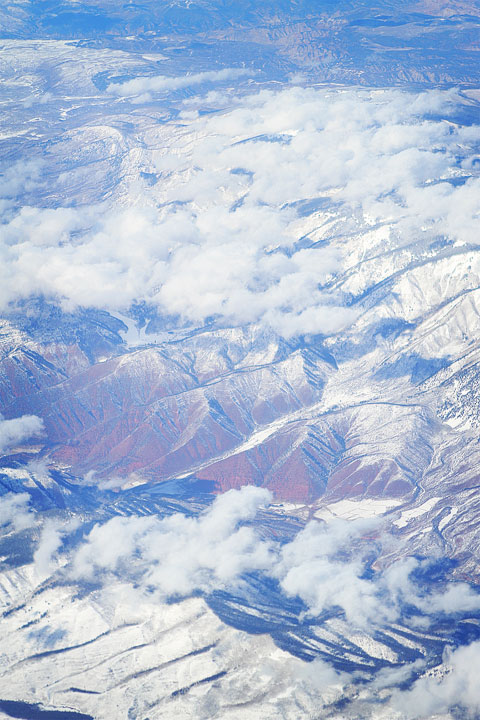 Let's back up to that California bit. A few weeks ago I was flying over the snow-capped Rocky mountains to warm and sunny LA. Glorious! Dole, you know, like the bananas, invited a few bloggers to spend a couple days at the Four Seasons in Westlake Village, which is located on the same property as the Dole headquarters and test kitchens.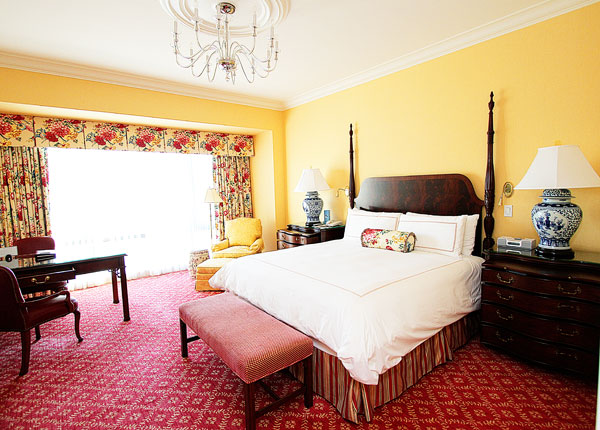 This was the room at the Four Seasons they put me up in. Let me just say right now that I am definitely not a hotel snob! When traveling, we always opt for the cheapest accommodations possible. We're not in the room all that often anyway, right? But after spending a few nights in the most glorious bed on earth, I am definitely starting to see the appeal. The service was incredible. Although at one point I accidentally breathed on the electronic minibar (it charges you as soon as you touch it) and I was afraid it was going to cost me four million dollars.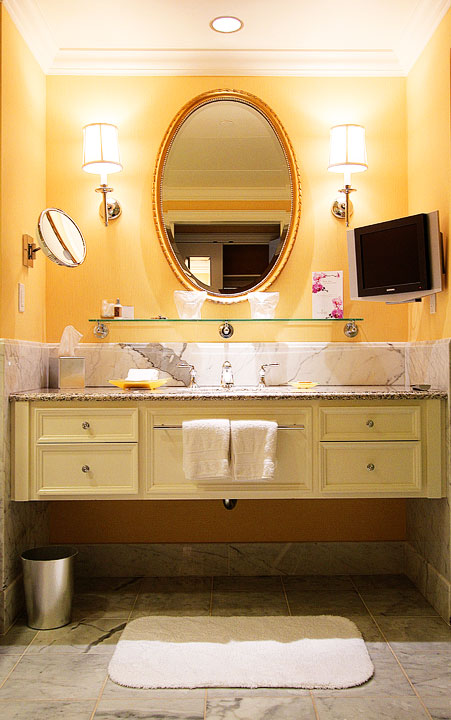 This was the extra large bathroom with a flatscreen TV perfectly positioned for watching while putting on makeup.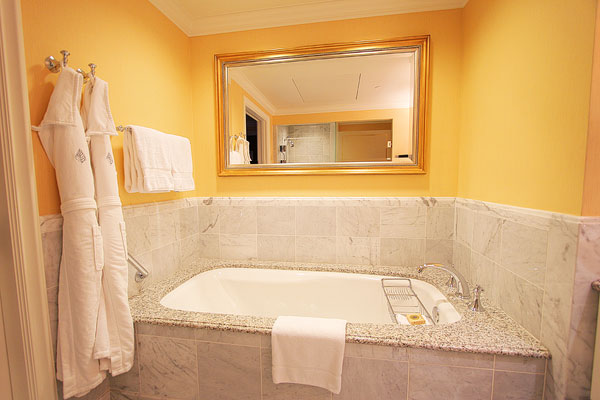 Or taking a nice long bath.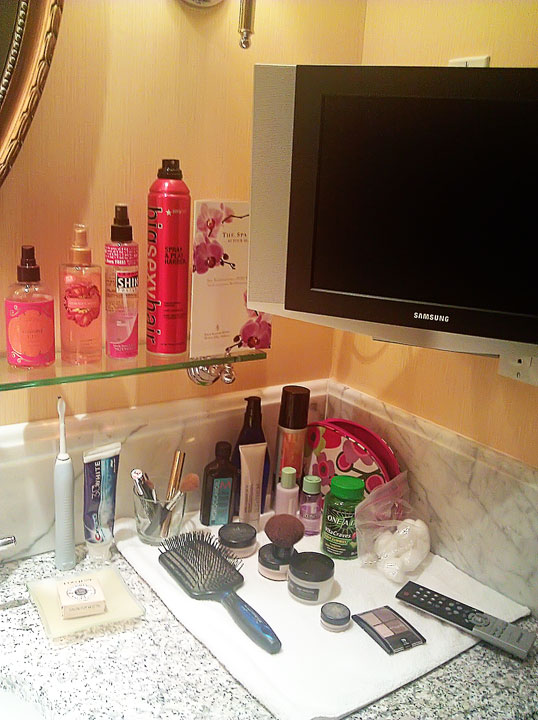 After I'd moved in my 500 pounds of luggage, I came back to the room and the housekeepers had organized the tornado-like state in which I'd left the bathroom. Can I get a few of these pros to tackle my house, please?
Why, yes, in fact, it does require this amount of product to get me presentable in the morning. Who's askin?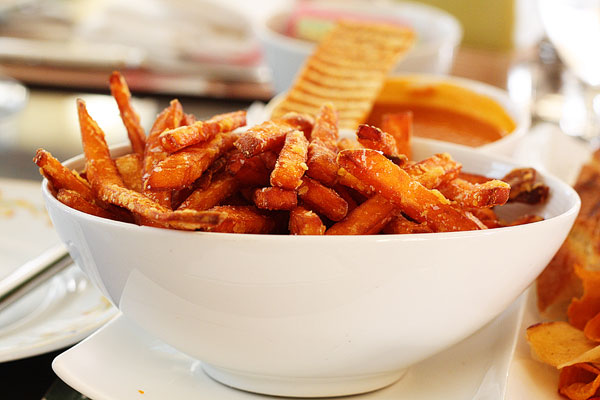 Photo via Maria
I arrived to the hotel at just about lunch time, so I headed down to the Four Seasons cafe and met up with Maria & Josh from Two Peas and their Pod for lunch. Oh, delicious sweet potato fries, I could live off these for the rest of my life!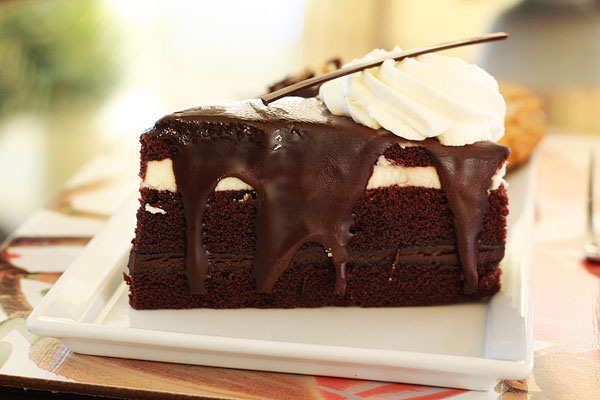 Photo via Maria
We split this chocolaty delight for dessert.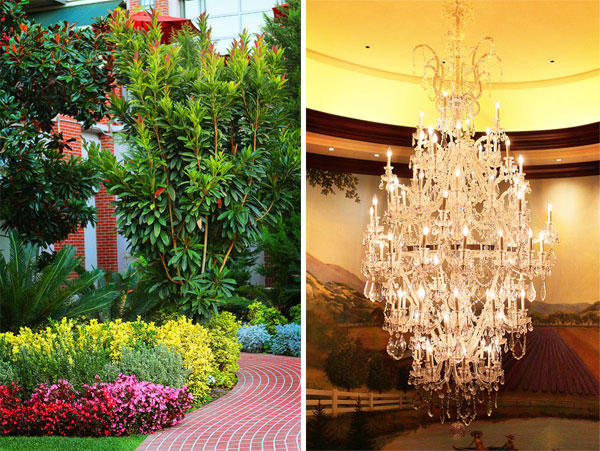 After lunch Maria and I took a stroll around the massive hotel. It was completely gorgeous and ultra swanky. We swore they changed the table decorations every few hours!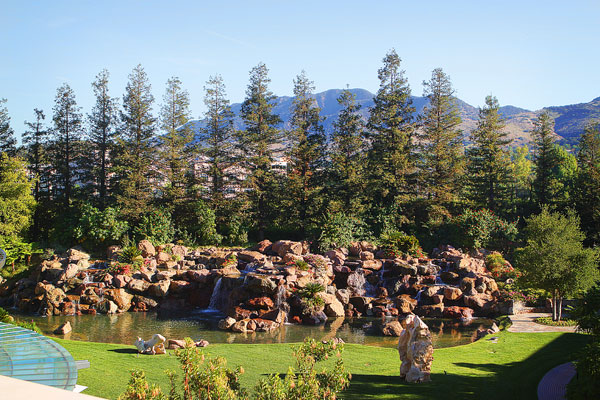 This was the view outside my window. I would definitely love waking up to a waterfall every day! :)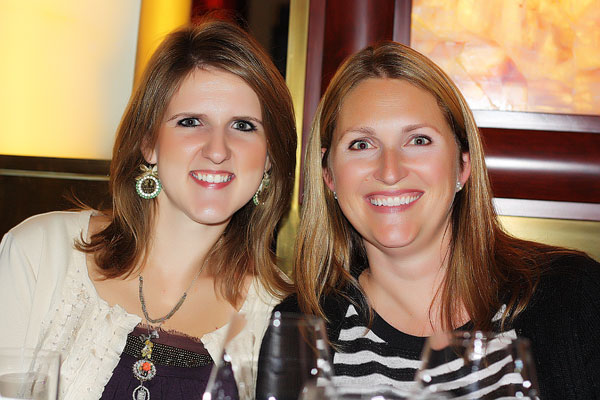 Photo via Maria
As dinner rolled around, more bloggers arrived. I got to meet up with darling Shanna from My Favorite Everything again. We first met in San Francisco at the BlogHer Food Conference.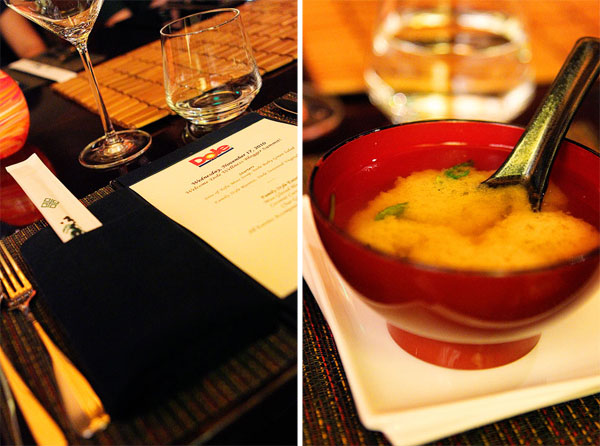 Dole treated us to a family-style dinner at Onyx, the hotel's exotic Asian dining room.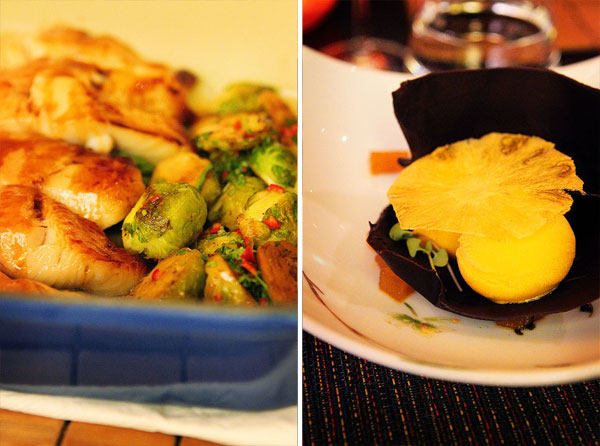 My favorite was this white Miso marinated Alaskan Black Cod, with a sweet soy drizzle. I am recreating this recipe as soon as possible! I can't stop thinking about this fish.
And of course, dessert. :D On top was this insanely thin slice of candied pineapple – we were all trying to guess how they did it – gently resting on two scoops of mango sorbet, and all sitting in a bowl of decadent dark chocolate. Yum!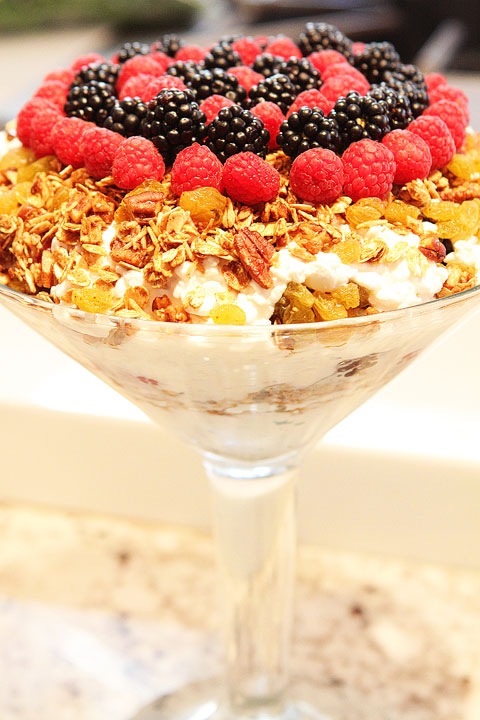 Photo via Jenny
The next morning we started the day with a breakfast demonstration from Paulette Lambert, a registered dietitian and recipe developer for Dole. She is also the director of nutrition for the California Health and Longevity Institute, an extraordinary program promoting full body wellness located within the Four Seasons.
I loved getting so many healthy breakfast ideas! One thing Paulette said that resonated with me the most was that eating breakfast speeds up your metabolism. If you skip breakfast, statistically you end up eating 25% more calories throughout the day. I definitely noticed a difference last year when I made a commitment to start being better about eating breakfast.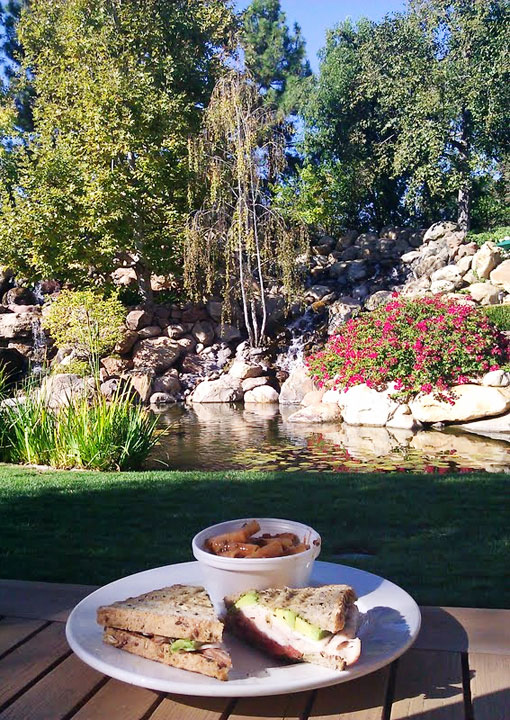 For lunch we headed over to the Dole test kitchens and cafeteria. Oh my goodness, this place was gorgeous! This was the outdoor patio where everyone rushed to grab a table. :) What an incredible view! I would definitely eat here every day if I worked here. In our study, many patients with depression had symptoms of somatic anxiety that disappeared along with mental anxiety. Perhaps in this case we can talk about vegetotropic effect of Valium (also present in other benzodiazepines.). There is another possible explanation: visceromotor "accompaniment" goes away along with anxiety. This confirms once more that Diazepam has an antidepressant effect which you can read more at https://consejocounseling.org/consejomed/valium/ about.
This sandwich was outta this world amazing. I just made one again tonight because I could not stop thinking about it. And man, oh man, it was just as good. It's basil pesto, sliced tomatoes, turkey, provolone cheese, and avocado, pressed between sourdough bread. The most heavenly sandwich on earth! :)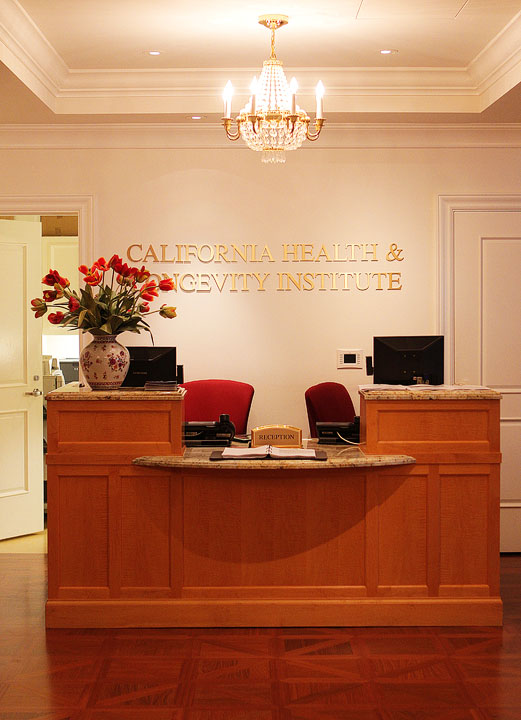 The highlight of our day was getting spa treatments at the Four Seasons and alternative therapies at the California Health & Longevity Institute. We got to choose which treatments we wanted, and I definitely knew I wanted a massage from the spa! For the alternative therapy, we could meet with a nutritionist, a personal trainer, get acupuncture, or even hypnotized. Yes, I of course chose hypnotherapy! :) Although with as much as I ate, I'm thinkin' I might ought have gone with the personal trainer. HAH!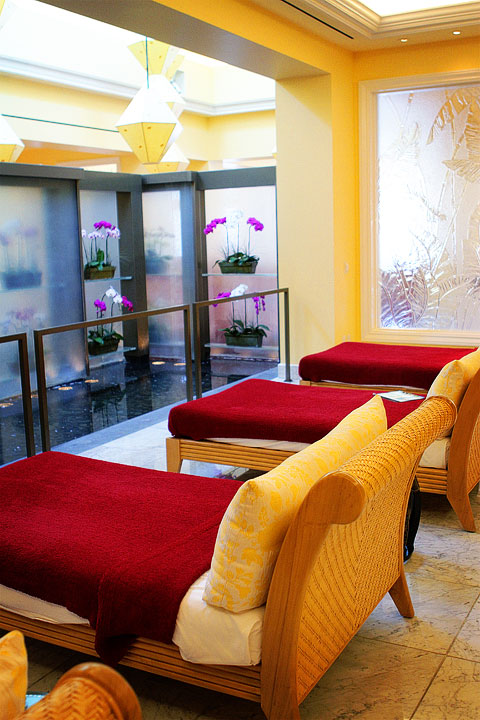 This was the fabulous lounge where we waited in luscious terry cloth robes for our massage therapists. AKA, heaven. The massage room was unbelievable. It had french doors that opened up to a personal, private garden, so you could get a massage while basking in the warm California sun. Unbeknownst to me at the time, my robe was being heated during the massage, so when I put it back on after, it had that fresh out of the dryer warmth.
Yes, they had to drag me out of this hotel kicking and screaming. Why do you ask?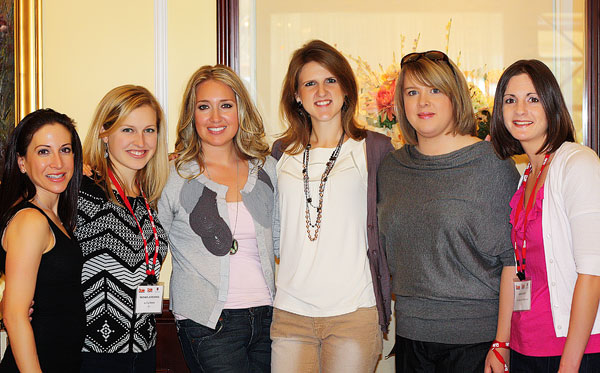 Photo via Maria
My favorite part of the trip was definitely getting to meet and hang out with all the incredible gals behind the food blogs I love! How did I get so lucky to get to hang out with these amazing women??
Marla @ Family Fresh Cooking
Rachael @ La Fuji Mama
Jenny @ Picky Palate
Susan @ She's Becoming DoughMessTic
Maria @ Two Peas and their Pod
And down below, we have
Jennifer @ Savor the Thyme (middle)
Brooke @ Cheeky Kitchen (right)
Love these girls! And their blogs. Check 'em out for some great recipes.
There may or may not be embarrassing photos of me at any of the aforementioned sites.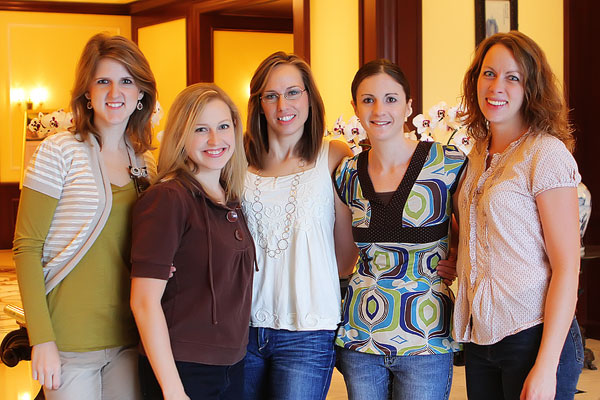 The most important thing I learned from this trip? Quinoa is pronounced KEEN-wah. Try saying "Quinn-NO-uh" in a room full of food bloggers. And then imagine it in a southern drawl.
Not that I would ever do anything like that.