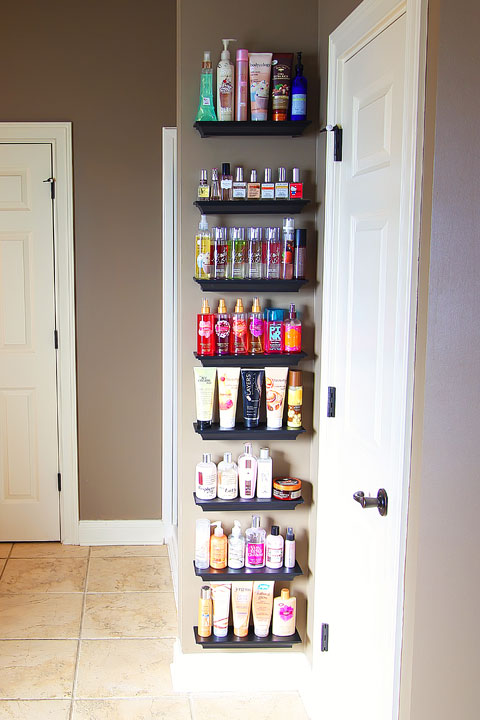 Hi guys! I am so excited to share my new shelves with you today! This is just a quick peak at a few things we've been doing around the house. :) If you follow me on Instagram, Twitter, or Facebook you got a sneak peak of these shelves on Friday. :) I love them! I have always wanted to store and organize my perfumes and lotions in a way so I could easily see what I have and also so they'd be right at my fingertips. I was originally thinking something like this vintage spice rack organizer or especially this awesome hidden pull-out storage. At our old house, I had something similar to the pull-out storage, although not nearly as nice!! :) It was a very skinny wire laundry cart tucked between the tub and the counter. You can sort of see the space I'm talking about in this photo, although there was more space than there appears to be in the photo. :)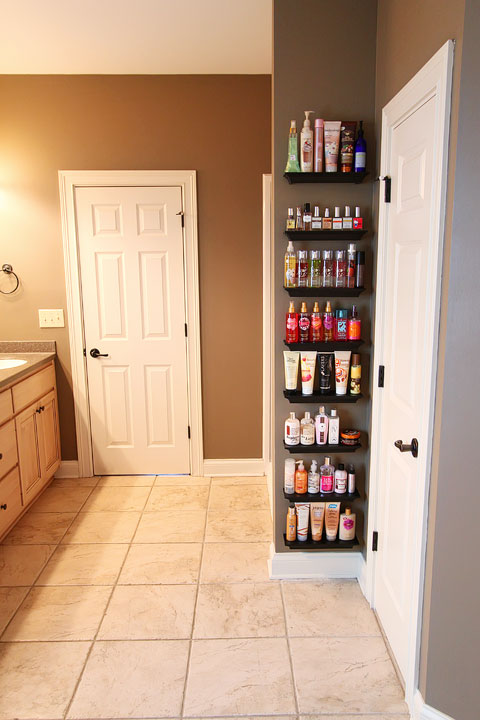 So anyway, when I started figuring out exactly what I wanted in the new house, I noticed this empty space behind the linen closet door.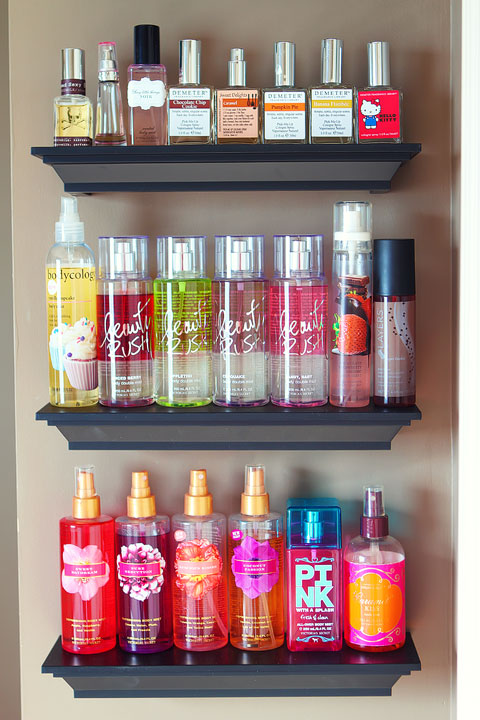 It's perfect for shallow shelves! And you can't see it when you first walk in the bathroom, so it's sort of hidden so the small room doesn't look too cluttered. :)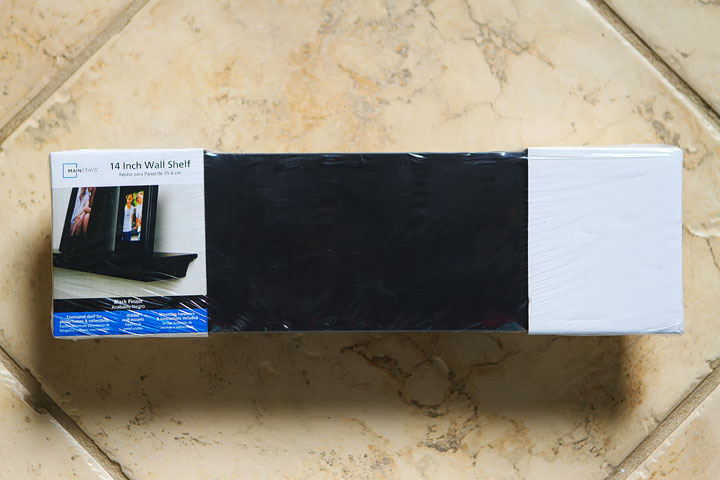 I used these 14″ black shelves from Walmart. They were perfect! I found them in the picture frame section, down on the very bottom shelf. They were kind of hard to find unless you know exactly where to look. :) They also have them in a 24″ size. They were around $7 a shelf. If you're looking for more sizes and colors, I've also seem similar shelves like these at Target, Pottery Barn, and Hobby Lobby. They even have them at Home Depot and Lowes, although they were too long for what I needed. I think the shortest ones I could find at those places were 23″.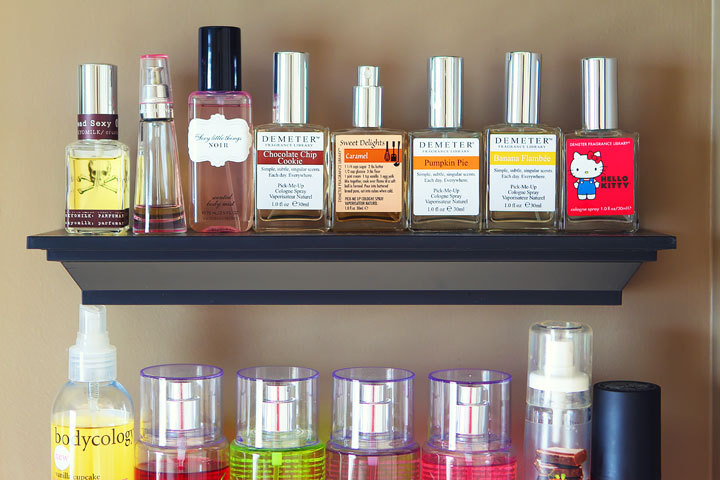 Some of you asked what all I keep on these shelves, so here is a close-up of each shelf. :)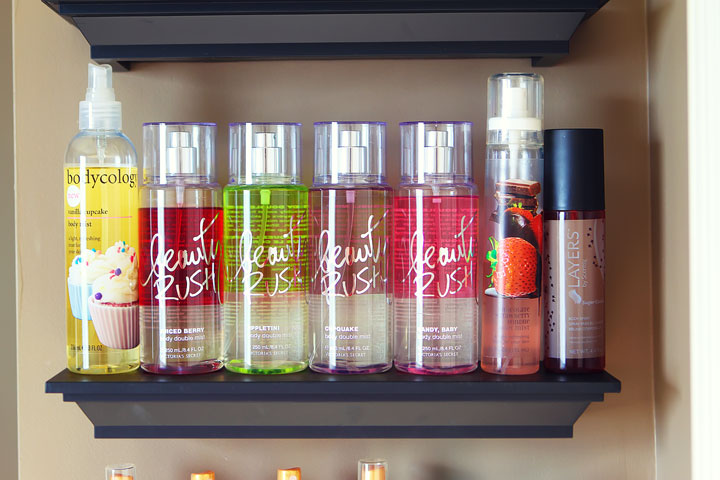 Love all of these Beauty Rush scents from Victoria's Secret. Cupquake, Candy Baby, Juiced Berry and Appletini. Swoon.
The Bodycology Vanilla Cupcake one is from Ulta, although I think I've seen them somewhere else common too.. Maybe Walmart or Target?
The chocolate strawberry one is from CVS *years* ago. They used to have such fun bath and body products in their own brand. I wish they still had them!
The Layers one is Sugar Cookie from Scentsy! :)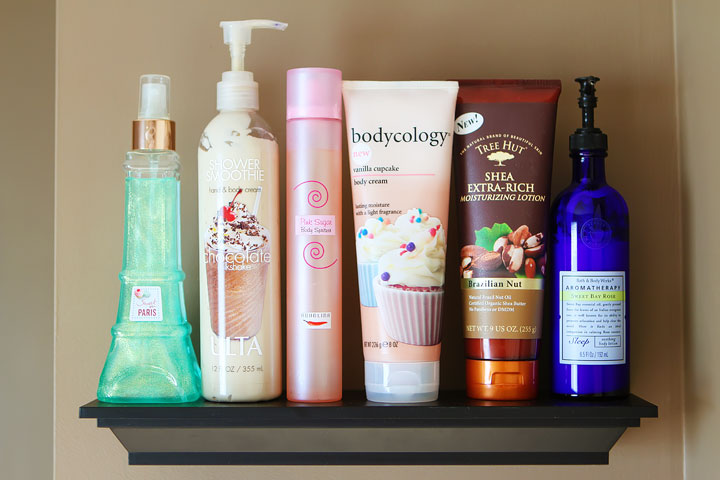 Tree Hut Brazilian Nut is one of my favorite scents ever!! Love this lotion!! I got this at Ulta, but I've also seen it at Walmart.
The sparkly Eiffel towel shaped spray is macaron scented body spray from Bath and Body Works.
Okay, seriously, the Chocolate Milkshake lotion is my FAVORITE scent ever. Ulta discontinued it. I may never get over it. This is all I have left. I'm hoarding it.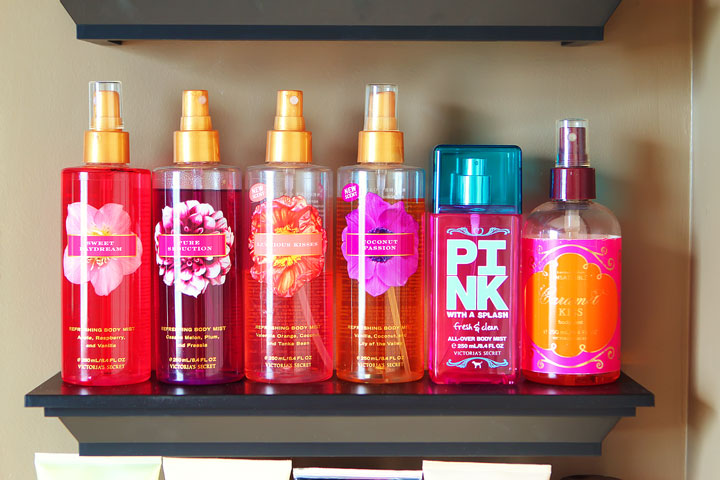 All from Victoria's Secret here. Caramel Kiss (on the end) is another one that has been discontinued that I'm hoarding. Dear Victoria's Secret. Please bring back Caramel Kiss. Thank you.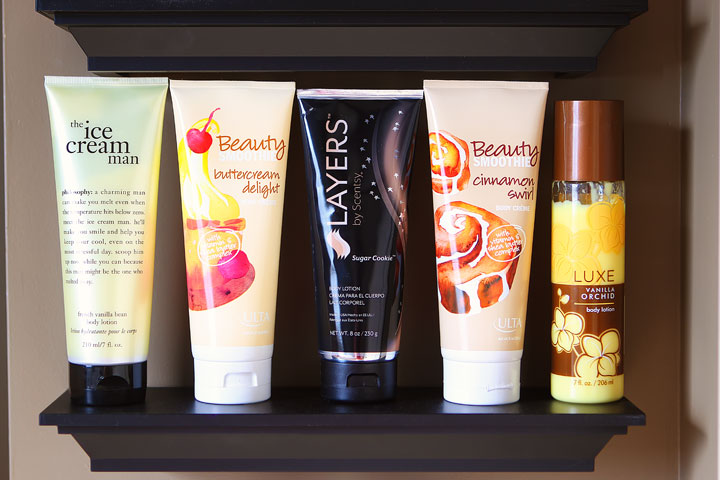 Ice Cream Man from Philosophy is so fun!
Cinnamon Swirl (from Ulta) smells so good!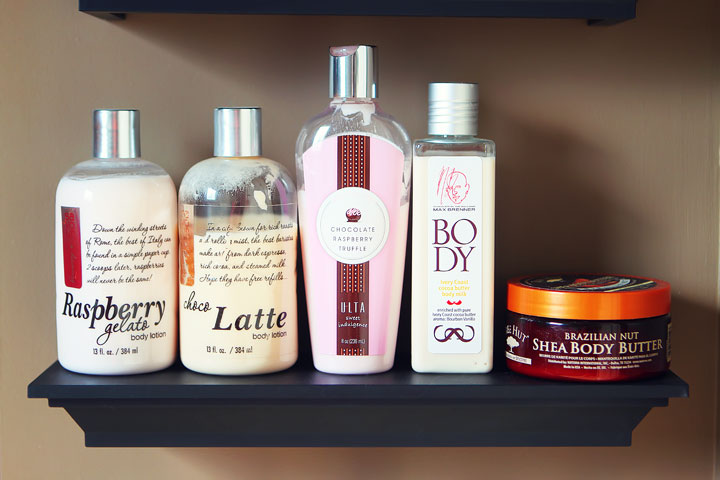 Love, love all of these.
ChocoLatte and Raspberry Gelato are from Target, but I think they've been discontinued as well. Why do they do this to me?
The Body one is from Max Brenner in NYC and smells like pure vanilla. Heaven!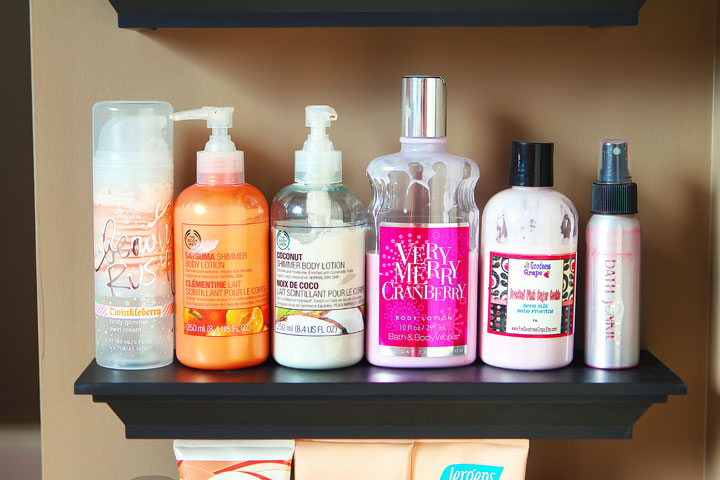 Sparkly lotion shelf! Well, the first three anyway. :)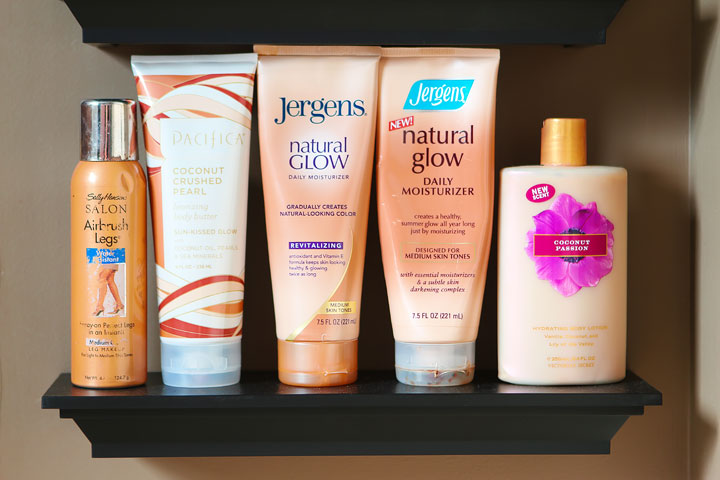 Super embarrassing self-tanner lotion shelf. Let's move on. Except for the Coconut Passion. It smells good.
The paint color in the bathroom is Sherwin Williams Virtual Taupe. I have no idea why it looks like a different color in every single photo. It probably looks like the most like itself in the very first photo.
Thanks so much for looking!! If you have any questions, please feel free to ask in the comments. :) Have a great day!