Spicy Sausage Pasta
This original recipe for Spicy Sausage Pasta is one of our most popular Pinterest recipes! It's easily one of the best pasta recipes on our entire site!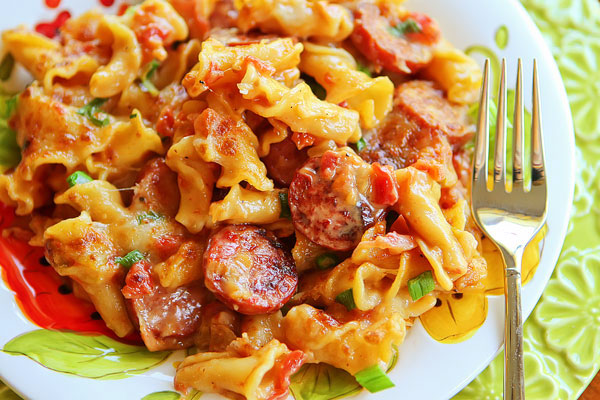 My absolute favorite dinners are the easy weeknight kind. The kind that can be whipped up in thirty minutes or less from start to finish and only mess up one dish. And of course, they need to knock-my-socks-off with flavor as well! I am so in love with this spicy, creamy, cheesy pasta for all of those reasons. It is just packed with so many incredible flavors. It's one of our new favorites — I make it all the time because it's so yummy and easy!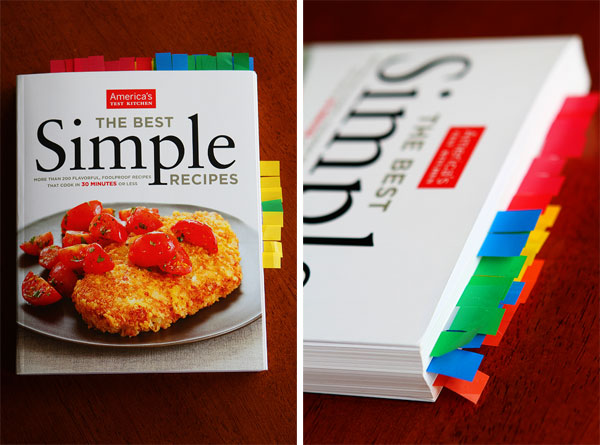 This amazing Spicy Sausage Pasta dish is one of my favorite recipes from one of my favorite cookbooks, The Best Simple Recipes from America's Test Kitchens. It's filled with over 200 recipes for quick and easy dinners that can be ready in thirty minutes or less. Perfect. I've gotten so many new dinner recipes for us from this cookbook. And since it's from America's Test Kitchens, you know that every single recipe is tried, true, and to-die-for. They even conduct blind taste-testings and tell you what brand of whatever ingredient they're using is the best. I love stuff like that.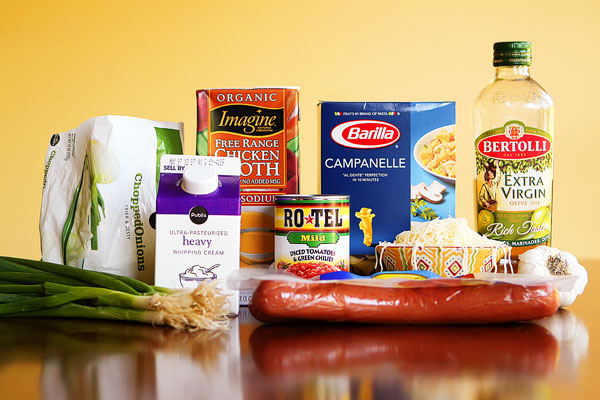 Spicy Sausage Pasta Ingredients
So let me tell you about this Spicy Sausage Pasta. It basically completes me. Take a look at all these yummy ingredients. Nothing too out of the ordinary here.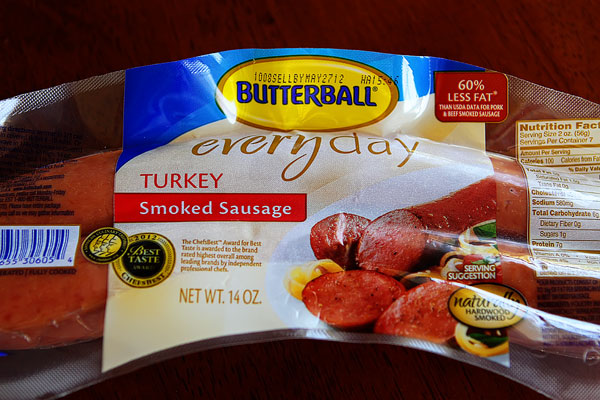 Sausage
First things first — the sausage. I am a huge fan of smoked sausage, and I am completely, head over heels, bowled over by this Butterball Turkey Sausage. The first time we tried it I thought, there's no way that this is turkey sausage. There's no way it has half the calories and fat of regular smoked sausage. There's no way. Because it tastes just like regular smoked sausage — the full-fat, full-calorie kind that I used to buy all the time. I just don't see how it's possible that this sausage can have all the yummy, juicy flavors of regular smoked sausage with only half the fat and calories. But it only took one bite to convince me.  We've been buying this turkey sausage exclusively for a few months now, and I will never go back to regular smoked sausage again. You guys know since I tend to go a little crazy when I'm traveling, I like to cut back on the fat and calories when I'm home! But flavor absolutely comes first. I love that I can have both with this sausage.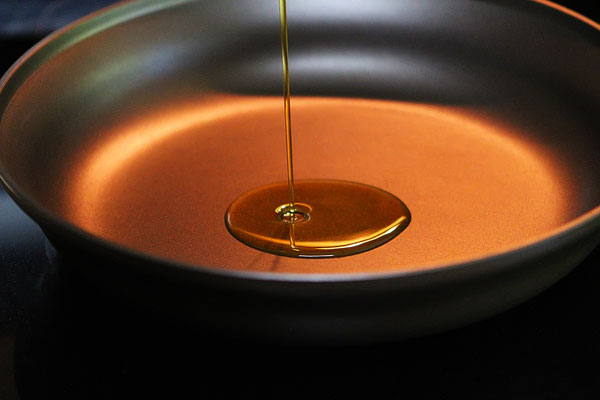 How To Make Spicy Sausage Pasta
So first, add a little olive oil to an oven-safe skillet over medium-high heat until just smoking.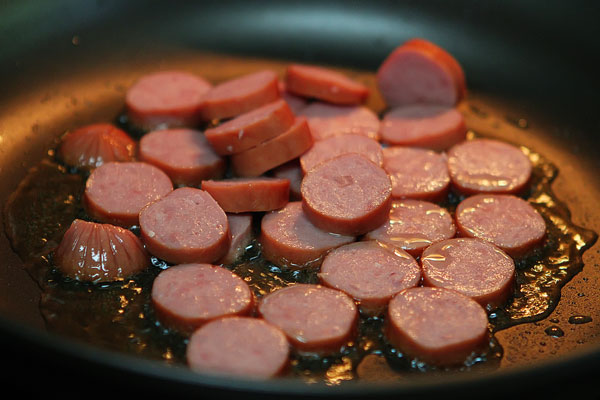 Add the sausage.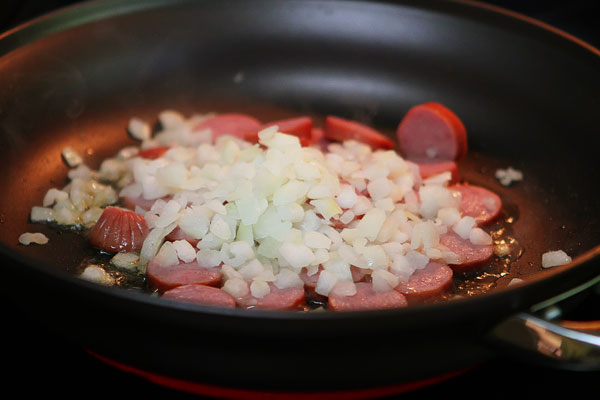 And the onions.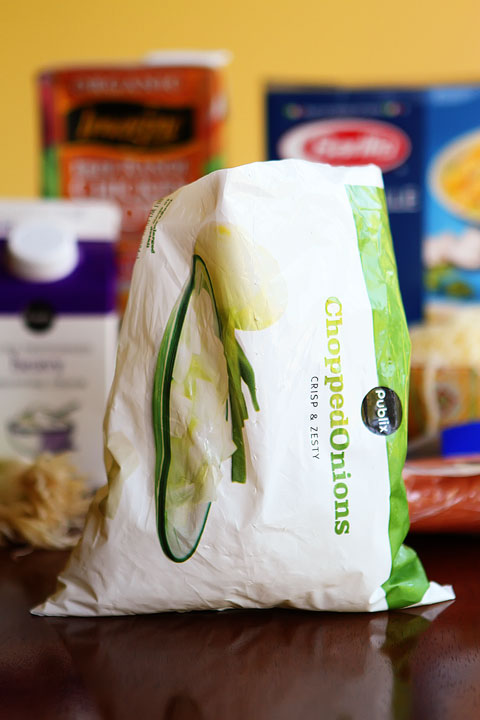 Frozen Diced Onions
Here's my little secret. I buy frozen, diced onions by the bag and add them to whatever I'm cooking that calls for diced onions — I don't even thaw them first. It's such a huge time saver for me, and I always know I have onions on hand.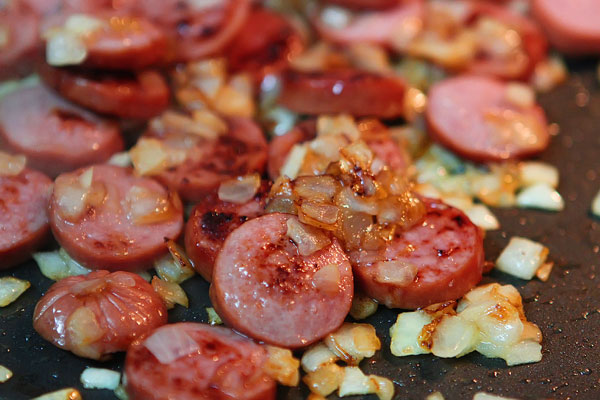 Oh my gosh. Nothing smells more fabulous that this right here. Cook the sausage and onion until lightly browned. Then we'll add some garlic and cook until fragrant, about thirty seconds.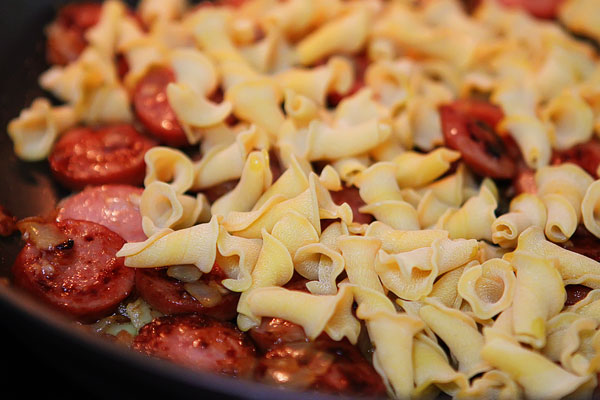 No need to boil the pasta!
Next add the dried pasta — this is so easy! — I love that I don't have to boil the pasta in a separate pan. I normally use penne pasta for this dish, but this fun campanelle pasta was all I had on hand at the moment, so I used it.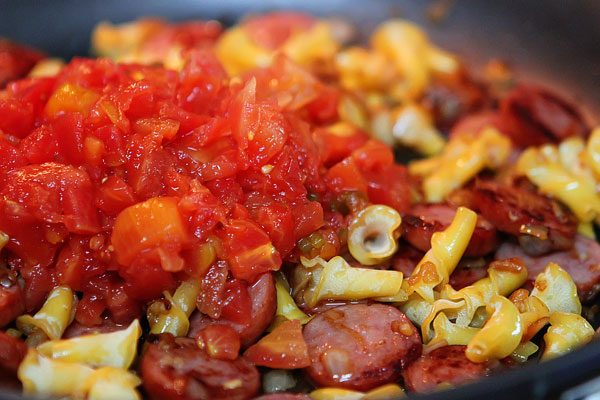 Dump in some Ro-Tel, you don't even have to drain it first.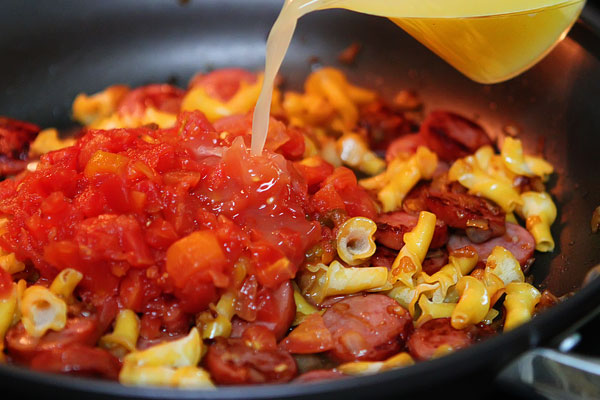 And the chicken broth.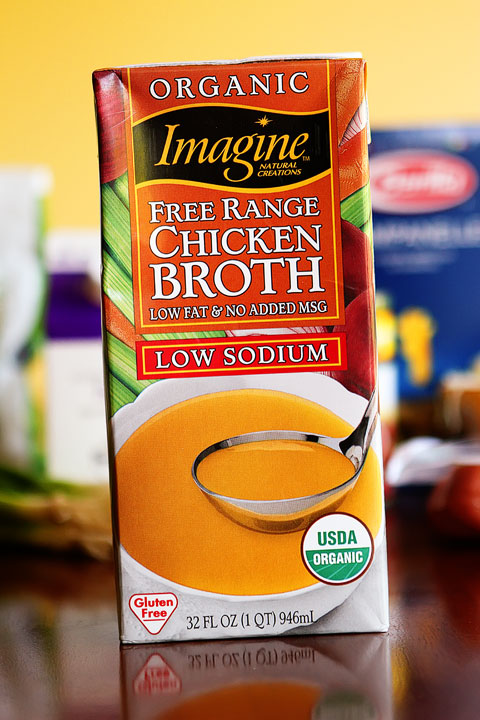 Our Favorite Chicken Broth
This is another brand that I love. We use chicken broth so often that I always have a few boxes on hand — an open one in the fridge and a few in the pantry. I about fainted when I tried this one for the first time. It smells so amazing! I stumbled upon this organic brand because, well, in an effort to cut back on my sugar intake, I discovered that the brand I was previously using was full of sugar! Sugar!! Like, it was the second ingredient. In my chicken broth! Now I love sugar, but it has no place in chicken broth. It's funny how much sugar is hidden in foods that aren't sweet, especially when I went looking for it. Yikes! Anyway, as much as I loved my old brand of chicken broth, I can honestly say I love this new one so much more. It's nothing but pure, natural flavors — exactly how chicken broth is supposed to be. I get this in the organic section of Kroger.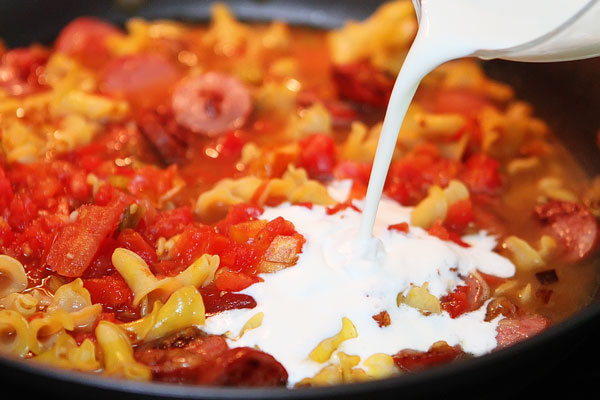 Add the cream and 1/2 teaspoon each of salt and pepper. Stir everything together and bring to a boil. Cover, reduce heat, and and simmer for 15 minutes.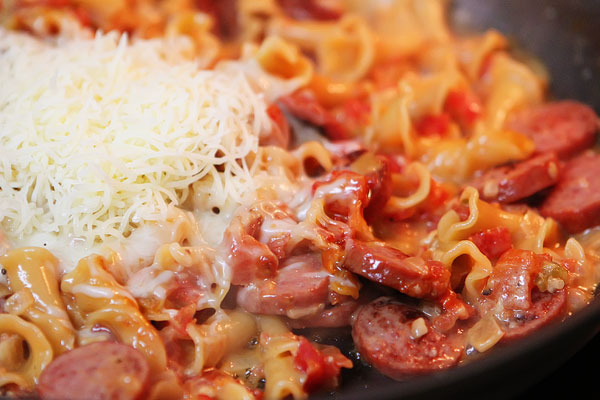 Now for the finishing, cheesy touch. Remove from heat and stir in 1/2 cup shredded Monterey Jack cheese.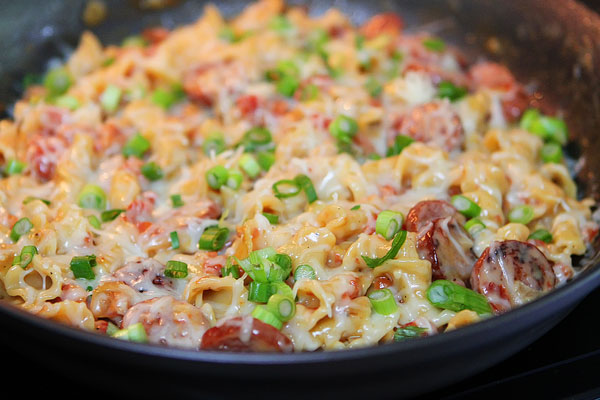 Top with a little more cheese to cover, sprinkle with sliced scallions, and broil in the oven until cheese is golden and bubbly, about 3 minutes.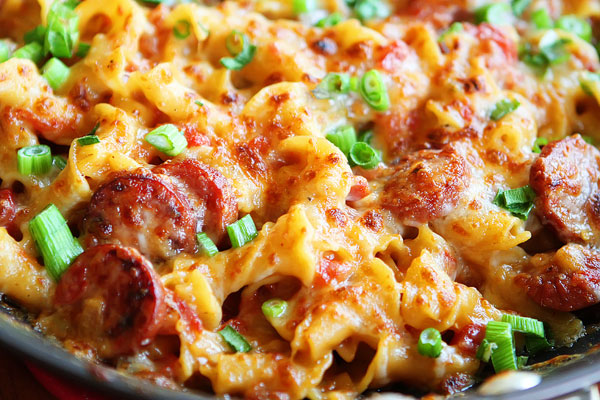 Like this.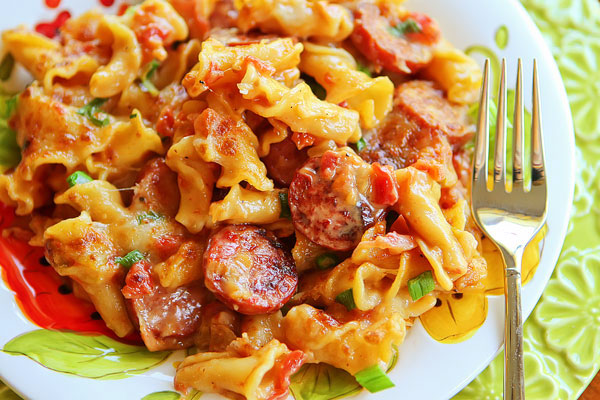 Oh my gosh you guys, this is so fabulous. Ultra cheesy — Ultra gooey — Ultra yummy.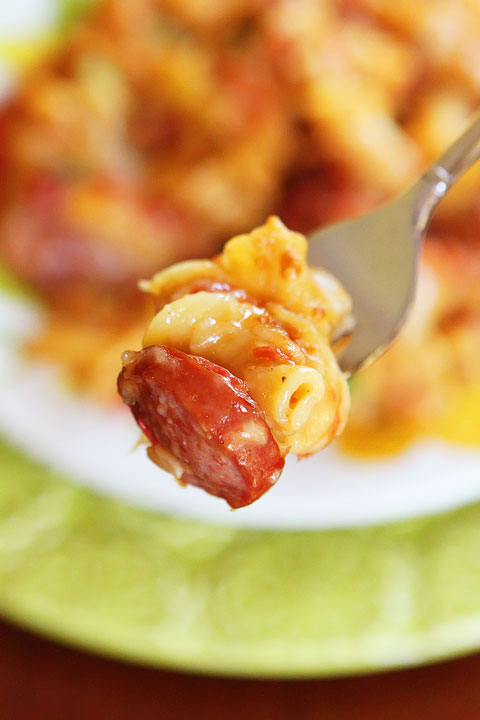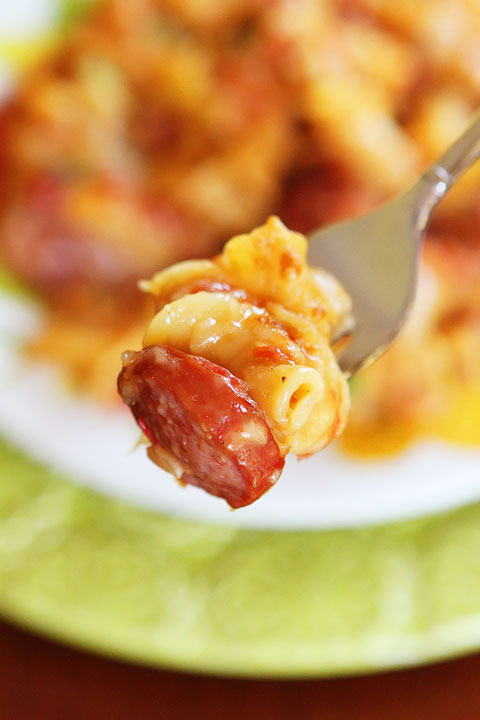 ---
Spicy Sausage Pasta Video
Watch the video to see how easy it is to make Spicy Sausage Pasta!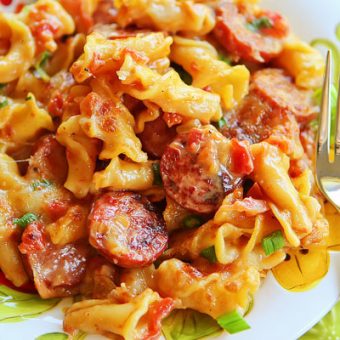 Spicy Sausage Pasta
Ingredients:
1 tbsp olive oil
1 lb smoked sausage
1.5 cups diced onion
2 cloves garlic, minced
2 cups low-sodium chicken broth
1 (10 oz) can Ro-Tel tomatoes and green chiles, Mild
1/2 cup heavy cream
8 oz penne pasta
1/2 teaspoon salt and pepper, each
1 cup Monterey Jack cheese, shredded
1/3 cup thinly sliced scallions
Directions:
Add olive oil to an oven-safe skillet over medium high heat until just smoking. Add sausage and onions and cook until lightly browned, about 4 minutes. Add garlic and cook until fragrant, about 30 seconds.
Add broth, tomatoes, cream, pasta, salt and pepper and stir. Bring to a boil, cover skillet, and reduce heat to medium-low. Simmer until pasta is tender, about 15 minutes.
Remove skillet from heat and stir in 1/2 cup cheese. Top with remaining cheese and sprinkle with scallions. Broil until cheese is melted, spotty brown, and bubbly.
More Easy One Pot Meals!