Planning a trip to the Uyuni Salt Flats Bolivia? Read this post first! Getting to the salt flats is actually easier than you may think!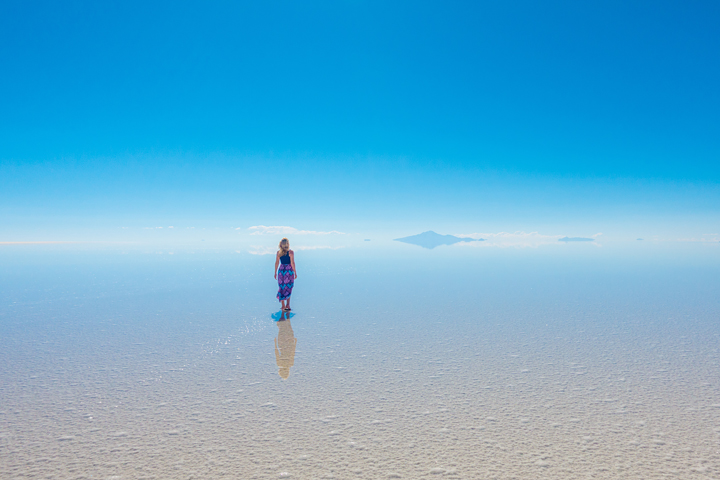 Like many others, one of my all-time highest bucket list dreams was to see the incredible, breathtaking Uyuni Salt Flats in Bolivia — the famous Salar De Uyuni. The World's Largest Mirror. Heaven on Earth.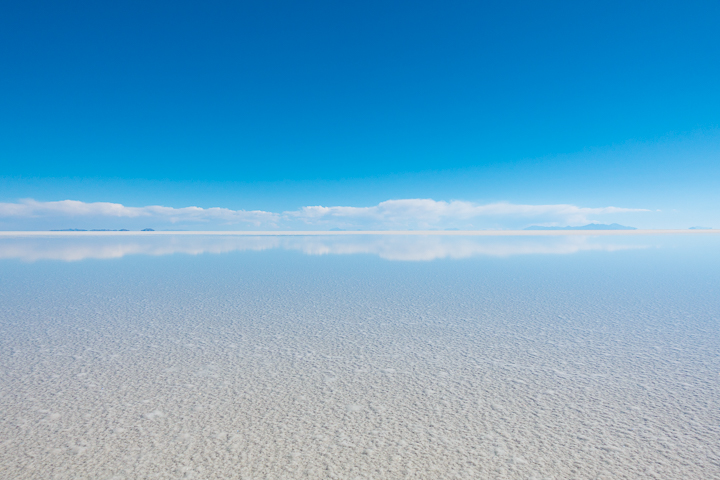 About the Salar De Uyuni
The Salar de Uyuni (Ew-you-nee) is the largest salted desert in the world. It was created by salted lakes that evaporated many years ago. Now all that's left is a thick crust of salt stretching over 4,000 square miles. This mesmerizing landscape is in the middle of the Bolivian desert. Getting there may seem like a bit of a challenge, but it's honestly easier (and more comfortable) than you might think.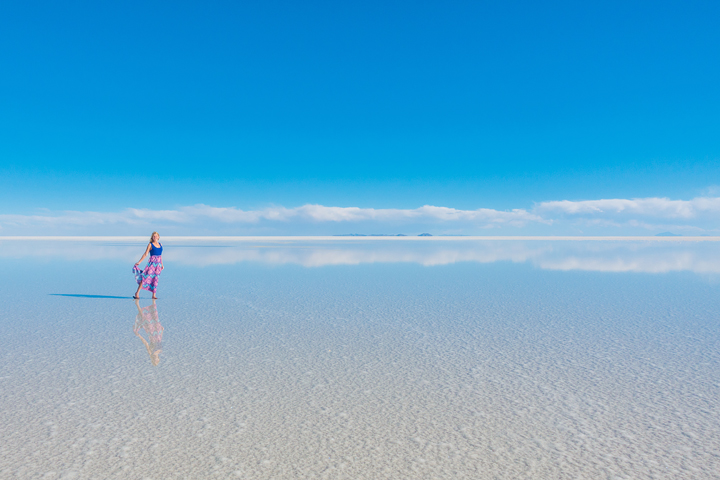 To help plan your trip, here's everything you need to know about visiting the Uyuni Salt Flats in Bolivia: How to get there, where to stay, and what else to do once you're in the middle of this desert.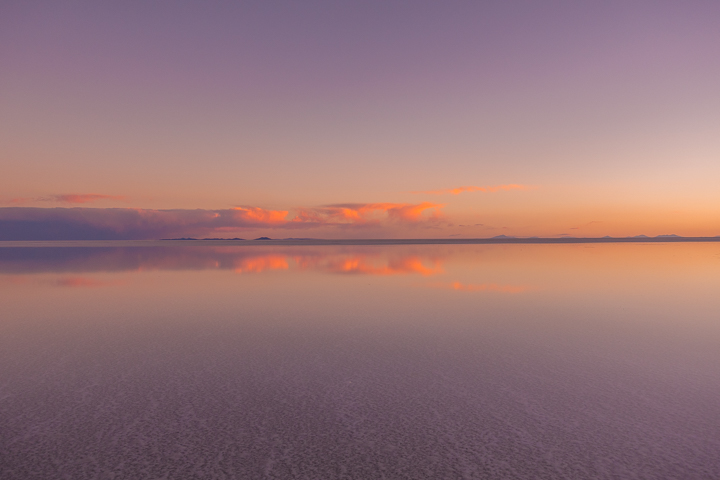 ---
Best Time to Visit the Salt Flats Bolivia
The Salar de Uyuni has two seasons: rainy season and dry season. Each offers a unique experience.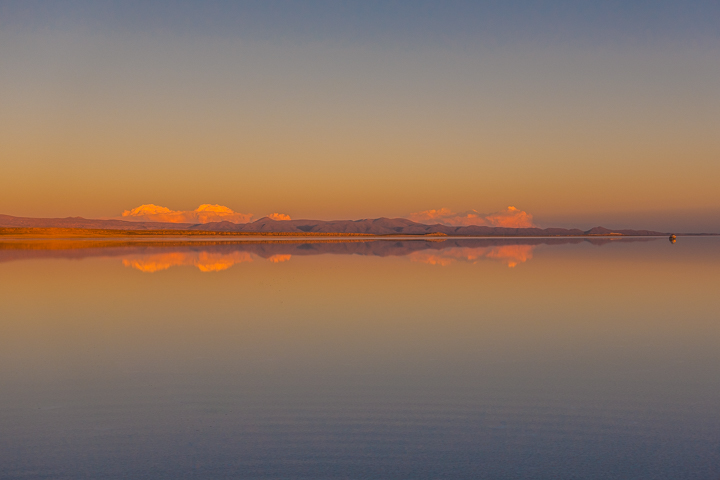 Rainy Season (December to April)
During the rainy season a thin layer of water covers the salt flats and transforms them into a magnificent reflection of the sky. Be careful in December and January, as too much rain can cause tour cancelations.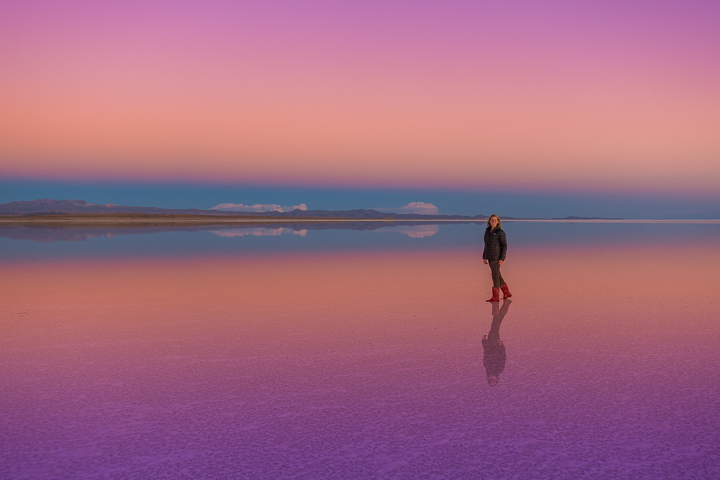 Dry Season (May to November)
During the dry season, temperatures are colder, the Salar de Uyuni is dry, and polygonal patterns of salt rise from the ground resembling a giant white quilt. At this time it's possible to drive across the flats and visit areas that aren't accessible during the rainy season, like Cactus Island. You can also stay in a salt hotel and hike to a volcano. June through August is considered "high season" with more crowds and higher prices.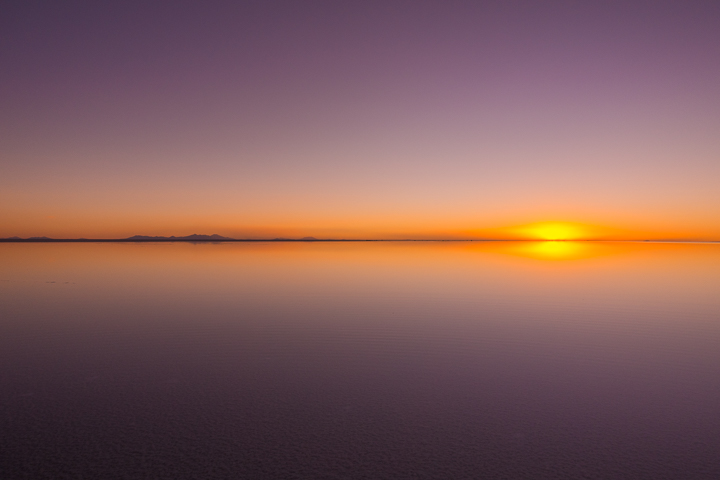 Our Experience
We were at the Salar De Uyuni on April 1, 2018. As you can see, there was enough water for a reflection, but the flats were starting to dry out. We had an amazing tour guide who took us away from the crowds and found an area where the flats were still flooded for our own private reflection. But I would be hesitant to go later in the season!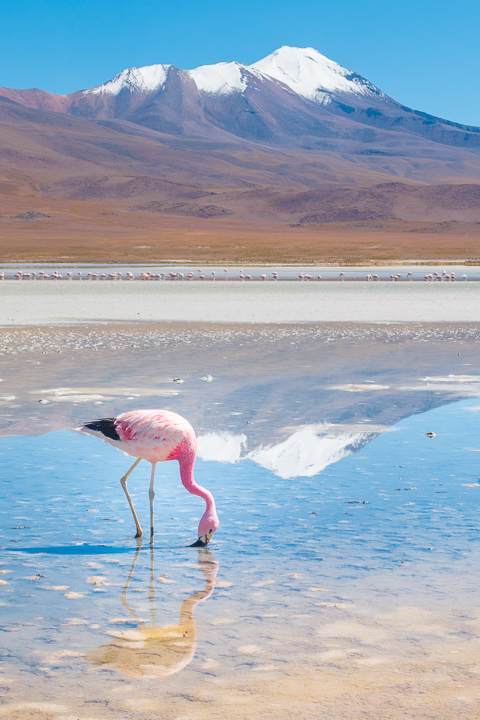 ---
Booking a Tour to the Uyuni Salt Flats Bolivia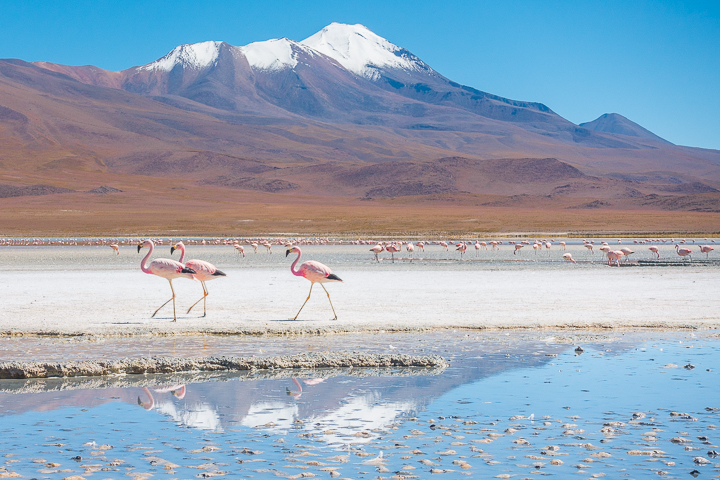 While the Uyuni salt flats are definitely the highlight of the trip — they're the reason everyone goes — I was surprised to learn that they're really only a small part of this breathtaking region. It's a truly unique landscape filled with colorful lagoons, snow-capped mountains, pink flamingos, bubbling geysers, steamy hot springs, and herds of llamas and ostriches grazing in the desert. I was amazed at just how beautiful it really is.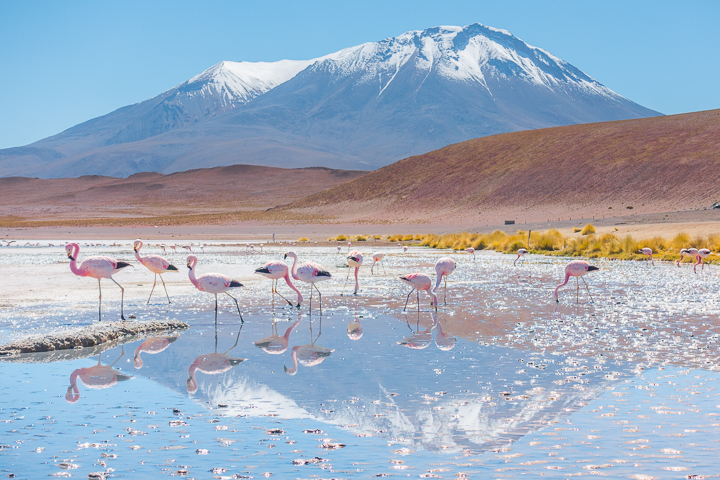 The best way to see the Uyuni Salt Flats Bolivia is on a 3-day tour combined with all the other incredible sites in this area.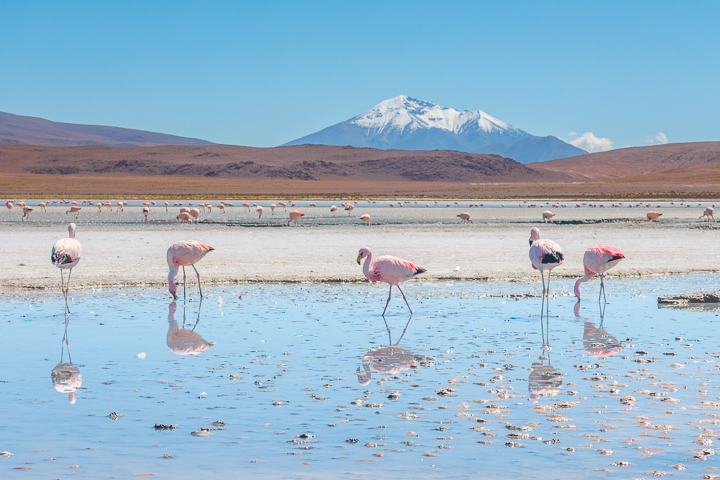 3-Day Tours to the Uyuni Salt Flats Bolivia
There are many 3-day tours available to the Uyuni Salt Flats Bolivia. They all basically follow the same itinerary. Most of the group tours are 6 people per group. The jeep you'll be spending a lot of time in seats six people max — including one person up front, one person sitting on the middle hump, and two people in the back pop-up 3rd row, with less visibility out the windows and less leg room. To be honest, it's a lot of time in the jeep. The desert is vast! Comfort is a factor here.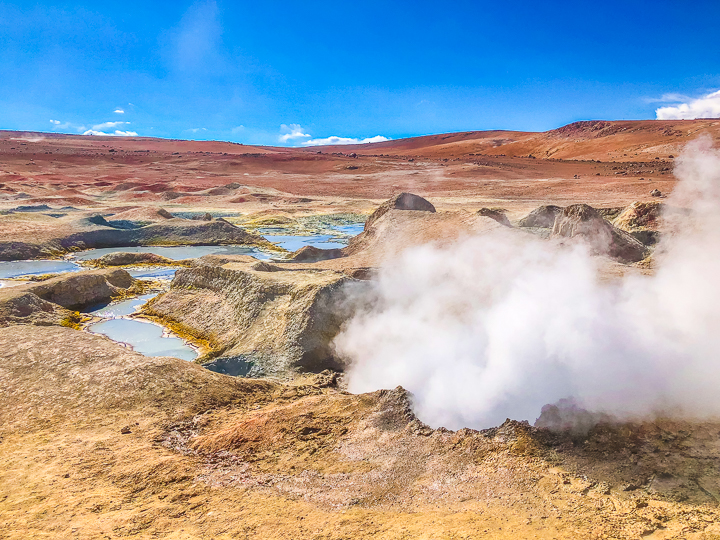 On most tours, the first night you can pay a bit extra to have your own private room and bathroom, but the second night, as you're further in the desert, the only option is a shared dorm with no private bathroom. And you can forget about a hot shower. After all day in the dusty desert sand, all I wanted was a shower! And the desert gets really cold at night, so you definitely don't want a cold shower!
Geothermal field and steam pools at Sol de Mañana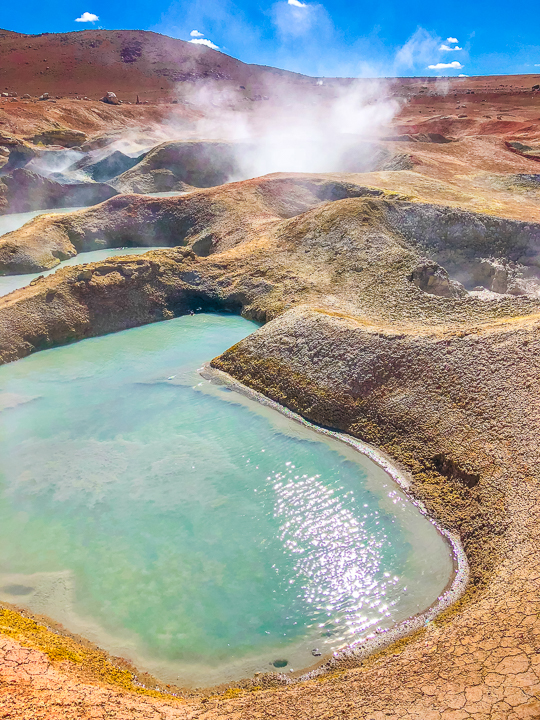 Another thing to consider — these places are literally out in the middle of the desert. There's no cell service, Wi-Fi, or even power. It's easily the most remote place I've ever been. But it's gorgeous, so you're going to want to take a million pictures. Most of the hotels only turn on the power for one hour at night, and there's a rush for charging your camera and other electronics. Some hotels even charge you for using an outlet!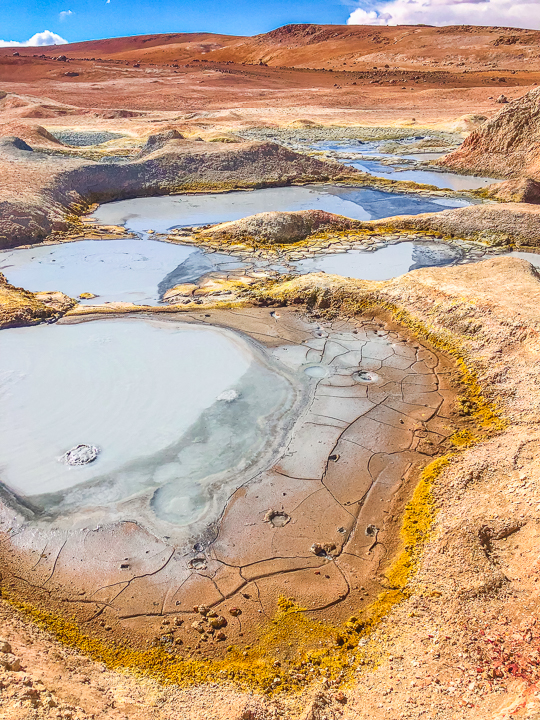 Our Tour Experience to the Salt Flats Bolivia
But there's a better way. We chose to book with Bolivia Trip Tours. While I was definitely willing to share a room and skip a shower for such a unique experience as visiting the Salar de Uyuni, I was so glad we didn't have to.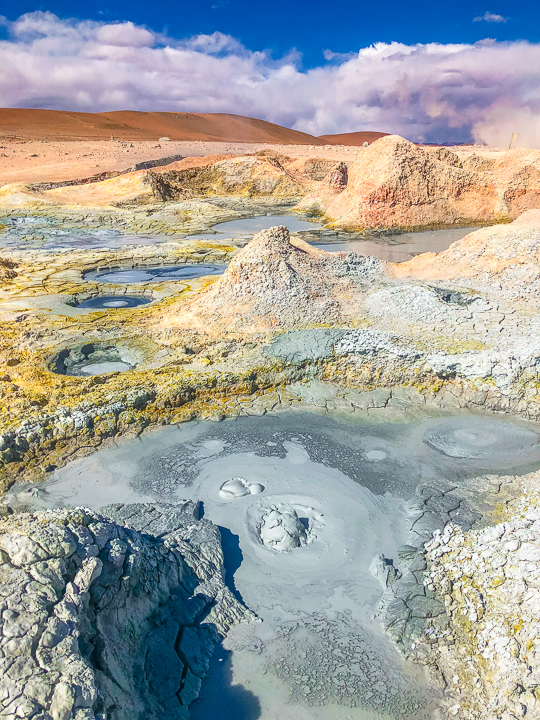 Bolivia Trip Tours
Bolivia Trip Tours is different from all the other tours.
The maximum number of people per group is 4. When we went, there was no one else in our group, so it was more like a private tour.
You'll have your own private room with private bathroom, plenty of hot water, heating in the room, and power/outlets to charge your devices — both nights. The power was on 24/7. All included.
With Bolivia Trip Tours, you'll visit the sites in reverse order of the other groups — meaning you'll also miss the crowds. We had most places all to ourselves. I can't describe the incredible feeling of just being somewhere so remote, surrounded by such beautiful landscape, and having it all to yourself.
They also have their own custom app that acts as a map, itinerary, and audio guide with fun facts about all the places you'll be visiting. Every time we were in the jeep I had the app open seeing where we were and where we were going next!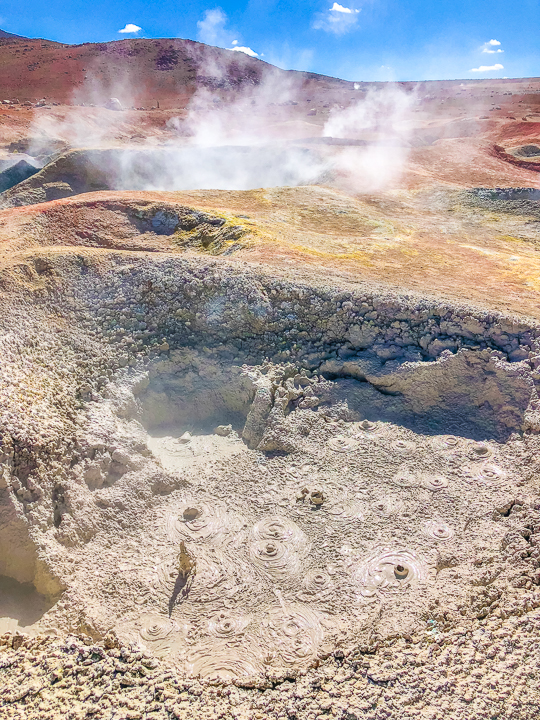 If you want a more comfortable, enjoyable experience visiting the Salar de Uyuni, I highly recommend Bolivia Trip Tours for the best experience visiting the Uyuni Salt Flats Bolivia and surrounding region. Scroll down for pictures and more info about the hotels we stayed in on the tour.
Bubbling mud pit at Sol de Mañana. Seriously watch this video!!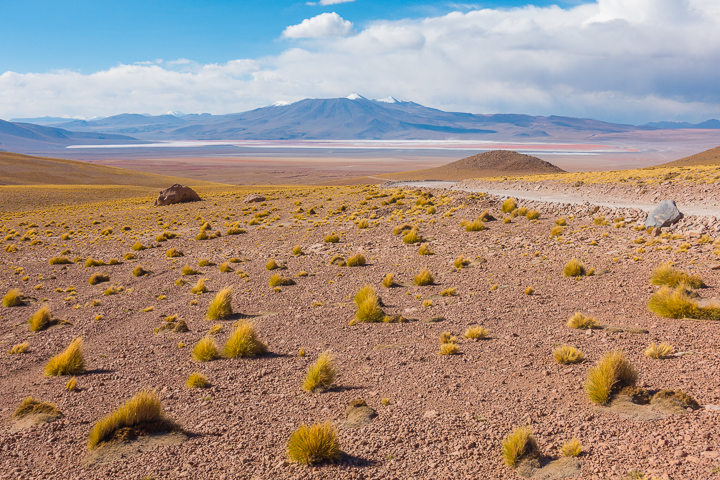 ---
Laguna Colorada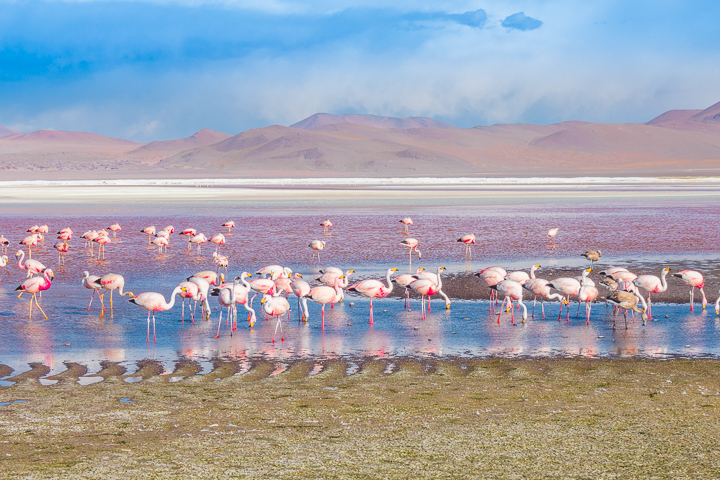 Here's a glimpse at what all you'll get to see on a 3-day tour with with Bolivia Trip Tours.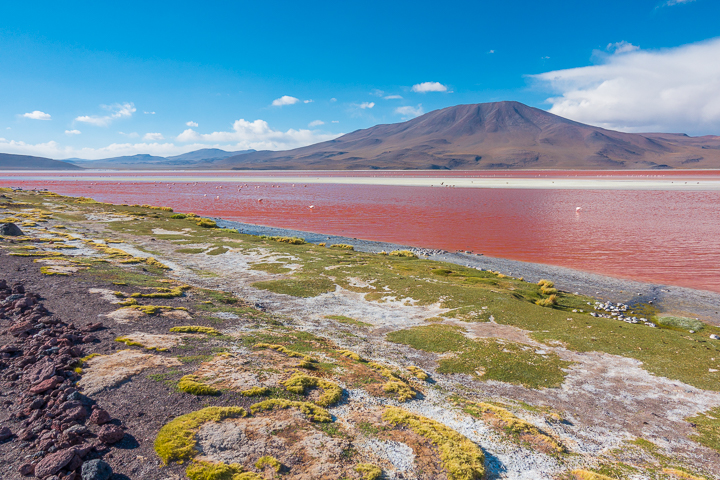 This pink lagoon is home to three different types of flamingos.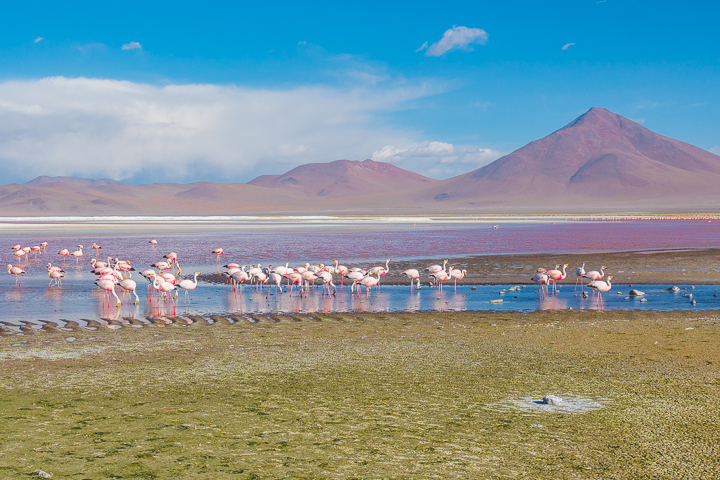 TIP:
The best time to see the flamingos is during the rainy season (December to April).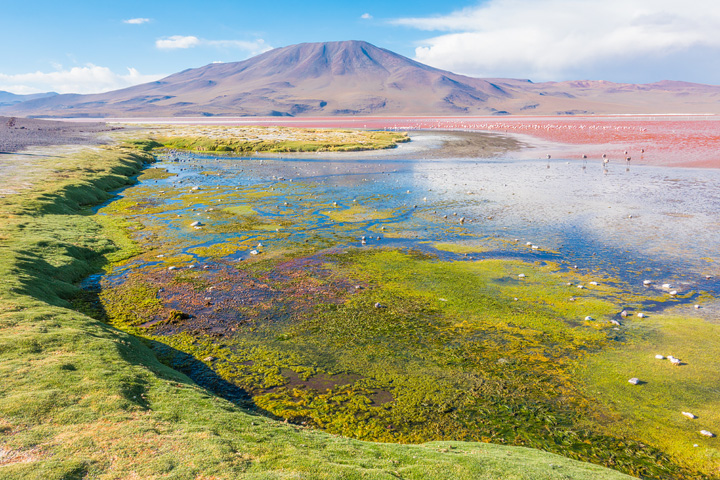 ---
Laguna Verde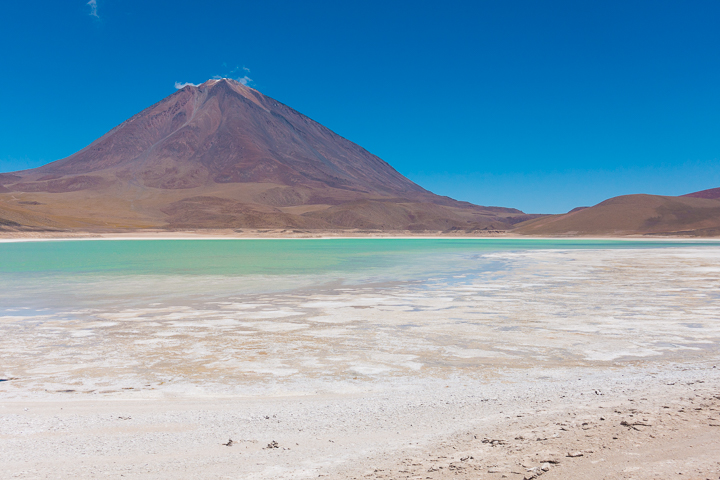 Located at the foot of a volcano, this lagoon has a brilliant turquoise green color.
---
Polques Hot Springs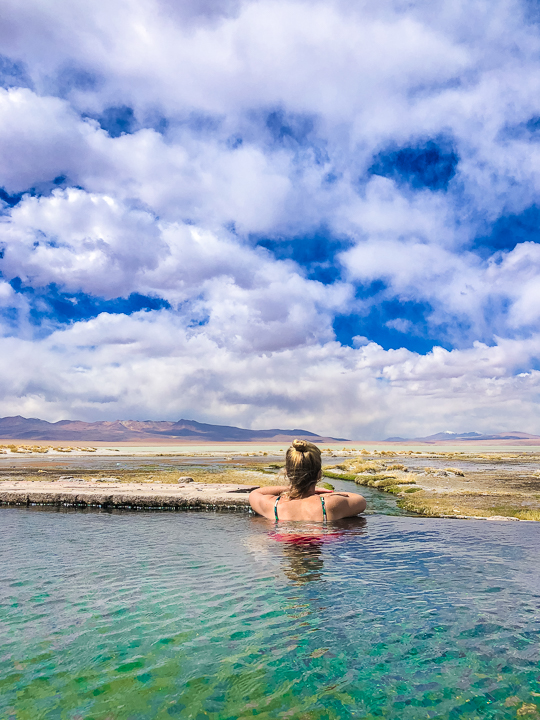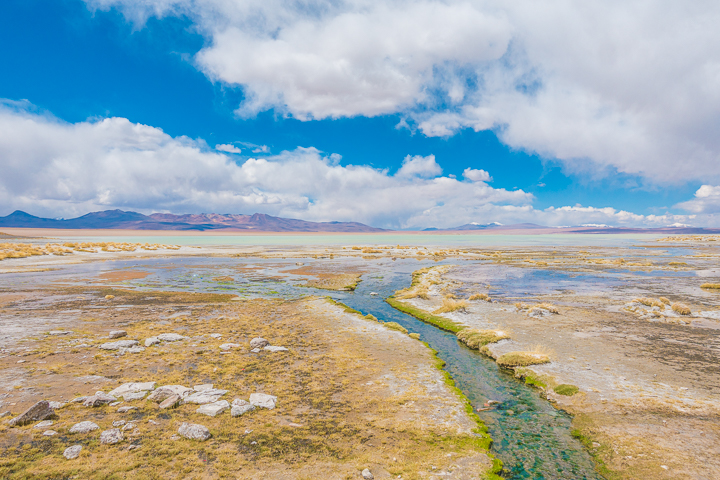 TIP:
You may want to pack a small towel to dry off with! I just had to use my shirt.
---
Valley of the Rocks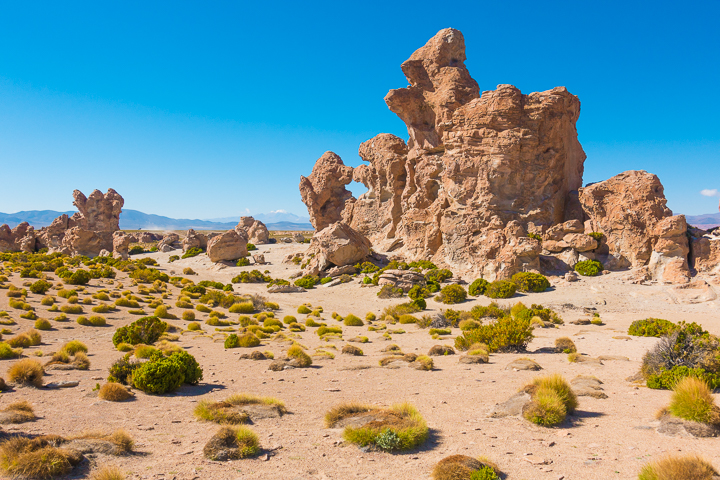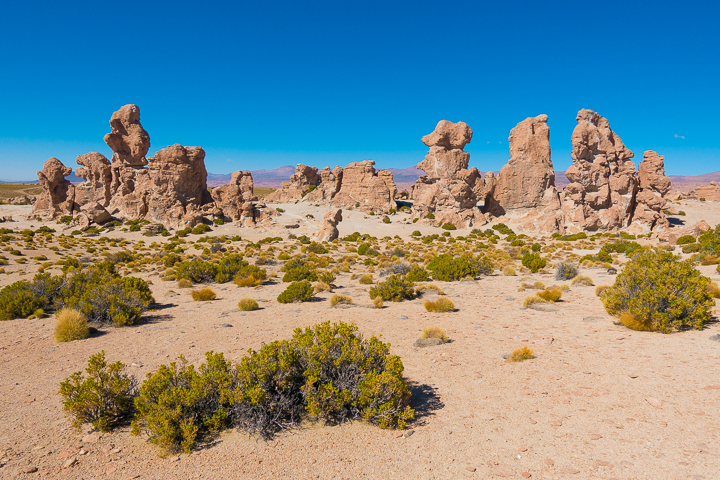 ---
Tree of Stone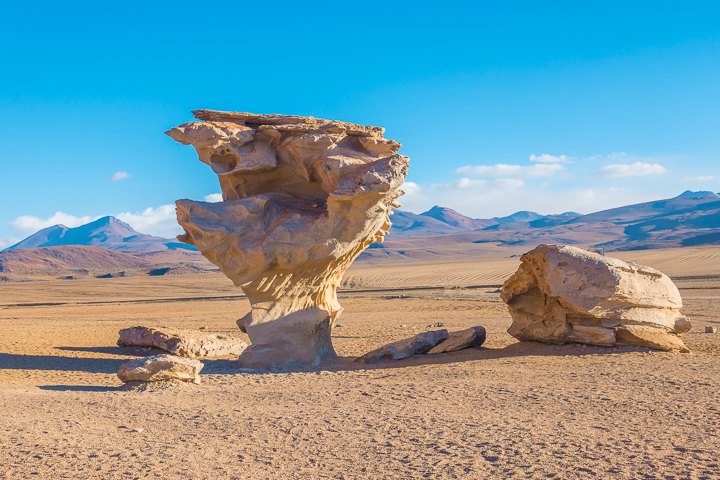 ---
Lunch at Ollague Volcano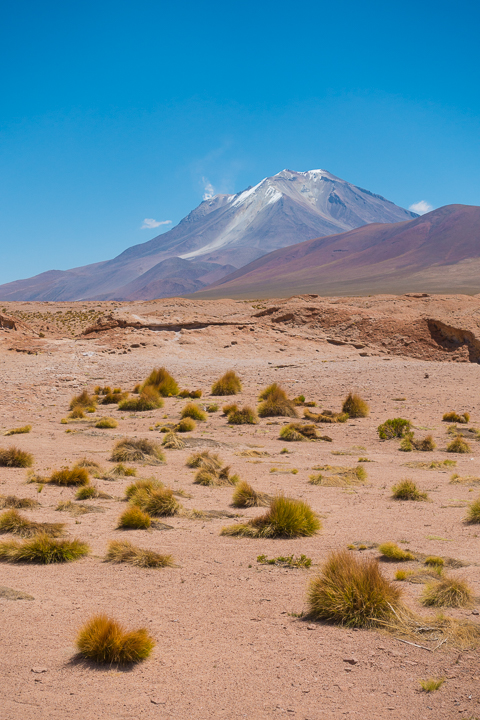 ---
Views Along the Drive near the Salar de Uyuni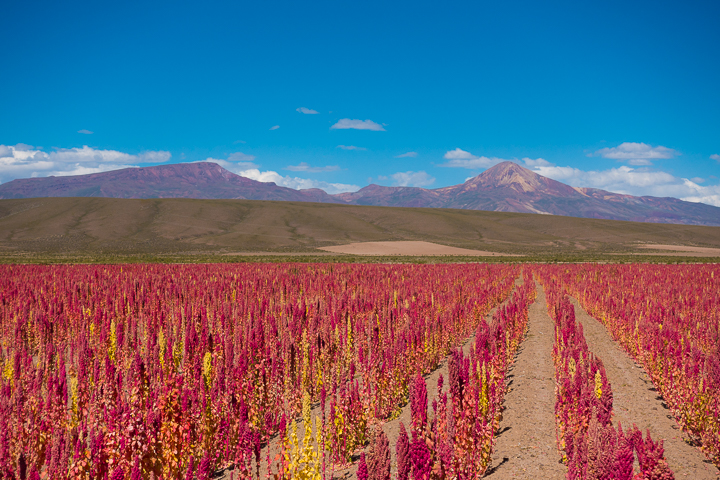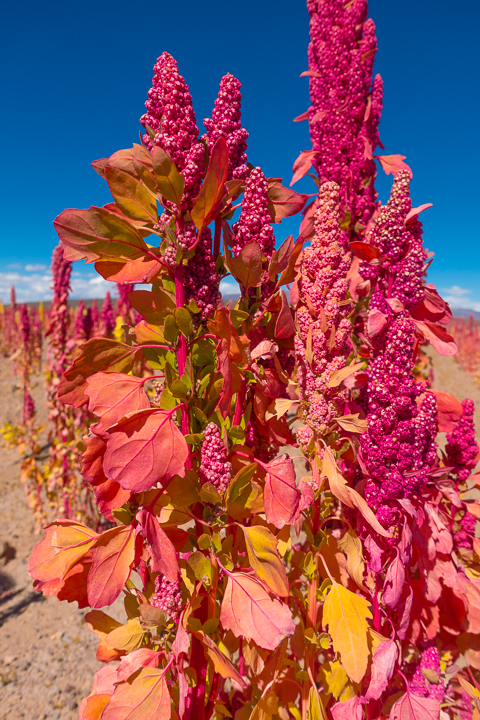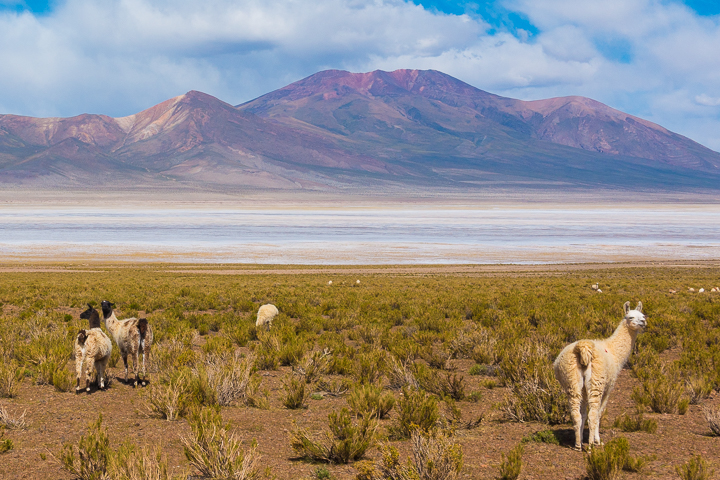 You'lll see llamas everywhere!! Be sure to keep your eye out for ostriches too.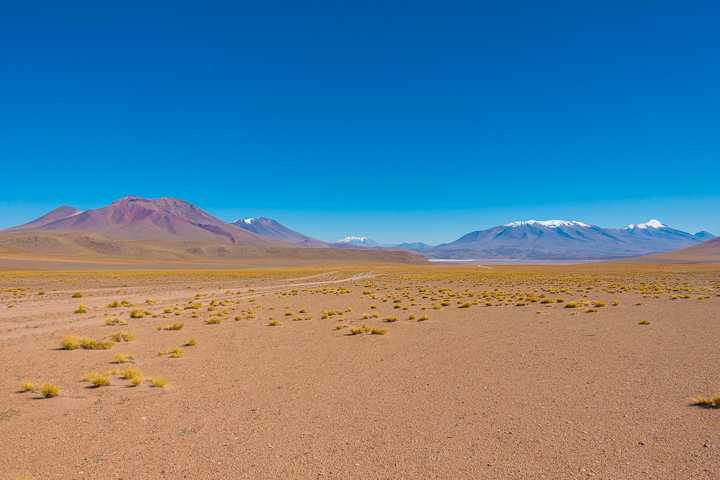 A typical "road" in the desert!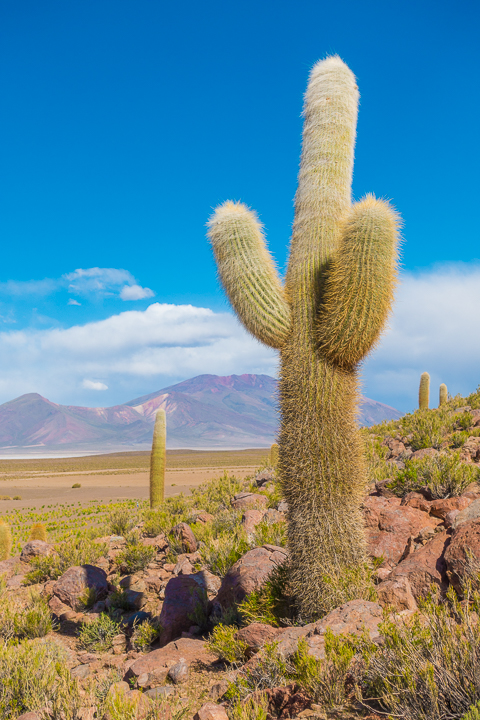 ---
How to Get to the Salar De Uyuni
Tours to the Uyuni Salt Flats Bolivia and the 3-day tours start in the small, dusty town of Uyuni.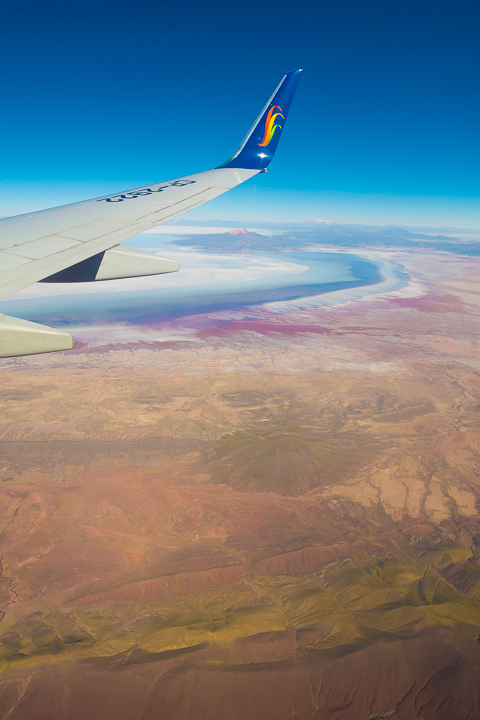 Plane
You can get to Uyuni by a short 1-hour flight from La Paz, Bolivia. I paid $137 USD for a one-way ticket. This is definitely the most comfortable, quickest, easiest way to get there. It's also the most scenic! The views over the desert and the salt flats as we flew over the Uyuni Salt Flats Bolivia were amazing!
Overnight Bus
Alternatively, overnight buses from La Paz are available. They take about 10-12 hours and cost $30 to $40 one way.
---
Where to Stay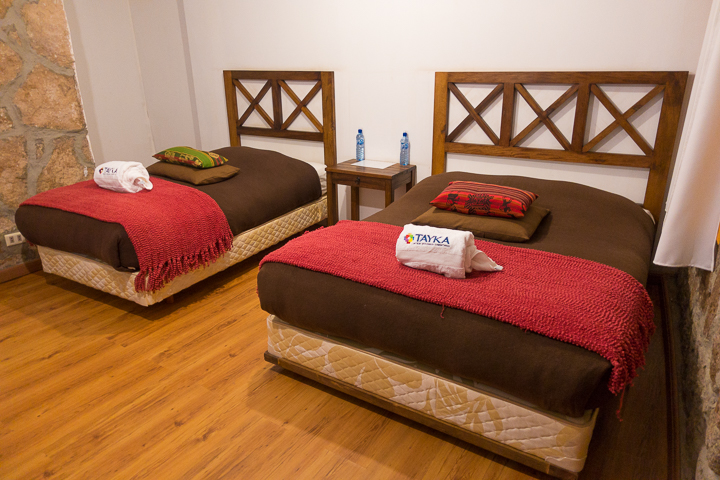 First Night
On the first night of the tour, you'll stay at the Tayka del Desierto hotel. Remember Bolivia Trip Tours goes in reverse of all the other tours, so this is the most remote place you'll stay. It's really out in the middle of the desert! The hotel is 100% solar powered. You'll have your own private room and attached bathroom. The water pressure was AMAZING and there was plenty of hot water. I was so worried I would run out! I hate cold showers! There was even Wi-Fi in the room! Although it was not very good in the evening when everyone else was trying to get on, it was a bit better in the morning. It wasn't enough to upload pictures or anything, but it was enough to check email, send a message, etc.
The hotel is at a very high altitude (over 15,000 feet) so some people may experience altitude sickness. The hotel has a complimentary oxygen tank at reception, and it is recommend that you use it for a few minutes right before bed.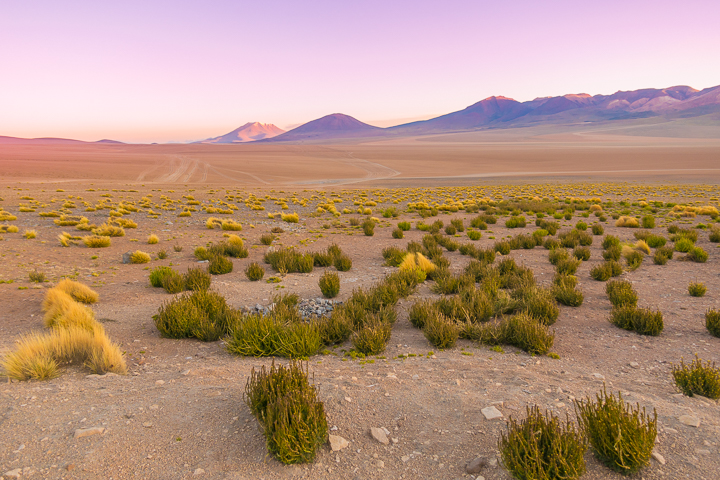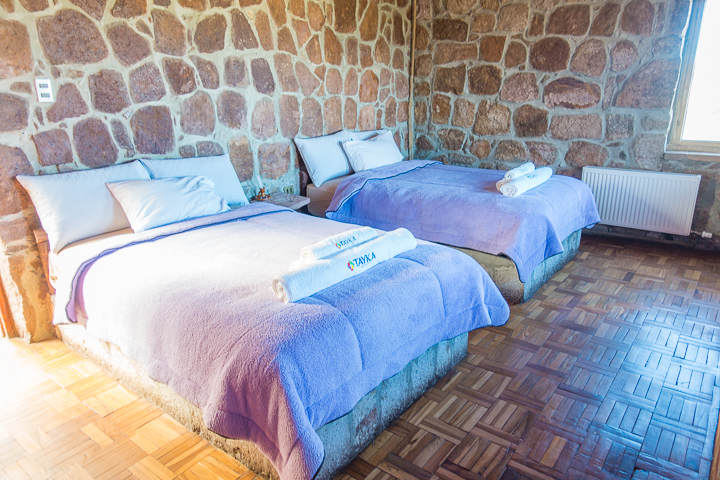 Second Night
During the dry season you'll stay at a salt hotel right on the salt flats themselves. Unfortunately this area is not accessible during the rainy season, so the itinerary is a bit different. During the rainy season, you'll stay at the Tayka de Piedra hotel, pictured above. Again, you'll have a private room with private bathroom and electricity to charge your devices. The water pressure wasn't as good as the first night, but there was plenty of hot water.
The rooms at both hotels are very comfortable, heated, and warm.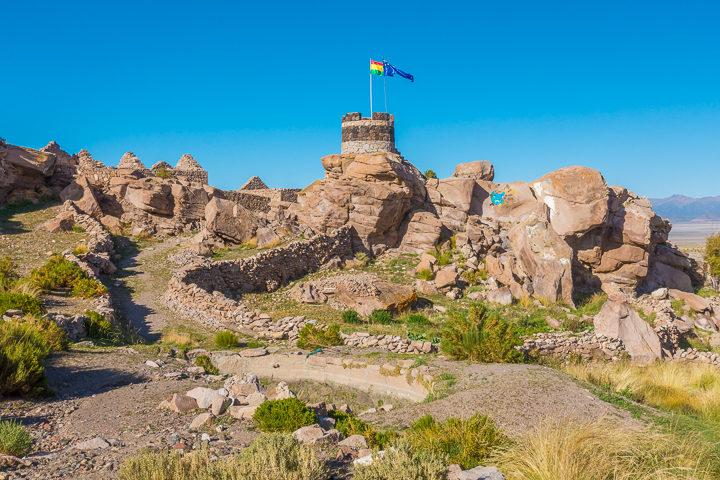 Here was the view from our room at the Tayka de Piedra hotel.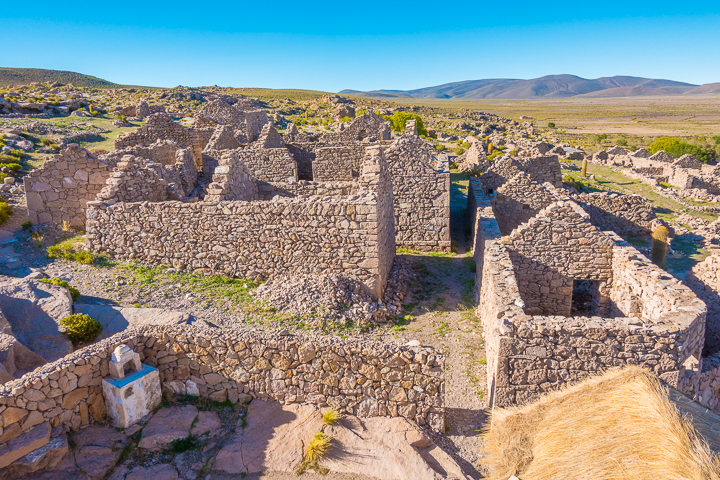 And a view of the ruins from the tower you see in the above picture.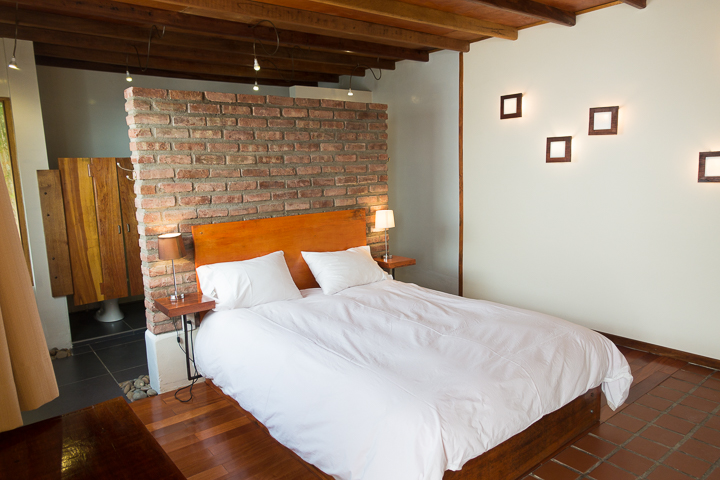 Uyuni Hotel
Bolivia Trip Tours start at 7 AM from your hotel in Uyuni. On the third day, you get back to Uyuni around 5 PM. So you may need to spend a night or two in Uyuni before and after the tour. There's not much else to do in Uyuni itself.
We stayed at La Petite Porte in Uyuni. This is a charming, very small hotel with only 4 rooms. The water pressure in the shower is amazing with plenty of hot water. The Wi-Fi is very good. Breakfast is included and it's incredible!! You order the night before and they bring it to your room the next morning. There are many options including French Toast and freshly squeezed orange juice. This was honestly one of the best breakfasts we had in Bolivia.
If La Petite Porte is booked, we also heard good things about Hotel Jardines de Uyuni.
Watch the video above for what you can expect to see and do on a 3-day Uyuni Salt Flats Bolivia Tour with Bolivia Trip Tours!
---
Best Uyuni Restaurants
For lunch, grab an empanada or two from the main square. There are several carts, but we noticed one in particular had all the locals in line!
Restaurante Tika — High quality locally sourced food. This came highly recommended by our hotel.
Donna Isabella Pizzeria — Try the local llama quinoa pizza!! Highly recommended by our tour guide.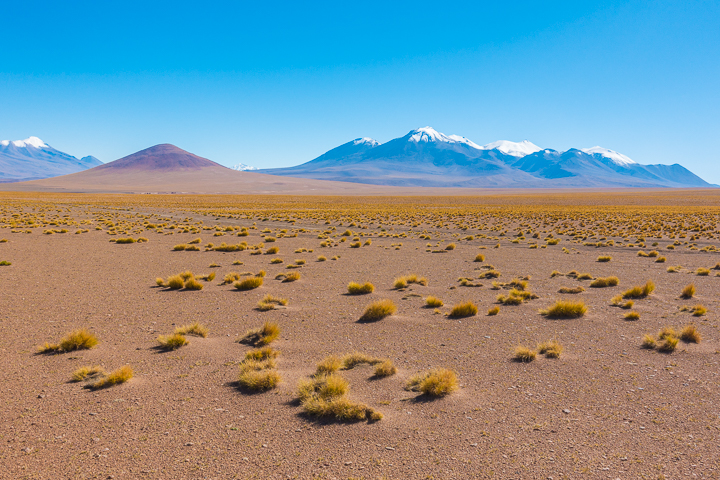 ---
Final Tips for Visiting the Uyuni Salt Flats Bolivia
Wear plenty of sunscreen. You're at a much higher altitude and the sun is much harsher — you burn much faster!
Don't forget sunglasses for the intense brightness of the white, reflective salt flats.
Bring toilet paper with you.
Bring snacks! All meals are included in the tour, but I got very hungry the first day between breakfast and lunch. It's better to have a few snacks on hand. Once you're on the tour, you're out in the middle of nowhere, without access to buy anything you may have forgotten, so it's better to be prepared.
Bring cash. There's no access to ATMs in the desert either. Most everything will be covered on the tour, except for the entrance fee to the national park (150 Bolivianos per person) and drinks at dinner (water is 20 Bolivianos per person).
Have headache medicine on hand in case of altitude sickness.
You may want to bring flip-flops for the salt flats. The salt is way too sharp to walk on barefoot — I tried! I have really tough feet and usually never have a problem going barefoot. But bring shoes you don't mind if they get ruined. The salt water can be super harsh. You'll definitely want to be able to thoroughly rinse them off afterwards. Bolivia Trip Tours also provides you with rain boots if you don't want to wear your own shoes.
---