Caribbean Shrimp Pasta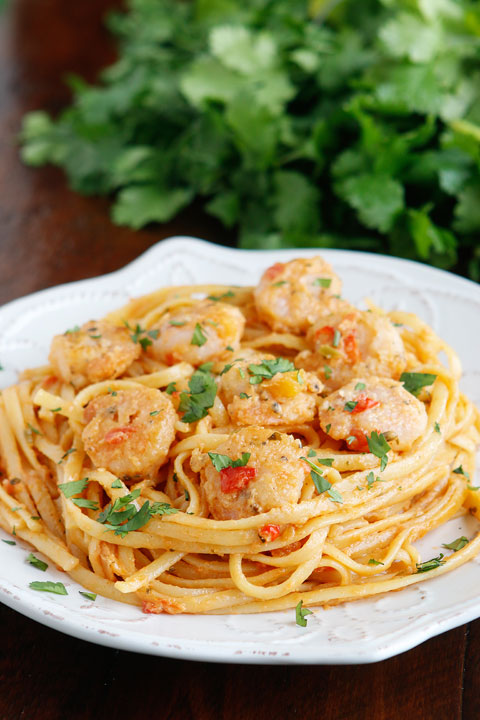 This Caribbean Shrimp Pasta is a fabulously fresh pasta for spring and summer! Golden, crunchy shrimp are paired with a zesty Mango-Peach salsa with avocado and linguine. An explosion of flavors in every bite!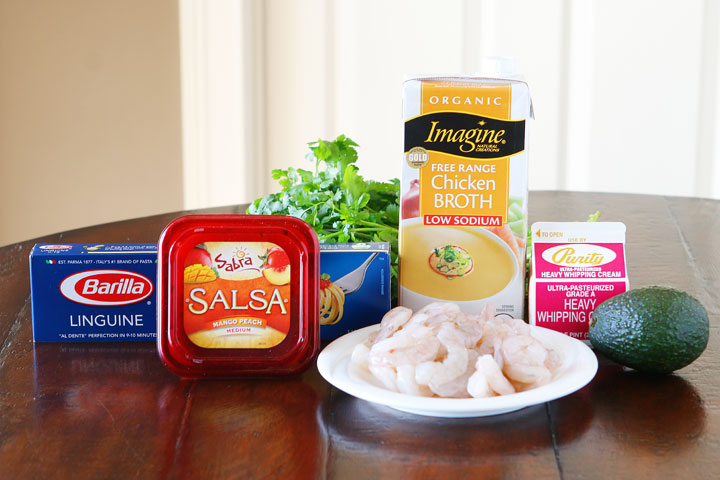 Here's all you'll need: Shrimp, linguine, cream, chicken broth, Mango Peach salsa, avocado, and cilantro for garnish.
Most of the popular salsa brands have a Mango-Peach version. We love Sabra Mango-Peach salsa!
You can make this with chicken too if you are not a shrimp person! :)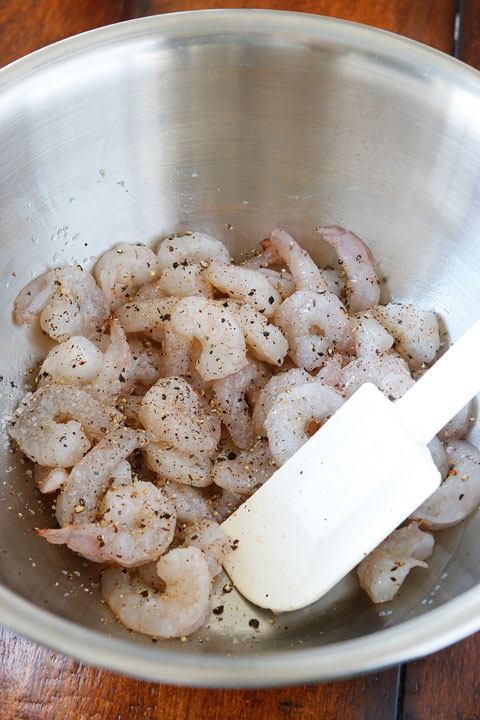 First, generously season the shrimp with salt and pepper, and toss to coat.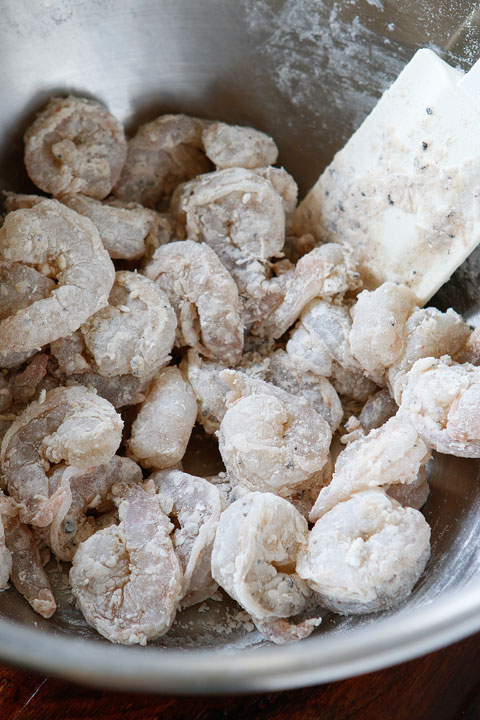 Next, add flour one tablespoon at a time, tossing to coat, until the shrimp is evenly coated with flour and no longer sticky.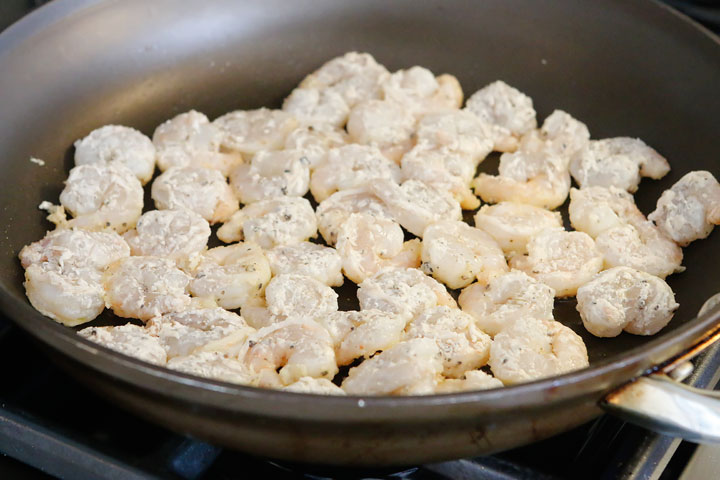 Heat one tablespoon olive oil in a 12-inch skillet over medium-high heat. When the oil is very hot and just starts to smoke, add the shrimp in an even layer. (You  may have to do two batches.)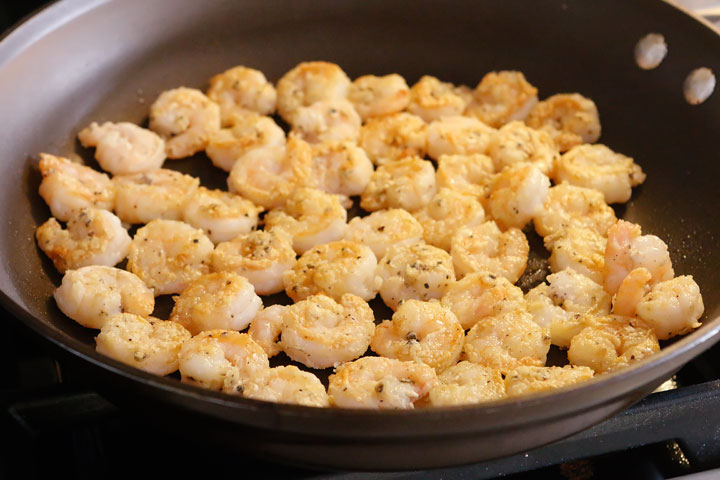 Cook for 1-2 minutes per side, until crust is golden and shrimp are pink.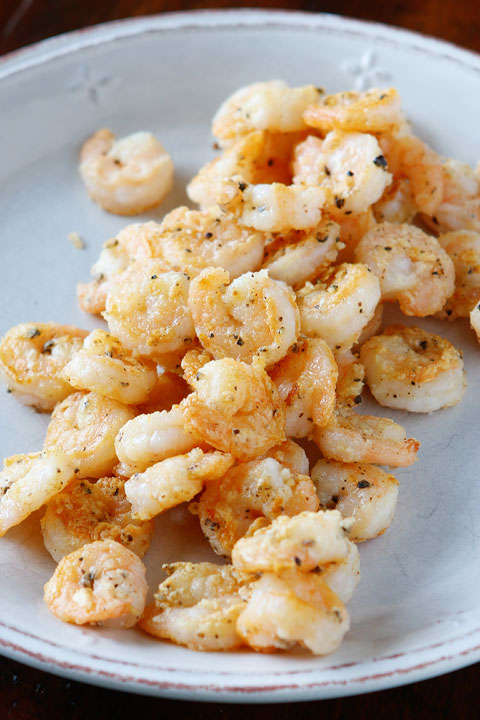 Remove the shrimp to a plate and set aside.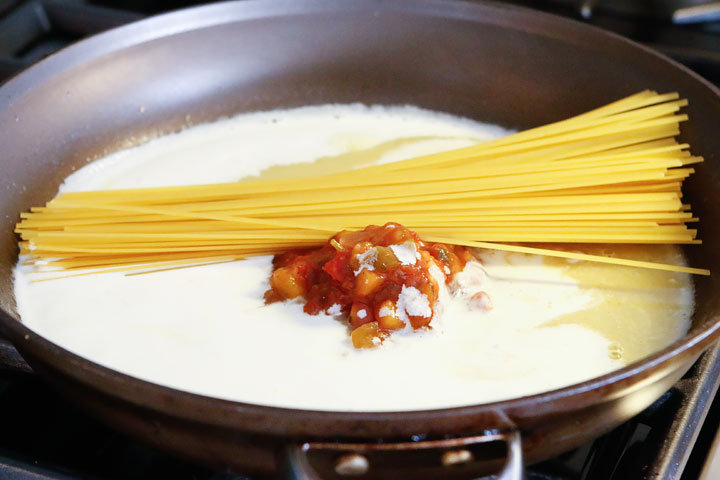 In the same skillet, add the broth, cream, salsa, and linguine. You can break the linguine into smaller pieces if your skillet isn't large enough, but I left mine whole.
Cover and simmer for 15 minutes until you have the fabulously saucy pasta.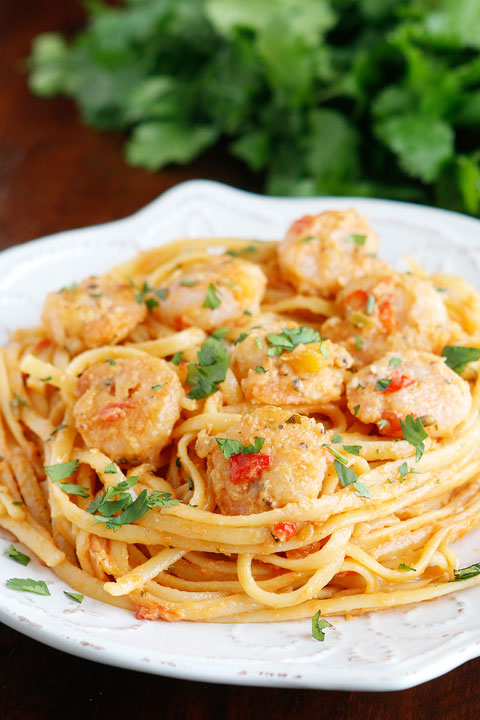 Top with shrimp and garnish with cilantro if desired.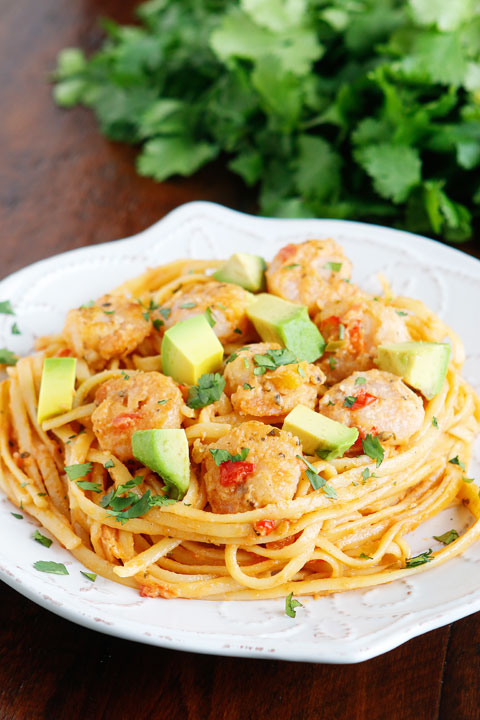 Finally top with a little diced avocado. Here's the secret to buying a good avocado. It should be slightly soft, but not mushy. It definitely should not be rock hard. Flick off the stem. If it's brown underneath, it's no good — the inside will be brown too. If the avocado is soft but still green under the stem, it's just right.
Hope you enjoy this fresh summery pasta! :)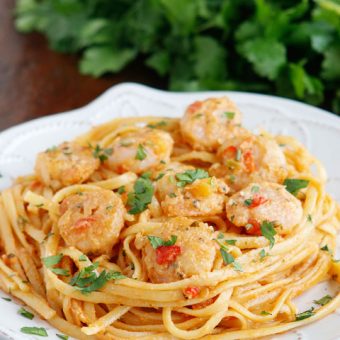 Caribbean Shrimp Pasta
Ingredients:
1.5 pounds shrimp (peeled, deveined, tails removed)
salt and pepper to taste
2-3 tablespoons flour
1-2 tablespoons olive oil
2 cups low-sodium chicken broth
1 cup heavy whipping cream
2 cups mango peach salsa
8 ounces linguine pasta
2-3 tablespoons fresh cilantro, chopped
1 avocado, diced
Directions:
Generously season the shrimp with salt and pepper. Toss to coat. Add flour one tablespoon at a time, tossing to coat, until the shrimp is evenly coated with flour and no longer sticky.
Heat one tablespoon olive oil in a 12-inch skillet over medium-high heat. When the oil is very hot and just starts to smoke, add the shrimp in an even layer. (You may have to do two batches.) Cook for 1-2 minutes per side, until crust is golden and shrimp are pink. Remove the shrimp to a plate and set aside.
In the same skillet, add the broth, cream, salsa, and linguine. You can break the linguine into smaller pieces if your skillet isn't large enough, but I left mine whole. Bring to a boil, then cover, reduce heat, and simmer for 15 minutes.
Meanwhile, diced the avocado and chop the fresh cilantro. When the pasta is tender, stir the sauce to combine, then plate the pasta. Top with shrimp, avocado, and cilantro. Serve and enjoy! :)