Antipasto Squares
We love Antipasto Squares as a meal, but this recipe was originally supposed to be an appetizer… hence the name Antipasto Squares! They're delicious when hot, bubbly, and fresh from the oven.
Here are all the ingredients BEFORE…
And when it comes out of the oven!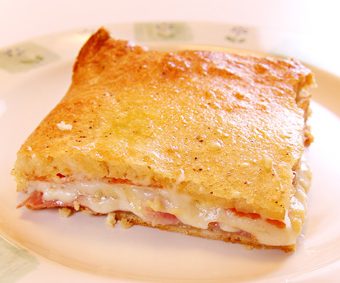 Antipasto Squares
Ingredients:
2 cans refrigerated crescent rolls
1/3 lb sliced ham
1/3 lb sliced provolone cheese
1/3 lb sliced Swiss cheese
1/3 lb sliced salami
1/3 lb pepperonis
3 eggs
3 tablespoon grated Parmesan cheese
1/2 teaspoon black pepper
Directions:
Preheat oven to 350. Spray 9×13 baking dish with Pam.
Unroll one package of crescent rolls and spread in bottom of dish. Layer salami, provolone cheese, ham, Swiss cheese, and pepperoni on top of the dough.
In a measuring cup (or bowl), beat the eggs lightly, then stir in the parmesan cheese and black pepper. Pour 3/4 of this mixture evenly in dish. You should have a little less than 1/4 cup left.
Unroll the second package of dough, and place on top of the meat and cheese. Brush with the remaining egg mixture.
Cover with aluminum foil and bake for 30 minutes in the preheated oven. Remove foil, and bake another 15 minutes, or until dough is fluffy and golden brown. Cut into squares and serve warm.
This recipe definitely deserves a page in the Recipe Scrapbook.