Home | What's New? | Pictures | Scrapbook | Recipes | Fonts | Our Wedding | Contact Info




Jan 1-5, 2001

Click on the images to make them larger.


Maggie, Casey, Brit, Amanda, Grady, Ben and Mark
"Pictures are the devil." :)


Grady and Amanda outside the cabins where we stayed.
We left a good impression. :)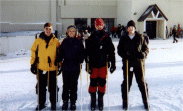 Ben, Amanda, Aaron, and Grady


Rule number one: Avoid the trees. :)


"This is the only way to the lift, I promise!" :)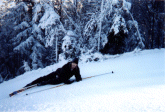 Grady in his most frequent position. ;)
"It really is a green slope." :)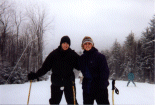 I'll get you back for that. :)

Aaron, Grady, Amanda, Mark, and Ben
"Okay, we don't love each other anymore."


The very expensive restaurant we ate at the last night. :)
"Anybody need a libation?" :)
"Bouchets!!"



Maggie and Brit


Grady and Amanda
"Purple what??!"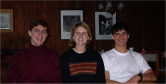 Ben, Amanda, and Mark


Amanda, Brit, Ben, Grady, Aaron, Mark, Maggie, Casey, and Della

It's not that steep! :)
I don't think my legs will stand for it.
Watch out for that!! ... slow sign. :)
Oh, please don't let that be Grady... :)
No speed limits. No brakes. No airbags. :)
Lifesavers Anonymous.
The whole world's a stage... and I've got stage fright. :)
Did you ever play with Weeble Peeple as a kid? :)
I did NOT need to know that!
Aww, look, it's a love chair. :) Or is that just for really fat people? :)
My legs will enjoy the break.
Brain Freeze.





Home | What's New? | Pictures | Scrapbook | Recipes | Fonts | Our Wedding | Contact Info